Hey guys. Me again with new site functions!
You may have noticed the toolbar at the top of the page. I found it, and after some testing I have gotten it to a point where I think it will be useful. Note: the toolbar is sticky, so it will stay at the top of the page when scrolling for quick access.
Now, if you are logged out, you will see this:
Now, to explain some things...
1. Log In: This will redirect you to the login page.
2. Register: This will lead you to site registration.
3. Collapse: This will collapse the toolbar. The button will remain to draw the toolbar out again.
4. Search bar: Enter stuff into here to search the forum quickly.
Once logged in, the upper right will change a bit and look like this: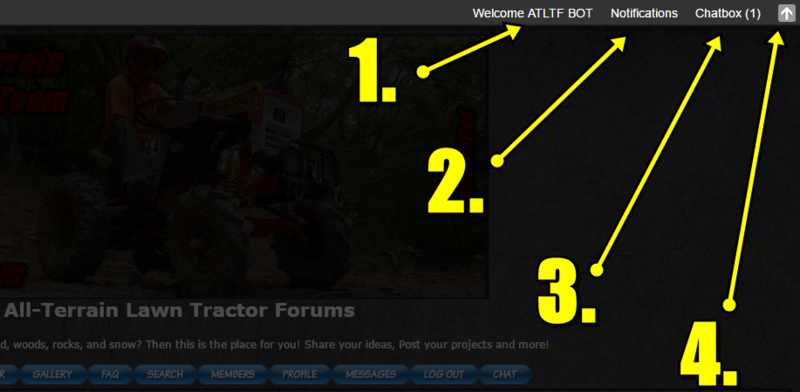 The new functions are...
1. Your username: This will open up a menu with more options. More on that below.
2. Notifications: Any forum notifications will appear here. Still exploring this.
3. Chatbox: This displays how many users are currently logged in to the chatbox. Clicking it will bring up a popup chatbox, where you can login and use it on any page on the forum. You can minimize the chat while logged in, and doing so will notify you of new messages by chiming and displaying a little notification bubble under the chatbox button. Once you log out of chat, the notifications and chimes will stop.
4. Collapse: This will collapse the toolbar. The button will remain to draw the toolbar out again.
Now the button with your UN on it has some quick links, as well as some of your stats. Clicking on it will bring up this: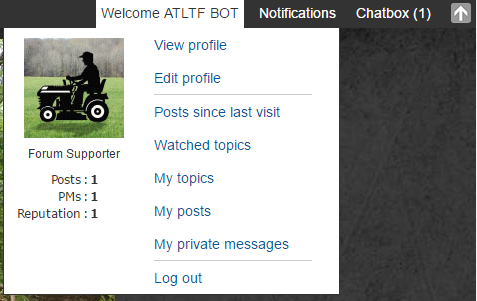 Pretty explanatory. The Posts since last visit button might come in handy for you. Admins and Mod will have extra options for their respective roles.
The bar is still a work in progress, but hopefully it is of use to you guys. Let me know what you think!
[adm]Some users may be missing the Notifications button in the toolbar. See below.[/adm]
Doug Fackler wrote:

@MatthewD wrote:

The 'Notifications' bar doesn't show up for me. Any idea why?


Not yet. I'm a far cry from being a coder so im still trying to figure it out. It doesnt show up for me either but the test account does.

EDIT: Figured it out.

Click on Profile>Notifications and select what you want to appear in the toolbar. The button will appear once you select something.


Also, be sure to check out the new Mentions system!
http://www.atltf.com/t5093-how-to-use-the-mentions-system