Earlier this year in the spring my cousin gave to me his mother-in-law's LT160 with a deck where the spindle hit something and ripped the rusted sheet metal right from the deck and motor that hadn't ran in years and was almost seized up.  After turning the motor over with a ratchet handle and adding gas to the tank, it started up and ran great without a carb cleaning for once.  Although a hydro isn't anyone's first choice for a mud tractor, the tractor I thought was pretty well made with a strong front end, plated hardware, a factory double pulley clutch, factory steering stops on the spindles, effortless steering, a 16hp kohler motor and plenty of space around the factory 20" tires for bigger ones.  So I removed anything to do with the mower deck and went as far as to cut the part of the casting off the front axle that pulls the factory mower deck to gain ground clearance.  
My plan for this tractor ultimately is to be a mud tractor with a utility twist on it. I have future plans to build a front bumper with a 2" reciever and a custom hood that is also like an ATV rear rack turned 90 degrees to hold tools and materials for working on jobs at properties that I work on.
To get started I wanted to build a rear 2" receiver.  I had a 2" ATV receiver that I used to have on my Wheelhorse C-125.  I mounted it on the inferior factory hitch and realized I could re-purpose the now useless bagger bracket to weld to the reciever and bolt to the tractor's frame to make a very strong point to tow from.  I like the idea of using a reciever because it gives me the potential to switch between attachments like drawbars, five gallon bucket mount or winch.
In the town where I live I can get parts powder coated pretty cheap, so I sent my factory rims and rear receiver off to get rid of that yellow color.
When I received the rims back I mounted 22x12-8 Kenda K299 Bear Claws on the rear and 15x5-6 Carlisle Xtracs on the front.  This was one of the worst tire mounting struggles of my life.  My front rims were too wide and my rear rims were too narrow. So I pinched a front tube mounting the tire and had to do it again.  I also had to enlist my dad's help so I could stand on the sidewall of the rear tire while he worked the tire spoons.
I absolutely love these tires on this machine.  The great factory steering coupled with an open diff makes for amazing handling and manuvearability.  This tractor has gotten stuck only twice to date which really shows what a good investment the bear claws were.
I threw on a set of $15 LED lights from ebay.  They are very bright and make riding at night a blast.
I had to get rid of those yellow caps for the axles so I sourced black ones to match the rims.
I removed the factory engine pulley and put on a slightly larger engine pulley to gain a little more speed.  However, I have changed the oil in the hydro unit to full synthetic and it gets hot pretty quickly.  After one particularly long night of trail riding there was a lot of oil of the transaxle the next day that came out the vent the night before.
I did change the oil in that old engine and put on a brand new belt.
This is the only hydro I've ever had and yes I miss the dependability of gears, but you can just turn the key and drive this tractor one handed.  It's so easy to drive my four year old nephew drove it! This tractor was a hit at a memorial day party and a fourth of July party.  I was challenged to a drag race by a guy with a stock toro riding mower and I totally smoked him.  I've had great times driving this tractor through mud holes, up a switchback logging trail up to 2,200 ft elevation, romping around my yard, and moving trailers with ease with ease.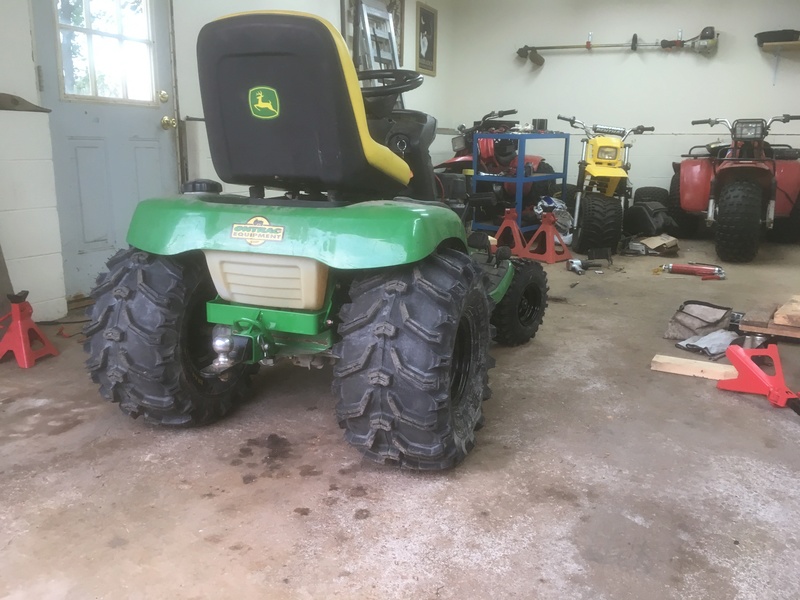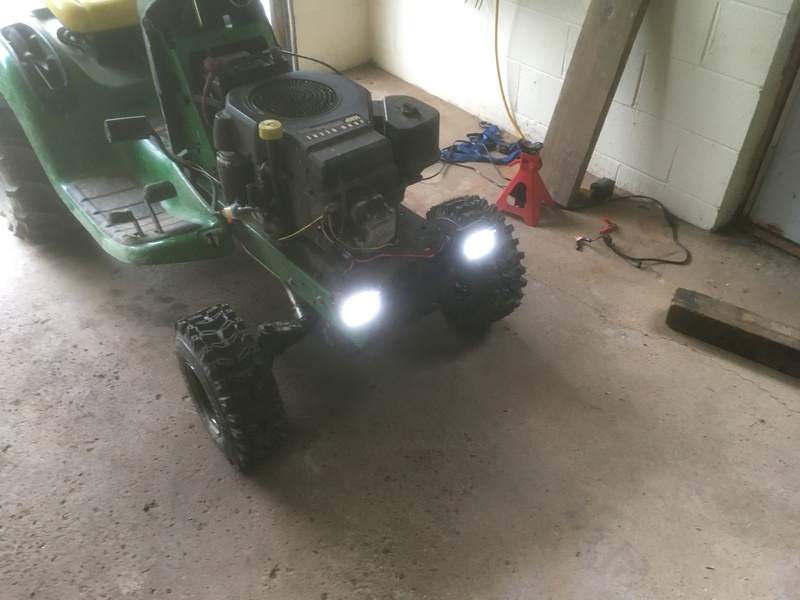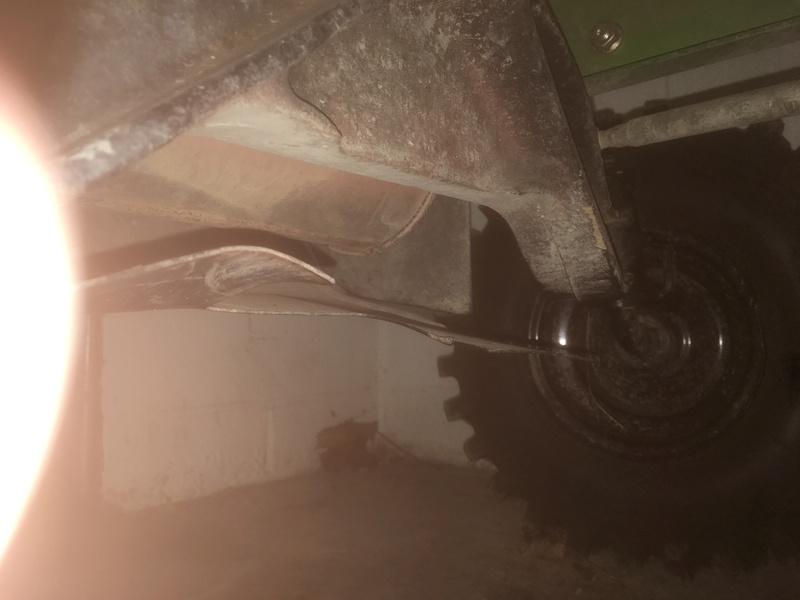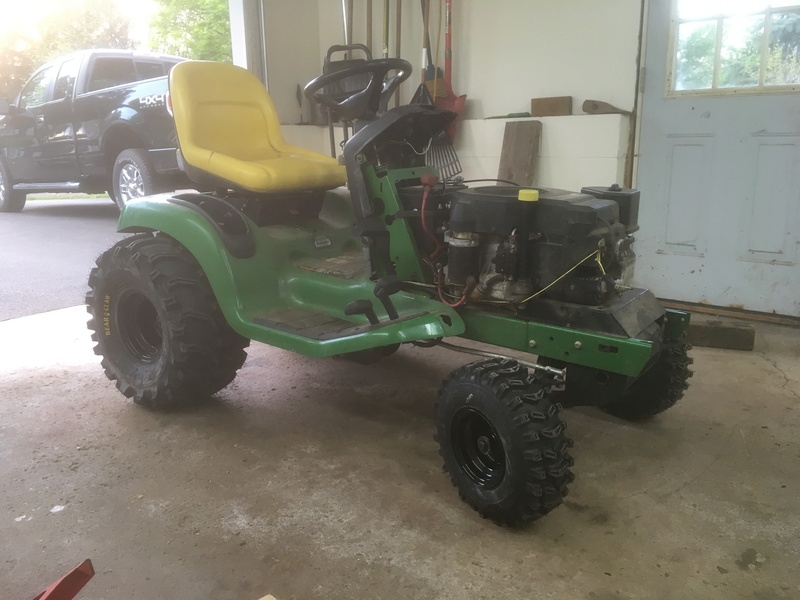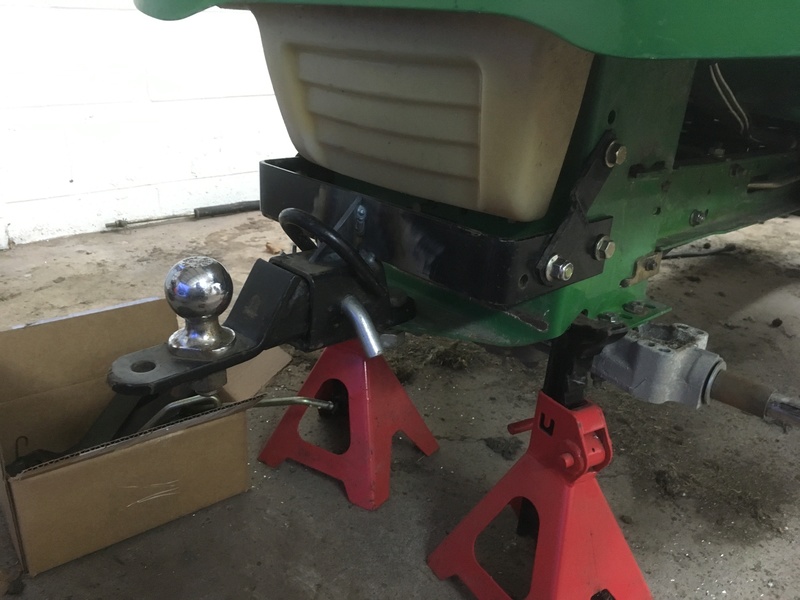 That's one of my best friends riding my tractor.
I'm looking for anyone with experience with the tufftorque hydro unit that these john deeres come with.  I'm currently thinking that I need to put on a factory size engine pulley to keep the temperature down.
Also I think this Kohler needs a valve adjustment. Every other time I start it the starter can't turn it past the compression stroke, and when I shut the motor off I hear a funny tink that I think is coming from the top end.  I'm looking for advice on that.