Hay People,
Here's a subject I'm sure everybody will like and appreciate. The question is "Where did you get the material to make that?"
Buying materials can get costly real fast. $10 dollars in hardware isn't much these days. A good piece of mild steel plate 1/4 inch thick can cost around $50. Angle iron I think is around $10 for 4 feet of the 1/8 inch thick junk at Home Depot. Lets hear how you get your material FREE!! That's right, Free. Hearing about how you got a good deal at the scrap yard is OUT. Anything that has to do with money is out!! BUT, if you have to exchange work for material is IN. Where you get the material for free is in. OK, if you buy something for something else and use it, afterwards if the project didn't work and you strip it for parts, then that would be considered as FREE then. I want to here the story with the stuff you got for free too. Sharing how you get the material with the story, will show how the new comers can start out with there projects on gathering building materials and keep the projects going.
Being resourceful is very resourceful. Plus, if you give a man a fish then he eats for a day, teach a man to fish then he eats for a life time.
So here we go.................
I got this hunk of steel plate from my job. It's a door from an industrial size band saw, that covers the top wheel section for the blade.The band saw was sitting outside for about a year. I looked it over, thing was too big to do anything with it. But the door for the top section was a pretty big piece of steel plate stamped out to be a door. Mild steel plate that was 1/8 or 3/16 thick, and was 2 1/2 feet square. I can fit it in my car and take it home. I waited for the perfect time, when they finally got tired of driving around it with the tow motor and looking at it. And the time came, when the boss said "Get rid of it". I heard that and said "Can I have the door" LOL. He said "Sure". I grabbed it and ran to my car before he changed his mind. LOL. I shared with him later on what I did with it. He was amazed when he seen the pics. I made the sprockets for my tracks, 2 brake rotors, and various brackets and supports for my Scorpion with it. That was around 2 or so years ago and I still got usable steel on it to make something.
OK, I just got these pieces of steel from work yesterday and today, still got 2 more pieces to bring home. There was a die grinding table with a dust collector built into it just sitting in the shop, taking up space for 6 months, LOL. Sound familiar. Boss man said "Scrap it". So the guy who was tasked to haul it away, came up to me and asked what was good on it. We stripped off what was good and while doing this the Boss man came over to see how it was going. He got a look over of the thing and said "OK, get rid of it". Timing is everything here People!! While he started walking away, I said "Hay, can I have those doors", LOL. He said "Sure". The doors are the blue pieces that covered the bottom front half of the machine. Just 10 gauge sheet metal doors, but hay, they was free and a pretty good size. But the unexpected part was the Boss man asking me if I wanted the trays too. I'm like "SURE!". 4 trays all together, the 2 small silver one's in the pic, and 2 longer ones that I still need to bring home. They are made of 10 gauge steel also. Should be able to cut out some body panels from these for sure. Got to remember to show what I make from these to Boss man, LOL. For some more free stuff.  

OK, Ignore the little junk around and atop of the framing pieces. The framing pieces is the good stuff. They are tops of steel skids from work. See a pattern here. The skids were so heavy that wood skids would just break so the vendor used steel skids for transport. Made the top and side framing from 1 1/2 inch angle iron that's 1/8 inch thick and measure 3 1/2 feet long and 3 feet wide. Each side is a piece of angle iron, 4 pieces of angle iron per square top, and I have 7 of them. How much did I say Home Depot was selling angle iron for, LOL. Asked Boss man if I could have them and he said "Sure". He stopped asking what I was going to use this stuff for along time ago, LOL. The angle iron can be used for making chassis's, got enough for maybe 2.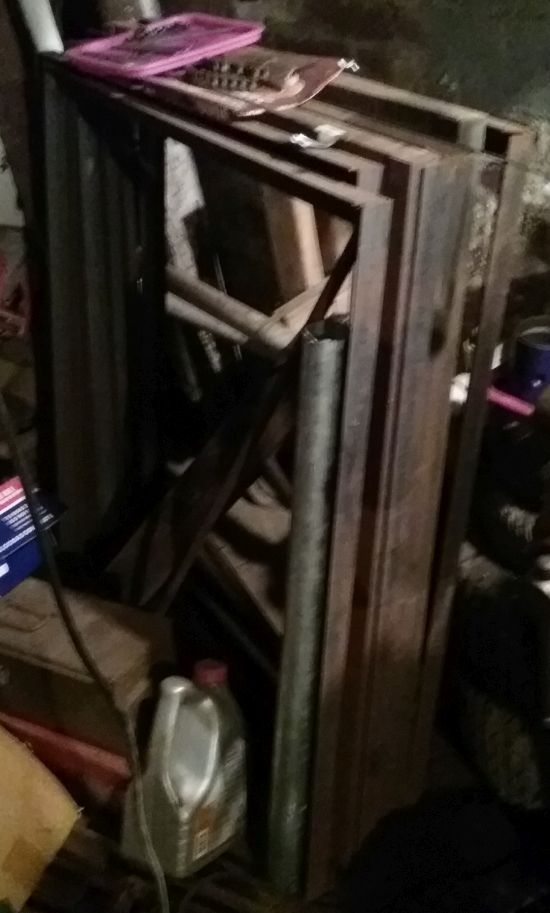 The base of the steel skids was made of 2x3 square tubing that was 1/16 inch thick. I seen 2 just sitting in the shop and getting in the way. I was even asked if I wanted them at the time. I had to say "No thanks" because I had no way to get them home. My Jeep was not running and my Ford Escort, well, it's an Escort, LOL. I'll have more opportunities for that stuff later. I got my Peeps looking out for Me

OK, your turn...............