Well it's been sitting outside for a year. I've been trying to get motivation to make stuff for it like a double pulley clutch... But it's rusted a whole lot over the year it's sat outside
The old article for this tractor was
https://www.atltf.com/t4255-mtd-ranch-king
So I figured I'd change the article since while it sat outside it changed...
This is now the Champion off road mower!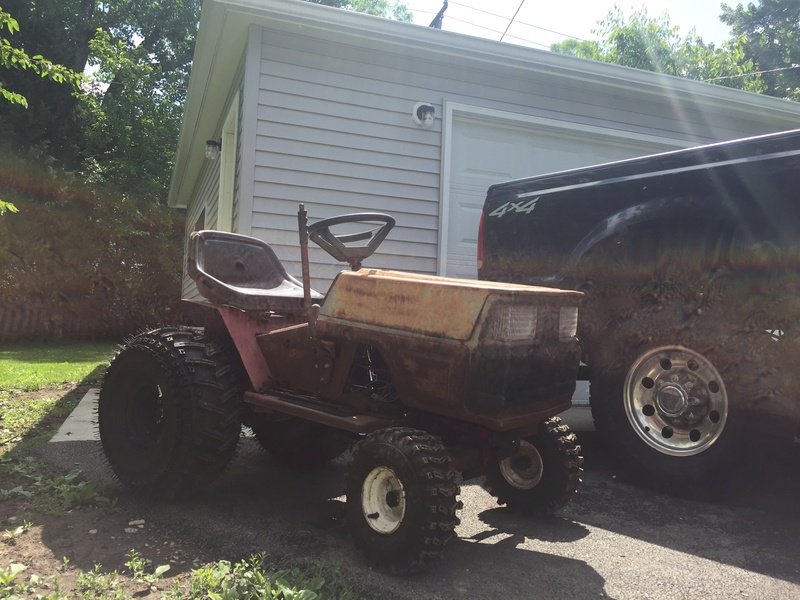 What is done so far to it is
-double pulley clutch
-tires 22x11x8 rear 13x6x6 front.
-I made the deck engagement lever the brake.
-Also cut fenders off to flare them.
-It has a 6 inch rear pulley and a 2.5 inch front with a stock 12 hp Briggs flathead.
-And I put a 6 speed 930 in it from my old tractor. Instead of the 4 speed 920 from it originally.
What I want to do to it is
-bigger front tires(found I can't crawl over as big of stuff as the rear)
-gas pedal
-pulley swap front
-lock rear end (probably doc lock 2.0 or weld spider gears, or add 2 more spider gears in the rear)
-also bumpers.
-I want to also weld the entire hood together to make the entire hood tilt forward and then come off.
My goals for this mower are... Well the only goal I have is I have to make it be able to fit in and out of my back yard (in between fence and garage then I don't have to move cars around in my driveway just to drive my tractor. After all that is said and done I'll just see what happens when I drive it and break stuff... GAME ON!