With the addition of the Toolbar, I have activated the
Mentions
system. This allows you to tag users on the forum, similar to Facebook.
First off, check to be sure you have it activated so that you can be notified if someone mentions you. To do this, click on
and select Notifications. It will bring up the Notifications menu.
Select what you want to be notified and how. Be sure to select under Toolbar to get them.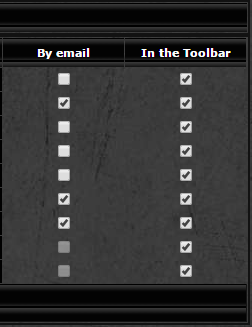 To notify a member
, you must type @ followed by the persons username. Note that usernames are case sensitive. So for example, if I wanted to tag redlinemotorsportts, I would type
@redlinemotorsportts
and he would receive a notification.
Some users have spaces in their name, such as myself. For us, tagging is a little more complex. If you try to tag someone with a space in their name, the tag will break and not work. To prevent this, you have to use "quotes". So, to tag someone like Doc Sprocket, you would type @"Doc_Sprocket" (without the underscore). The system will translate it and transform it to
@Doc Sprocket
and he will get a notification.
Hopefully this is of some use to you guys. Please try to avoid abusing it by tagging members excessively. Thanks!