I've been needing a chipper shredder for a while now. BUt one never popped up locally at a price I wanted to pay. beat up. overused, neglected. Always waaaay than more they were worth.
The other day, an older MTD 5 hp one popped up. 275bucks. Price was in range. It's an older model, where everything is steel. That's a plus. Only things plastic on it are the wheels, the air cleaner cover and the handle on the pull cord. Ser number pegs it as a 1991 model.
I went to look at it. it ran half decent, the owner ran a couple branches through it and it worked. So 250 bucks and it was on it's way home with me: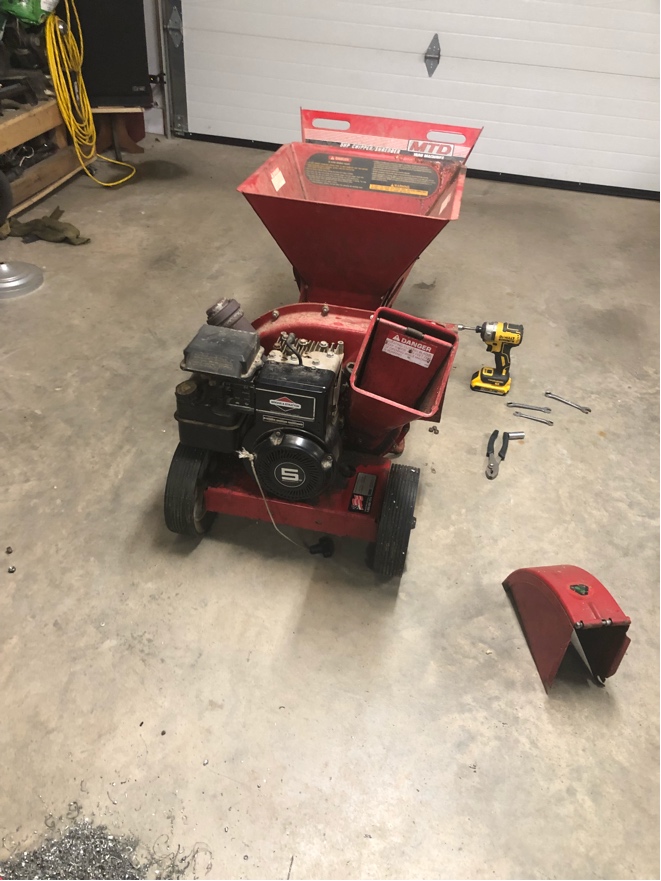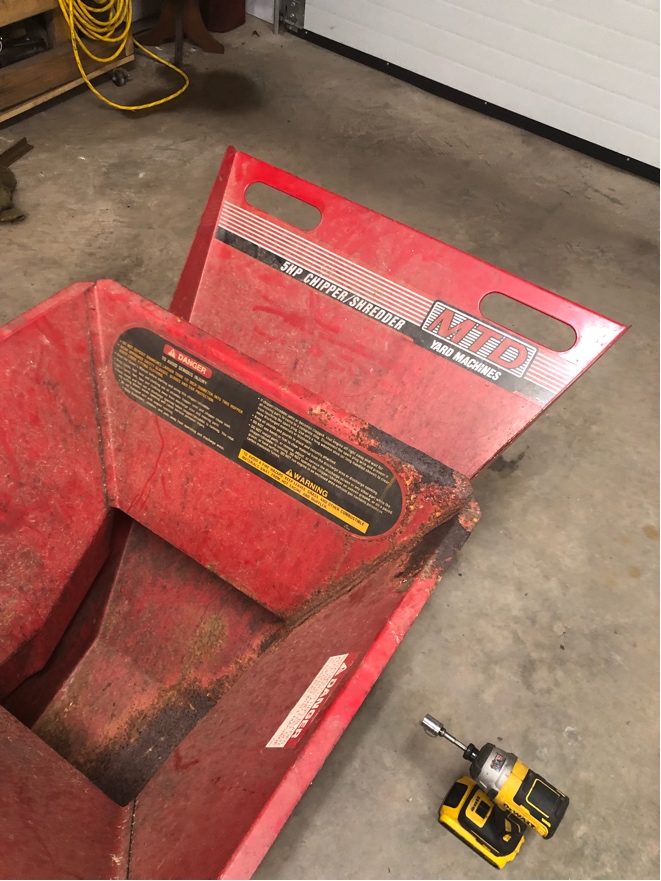 It's a typical piece of small equipment for the east coast. Used, not well taken care of and just expected to work until it dies. Not much maintenance, not much care. Just hold out as long as it can and then throw it away. But this old soldier has weathered the abuse well and is still in decent shape, despite what was obviously minimal care. Well, those days are over; I take good care of my stuff and this will be no different. Welcome to a new life.
I fire it up and run a branch through it to get a baseline for how it does (or doesn't) work. Well, it shredded it, but it more beat it to death than chipped it.
I shut it down and haul it into the garage to check the chipper blades. I'm being generous calling then "blades", they are more like flat bludgeoning blocks. Well, they need sharpening, no real surprise there.
You can remove just the blades, but I decided to just split the chipper housing and check everything out for good measure.
The disc is frozen to the engine shaft, so I just decided to leave it be. A puller wouldn't budge it and i didn't want to be pounding on what is actually the engine crankshaft.
There's a smaller mower type blade on the back of the disc to mulch leaves and twigs and that is also dull as the day is long. You can tell as the chipper blades dulled and become less effective, people had started to jam larger and large sticks into the mulching section to chop them up. Result: the light duty blade gets beat to crap.
There's also 12 metal flails that do the final stage of mulching/shredding on the disc. You can tell they've never been touched in eh way of sharpening or maintenance. The profile is damned near worn away on the leading edges. Luckily, they are mirror images front and back, so all I had to do was pull them off, clean them up, lubricate and re-assemble with them flipped around and it's a factory fresh edge again.
Tomorrow I'll sharpen and balance the blades, straighten up a few of the metal bits and put it back together. While doing that, I'll clean it up and put a few other bits back to right.
So 250 bucks and a bit of labor and I've got myself a decent chipper shredder. For it's intended uses at least.It's never going to chip up 4-6 inch branches, but it will work fine for my yard clean up purposes.
Not too shabby.
Next winter, I'll probably pull it apart again and give it a nice fresh coat of paint.