Thought I would toss out my old 83 mustang build. I've owned it since new, started life as a base model 3.8L V6 automatic GL. literally, the only options it had were power brakes, power steering, the optional 3.8V6 and a sunroof. Not even a floor console. It was originally just basic transportation for my (now ex) wife.
Well, it was a tough little bugger, clocking 378,000 kms on it and was still running fine. It just kept hanging around, I couldn't bring myself to get rid of it. But it was slow, pudgy and always got rotten gas mileage for the little amount of power it made (around 110-120 hp, at the
crank
)
Several years back, my modification eye turned towards it and we were off and running. In my retirement home now with the second wife, it was full steam ahead for the little stang.
But I needed a plan, a goal to build it to or I would just be throwing parts at it. It's a retirement project to keep me busy, but that doesn't give it a direction. So I decided to build it as a weekend cruiser and an occasional track day car. Road race/autocross, not drag.
Long story short, the 3.8/C5 came out and an 89 HO 302 and 5 speed went in. Lots of rust repair which is still ongoing. The rest I will just list and toss up some pics:
Engine: 89 HO 302, Edlebrock Performer RPM Air gap, Holley 750 double pumper (vacuum secondaries), Duraspark ignition, BBK longtubes, BBK H-pipe  magnaflow SS cat back. Not much else done to it other than cosmetic. 300-ish Hp is more than enough for my uses in this relatively small car.
Transmission: T-5, Hurst short throw shifter
Suspension: OEM front K member modified to fwd 3/4" and engine mounts moved back  1.25" (more caster, rearward engine weight bias), 2002 cobra lower control arms with low friction ball joints, SN95 steering rack (quicker ratio), camber/caster plates, Mach I Bilstien struts, Mach I front springs, PBR Cobra disc brake conversion, 94 SN95 spindles, Full length subframe connectors, Maximum motorsports Torque arm, MM rear panhard bar, MM adjustable rear lower control arms, Mach I springs, Mach I Bilstein rear shocks, 8.8 rear end (5 lug axle conversion), rear cobra disc brakes (proper master cylinder to go with uprated brakes), Mach I 5 spoke rims all around.
Body: 1987 Mustang GT lowers grafted to the 83 "4 eye front" nose, Gt side lowers, modified Gt rear bumper to look more like the cobra fascia, mustang GT rear spoiler, T-Top conversion, 83 GT hood "scoop" (functional cold air), widened front fenders.  
Interior: Thunderbird T-Coupe buckets, 83 Mustang GT center console, 83 GT dash, rear battery compartment, clutch pedal conversion, SN95 dead pedal, power windows and locks, Factory cruise.
that's about it. Might be forgetting a few bits.
Picture dump -
How it started out:
Some of the bodywork: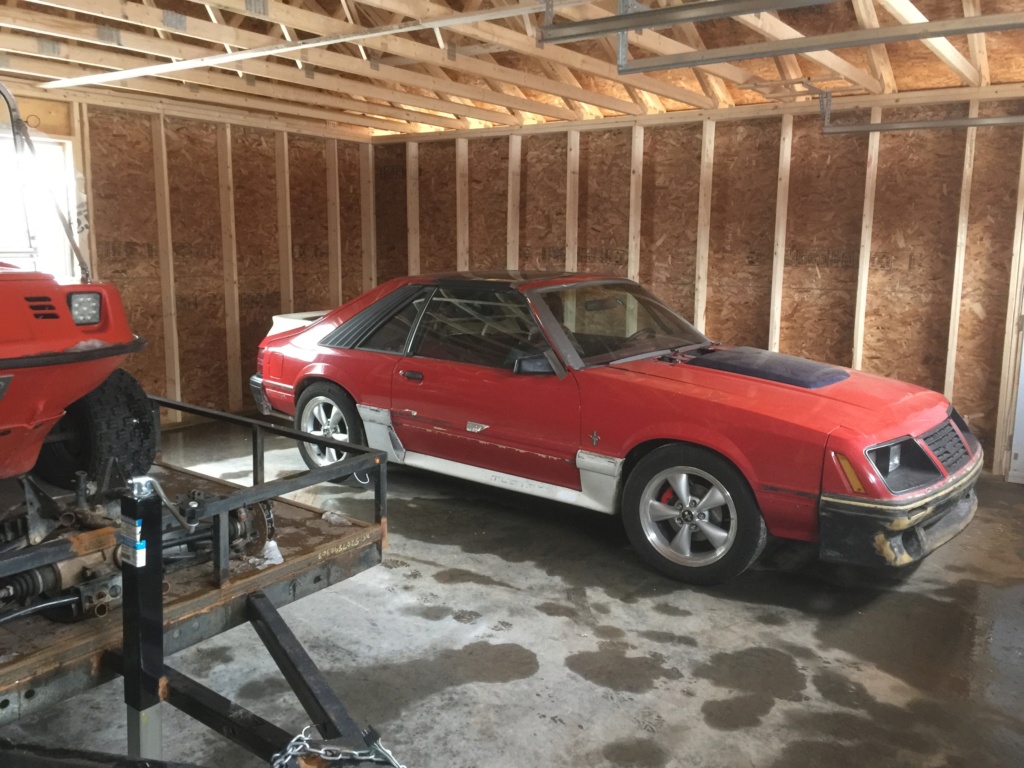 Working on the rear fascia: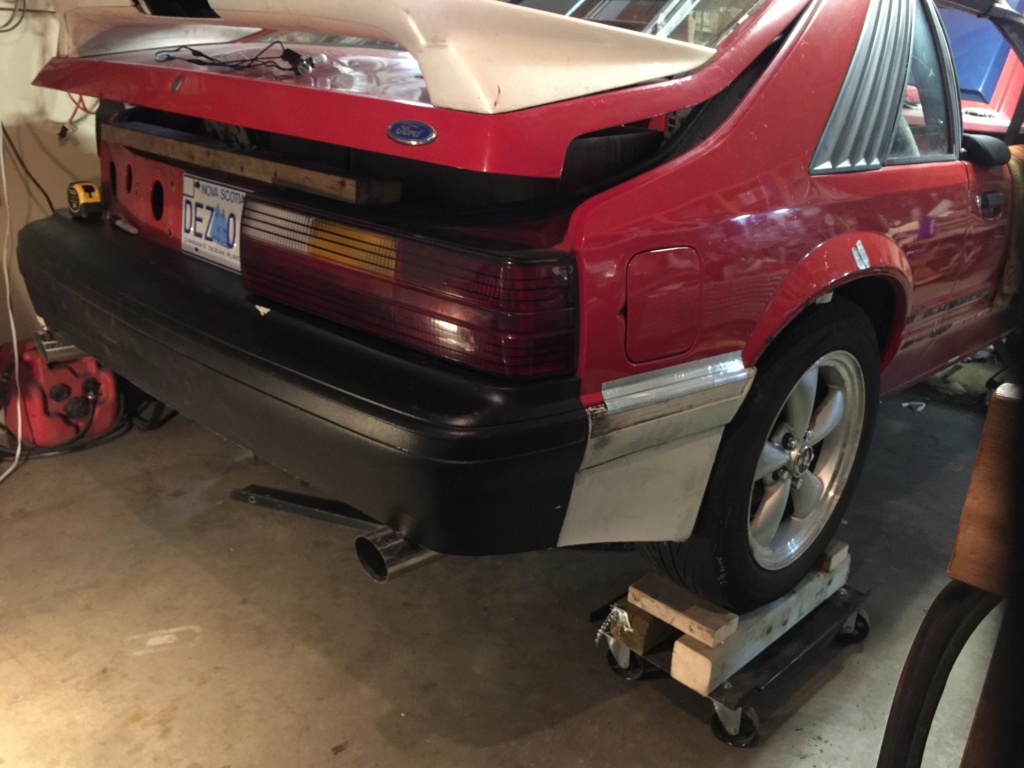 Working on the T-Top swap:
Mr Pool approves!
T-Top donor:
Putting the 3.73 gears and 5 lug axles in the 8.8:
All the rear end and suspension goodies:
T-5 with the hurst short throw shifter:
Building the "cold air" hood: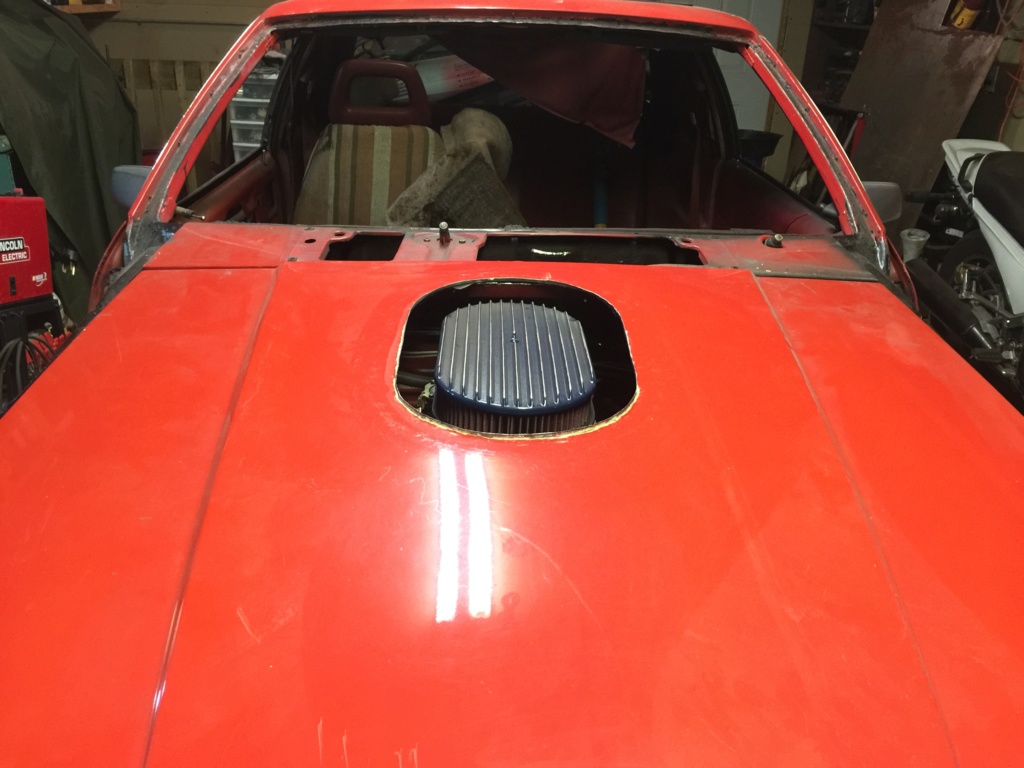 Oh yeah baby! that's what i'm talkin' about:
Almost makes me want to touch myself! LOL!