Minor update here, had a change of plans with the front tires and she'll be wearing the fronts that were on it when I bought it.
They look better on here really, and the Snow Hogs work good on the little Ford.
The other thing I did was drop the front axle out to finish up some welding on the steering bellcrank mount.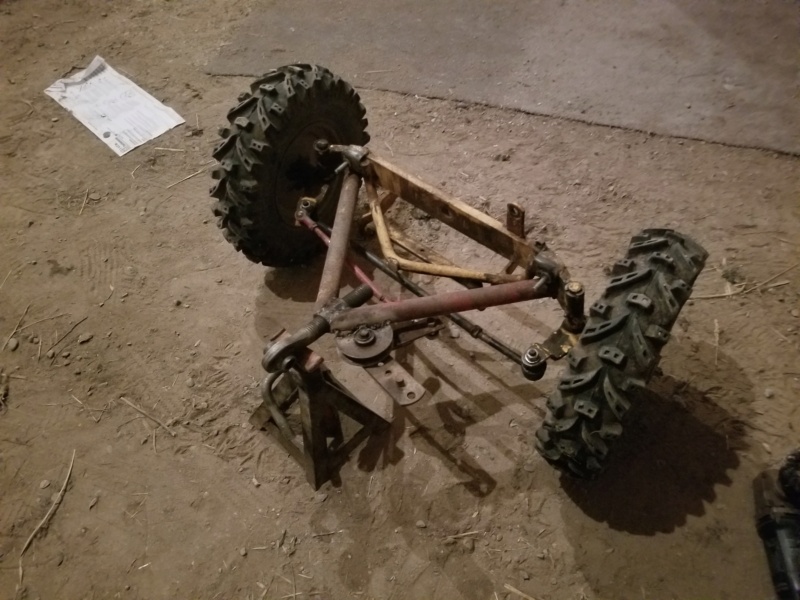 You can kinda see how the steering setup works a little better, that red steeing link is going to be replaced however.
Tomorrow I'm going to be adding some braces in a couple different spots on the front axle, so I'll get pictures of that too. After that it'll be getting the new trans ready to go in and working out the belt setup.
_______________________________________________
"This'll either wake you up or put you to sleep forever!"- Red Green         "Whatever you do you should do right, even if it's something wrong." - Hank Hill
MTD Off-Road Build
      -
Ford LT 110 Off-Road Build
      -
Craftsman GT 6000 Off-Road Build
  - Allis B-110, 710 & 716 - Wheel Horse 655 & 953 - Case 444 - Bolens Versamatic & 1668 - Cub 106 & 124 - Ford LGT 125 & 145 -