If you get a heavy duty momentary switch for use with cables, you could do a push buttom starting system. You would just need to run a cable from the postive battery post to the switch, then from the switch to the A (Armature) terminal on the s/g.
The voltage regulator is easy too, the F (Field) terminal gets wired to the Field post on the generator, and the Gen post goes to the Armature post on the generator. Some regulators have a ground terminal, but yours may not if it grounds through the mounts. Just be sure to check that out.
Then to get the charging back to the battery, a wire from the Bat terminal on the regulator goes to the hot side of the starter switch. This is also where you would put a fuse and an amp gauge if you were using one.
Here's a diagram to make it a little easier: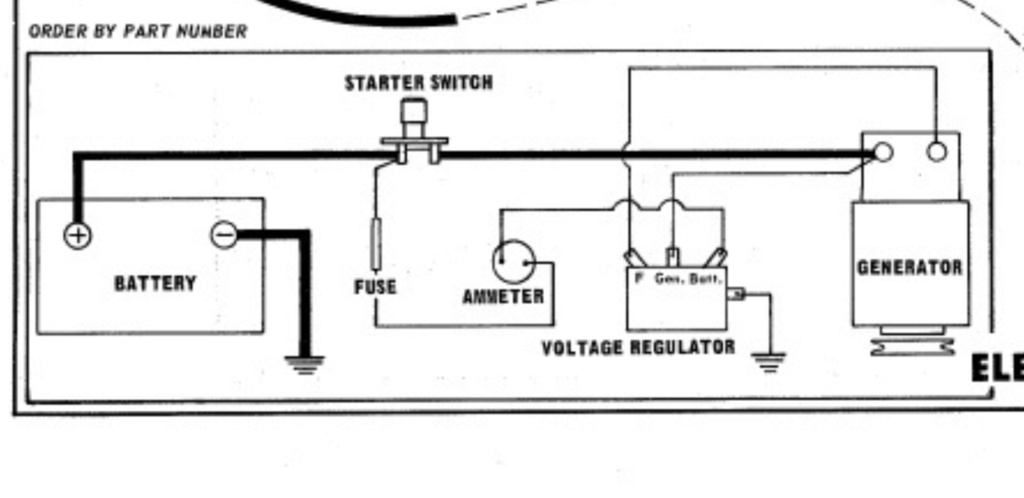 One more thing.. if your regulator has an L (Load) terminal, that is where accessories such and lights would be run from. If there is a Load terminal and you will not be using it, be sure to tape it off with electrical tape.

_______________________________________________
"This'll either wake you up or put you to sleep forever!"- Red Green         "Whatever you do you should do right, even if it's something wrong." - Hank Hill

      - MTD Off-Road Build
      - Ford LT 110 Off-Road Build
      - Craftsman GT 6000 Off-Road Build
       - Sears LT11 Rat Rod Build *2019 Build-Off Winner!*

  - Allis B-110 x2, 710 & 716 - Wheel Horse 655, 953 & 500 Special - Case 444 - Bolens Versamatic & 1668 - Cub 106 & 124 - Ford LGT 125 & 145 - White 1650 Yard Boss