With the purchase of the new JD, the MUT thread is officially dead. IE: no more work on the MUT.
The new tractor is a recent purchase and will take over the work of a couple tractors, including the duties that were intended for the "not quite finished" MUT.
The new tractor:
2018 JD X750.
31 hrs total, it's not even broken in yet.
3 Cylinder Yanmar diesel.
TuffTorq K90 hydrostatic transaxle. Tops out right around 8.5 mph, infinitely variable by the pedal control. you can barely crawl or run flat out with just pressing on the forward pedal. reverse is the same deal, but slightly lower speed.
Electronic gauges
cruise control
2 hyd circuits.
Curtis Hardcab (was made by Curtis for deer) with heater, wipers, lights etc.
47" PTO driven snowblower. Hydraulic lift and chute turn.
Front quick hitch.
Rear "click and go" attachment fittings.
It's roughly a 30 G rig, which I got for 15 G. I know that's waaaay more than most guys here can/will/want to spend on a tractor, but the wife wanted me to buy something that "just worked" so I wouldn't be cursing and screaming in the garage when the old "junk" breaks on me at the worst possible time (do things break at any other time?).
Story was a gent ordered it for snow clearing for his business. Then he had a stroke before he got much use on it (traded in at 15 hrs). The stroke forced him to close his business and he traded the tractor in at a local Kia dealership. I'm assuming he traded it in for a vehicle that better suited his new limitations. A year later I come along and they generally just wanted it gone at this point. Struck a deal at 15 g, loaded it on my trailer and brought it home.
First day sitting in the driveway: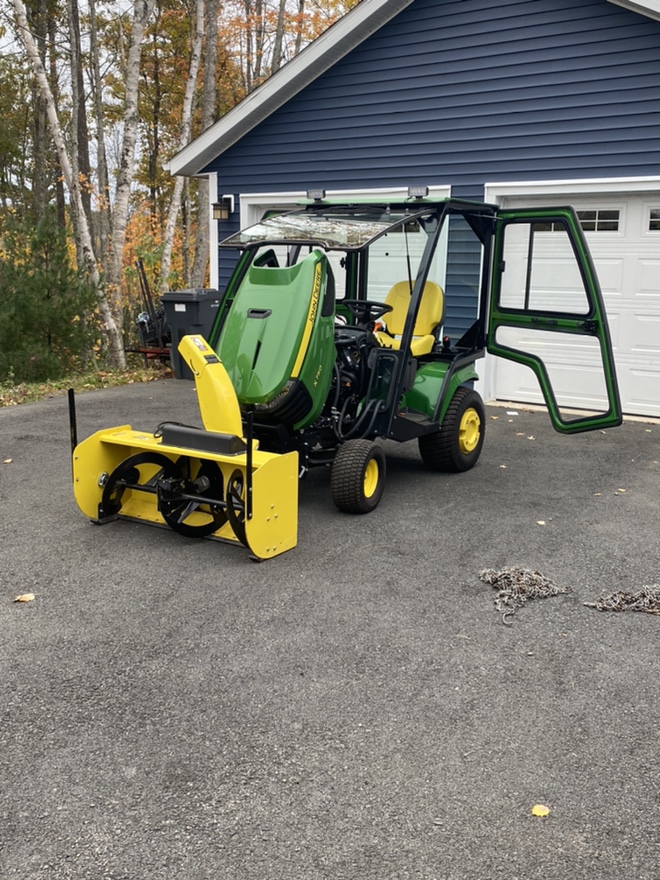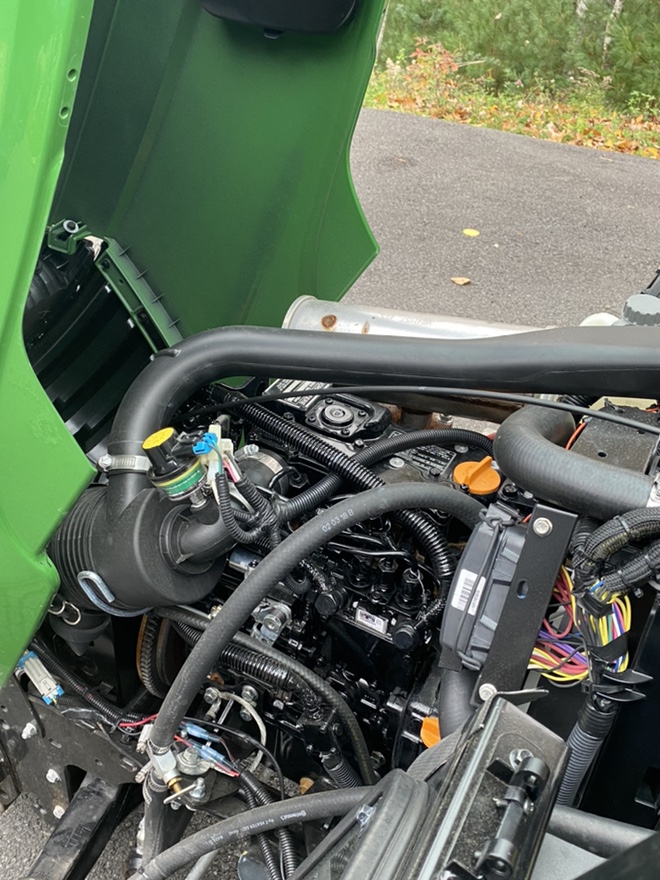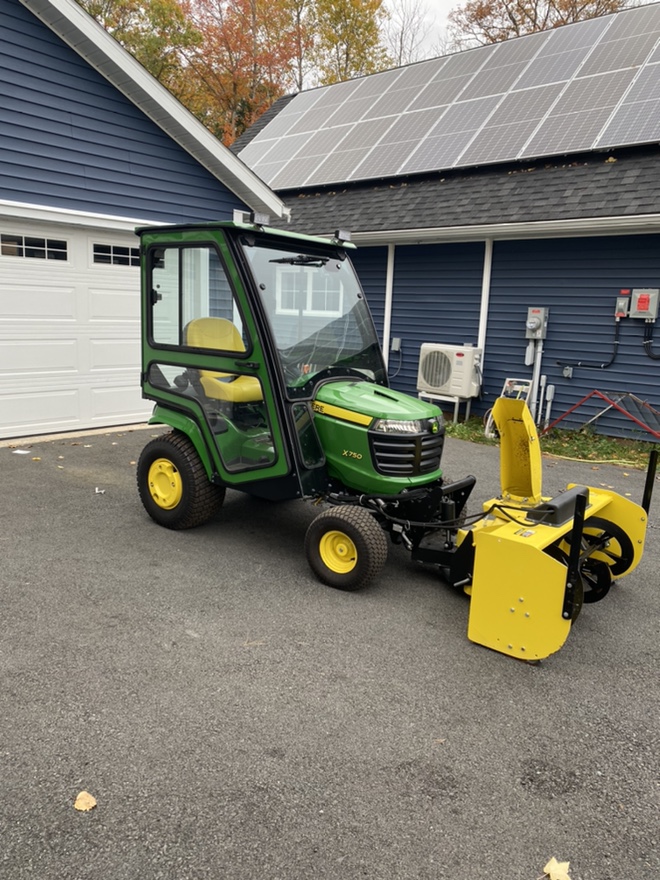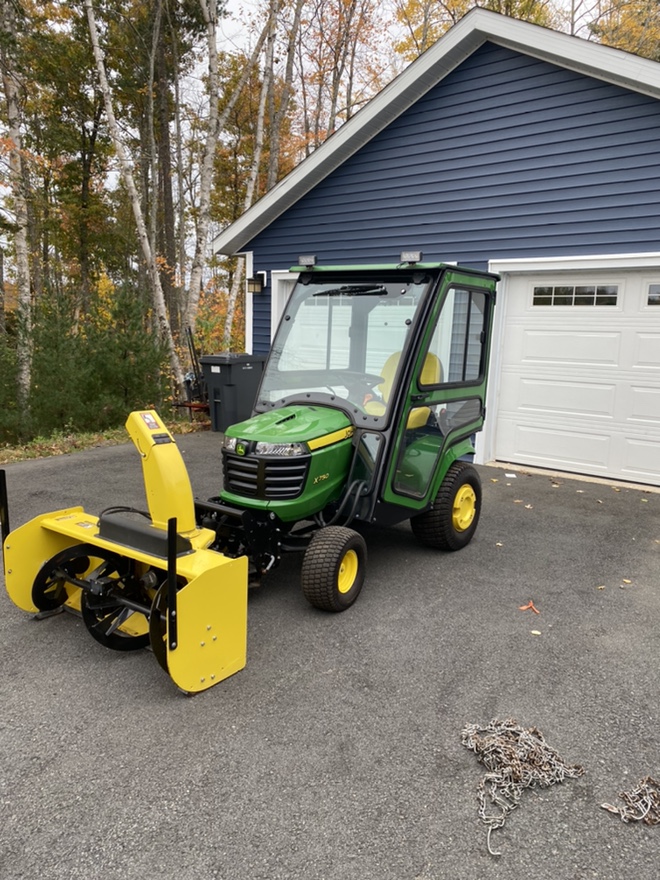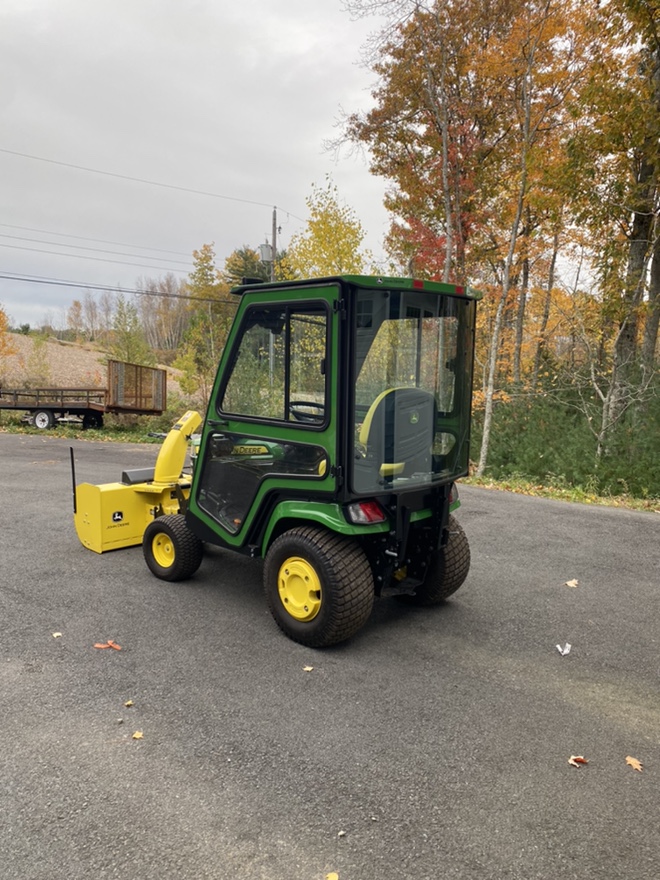 Nice, but I needed it to do more than just clear snow.
Being a JD, you're pretty much roped into buying the stuff you need from JD, so screwed up my courage and header to the local JD dealer.
8200 bucks later, I have a 54" HC autoconnect deck on the way, a 54" snow blade, the angling kit for the front hitch (holds the plow), the powerflow head (basically a blower that takes the deck eject and blows the material back in to the bagger), the chute from the powerlfow head to the bagger and a 17 bushel 3 bag collection system.
That will all just be bolt on stuff.
I got to talking with the dealer and he said the bare tractor lists for 15,500 cad, that's without the deck. the cab I have on it lists for 6500, the hitch and various other extra bits and pieces on it (ie: wheel weights, chains, etc) come right in around the 1 g mark, total.  So that's tickling 27 grand, throw in the 15% sales tax (he bought it new) and that gets you right around 31 Grand. Seems the guy wasn't lying when he said he paid 30 grand for it.
The biggest issue I have with it is that I wanted a front loader. But JD doesn't make a loader for the new X700 series tractors.The Curtis cab also makes it impossible to mount one as it covers the area on the frame where it would mount and even if you could mount one, you wouldn't be able to open the doors.
So that leaves very few options for a loader. One option is the "scoop" type jobbies, but that's not really going to work for me either. You can move stuff around with them, but they only have about a 5-6 inch lift. That won't even allow me to dump soil in the beds in the yard. No bucket curl/dump either.
That leaves me with one option: what is known as a "Buford Bucket":
It mounts to the front frame so it doesn't infere with the Cab. The lift is about 48", which is plenty for my uses. It will do pretty much what a full loader will do, just at lower weights and lift heights. The MUT will donate all the hydraulic parts and the steel. But it will be a while before I start that build. Its still got 12 months of warranty on it and it will be busy dealing with snow this winter. Spring will likely see the start of the "Buford Bucket Build".
Watch this space for more.....