Budget_gokart
Established Member





2022 Build-Off Entrant

2022 Build-Off Entrant

2023 Build-Off Entrant

2023 Build-Off Entrant




Age

: 19


Join date

: 2020-12-23


Points

: 1655


Posts

: 688


Location

: Roachdale IN

Subject: [23] Budget_Gokarts Deere's LUT January 23rd 2023, 2:44 pm

---

#Buildoff2023

So this year me and my grandpa spent an hour brain storming the name dont say it out loud. So basically the tractor is half john deere half craftsman the good parts of a craftsman and good parts of a john deere. It started lifeas a john deere 111 i bought from my buddy it sat in the woods and rotted i scrapped the deck and we stuck the tractor in is barn half torn apart for a few months. I ave the original 8hp flathead motor which i will revive i might even stick it on it for the first motor. Its gonna get a locked diff a proper trans brake it has a separate brake pedal from the factory which is nice but im also gonna add a hand brake. Heres pictures of my deere light utility tactor.

Approved - Jan 14, 2023 MightyRaze



Last edited by Budget_gokart on January 23rd 2023, 6:46 pm; edited 2 times in total

MightyRaze and Brianator like this post
MightyRaze
Administrator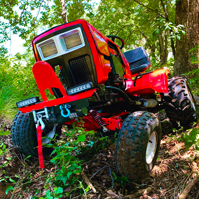 2017 Build-Off Finalist

2017 Build-Off Finalist

2018 Build-Off Top 3 Winner

2018 Build-Off Top 3 Winner

2019 Build-Off Top 3 Winner

2019 Build-Off Top 3 Winner

2021 Winner of Winners

2021 Winner of Winners

1st Place 2022

1st Place Winner 2022




Age

: 48


Join date

: 2016-09-06


Points

: 13402


Posts

: 9481


Location

: Oklahoma

Subject: Re: [23] Budget_Gokarts Deere's LUT January 23rd 2023, 3:01 pm

---

[adm]Welcome to the 2023 Build-Off!

[/adm]

Almost didn't realize it was an entry.  You put the [23] in your title.  Thankfully you had BO in there that threw me enough to see it.

Don't burn your entry down too quick. LOL
Budget_gokart
Established Member





2022 Build-Off Entrant

2022 Build-Off Entrant

2023 Build-Off Entrant

2023 Build-Off Entrant




Age

: 19


Join date

: 2020-12-23


Points

: 1655


Posts

: 688


Location

: Roachdale IN

Subject: Re: [23] Budget_Gokarts Deere's LUT January 23rd 2023, 7:04 pm

---

Alright i made Major progress today for the first update. Its dark outside and too cold to continue, i made plates and welded them on both sides and beefed the frame up plenty. Then installed the front axle and drag link.

And i also made a dash mount which will double as my gas pedal mount. The body on this thing is pretty roached out so its a rat tractor. It may end up getting a custom rat style grill instead of a hood but havent decided.
Brianator
Moderator






2022 Build-Off Top 3 Winner

2022 Build-Off Top 3 Winner

2023 Build-Off Entrant

2023 Build-Off Entrant




Age

: 44


Join date

: 2019-07-02


Points

: 3269


Posts

: 1710


Location

: Ontario, Canada

Budget_gokart
Established Member





2022 Build-Off Entrant

2022 Build-Off Entrant

2023 Build-Off Entrant

2023 Build-Off Entrant




Age

: 19


Join date

: 2020-12-23


Points

: 1655


Posts

: 688


Location

: Roachdale IN

Subject: Re: [23] Budget_Gokarts Deere's LUT March 29th 2023, 7:30 am

---

Y'all will be happy to hear I didn't scrap it, I have almost gotten it halfway done. I have driven it! video will be up soon. So the body just slides on right now, no hood mounts dash kinda just sits in place and is held by the steering. But the gas tank is secure the engine bolts are loose just for test driving. I have part of my exhaust made. and it does run pretty good, I've gotta tune the carb it runs pretty nice right now though.

Also I used some snapper parts, the JD bumper and a random piece of grille and made a pretty mean brush guard. I've lost a lot of pics because my phone randomly factory reset for some reason.

Another really cool thing I came up with, snappers have one wheel hub per mower that slides onto a 3/4 shaft so f you part two old snappers out you get two wheel hubs and 4 rims and tires. On the front of my Deere I have 3 bolt snapper front wheels and the back wheel hub s from two different mowers I hate those snappers anyway lol.

Brianator and Rustbucket Garage like this post
Sponsored content
Subject: Re: [23] Budget_Gokarts Deere's LUT

---