Thanks
@MightyRaze
! That meme, it's from Threes Company isn't it?! What's that actors name again!?
I know
@Rustbucket Garage
it's disgusting isn't it! Lol. The mud mower I bought (aka the "loner") will be dismantled and everything other than engine, wheels/tires and chassis will be sold and or disposed of. Now that I have the Roper 16T I'm thinking about letting the Bolens G10 go to thin the herd a little, I'm up to 10 tractors now! (most run and drive)
Well didn't I have an interesting tractor session today... started off easy and finished off easy but the inbetween was full on snowball effect! I want to spend the least amount time possible to bring it up to par and have it ready for riding, it's turning into more work than anticipated! Whoever had this before my friend Jace and I were fluent in the language of hackery that's for sure! Lol
Right after I started I remembered there was no reason for me to be working in a cramped area rolling around on mats to stay dry when I now have a work platform in the tractor shed so I set it up and got to work!
I started with getting a throttle pedal set up. To do that I removed the PTO parts, pedal and switch, found a decent spring in my stash, drilled one hole then put it together...that took all of an hour and it feels great, the spring has plenty of pull without over extending it and the pedal already has built in stops! If can't find a filler panel for it I'll whip one up quick.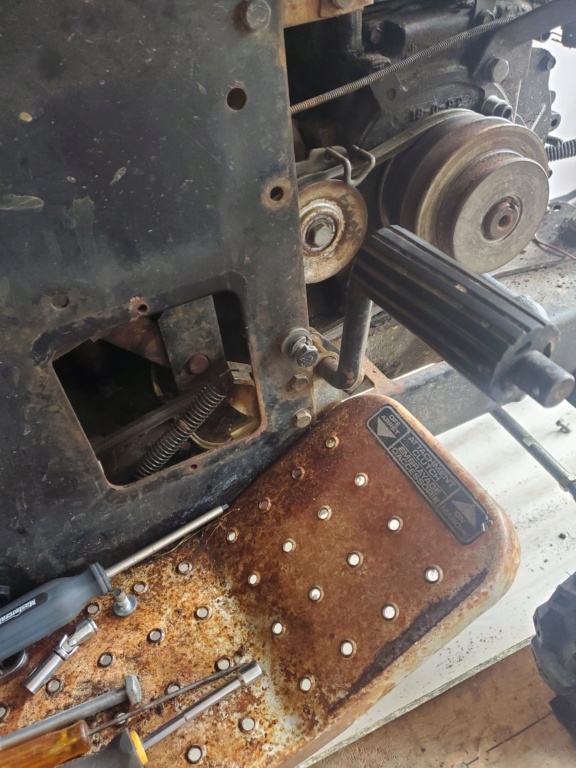 As I was mapping out a route for the throttle cable I noticed the engine tin/heat sheild was basically just sitting there, no screws or bolts or anything on the front side so I removed it and noticed this.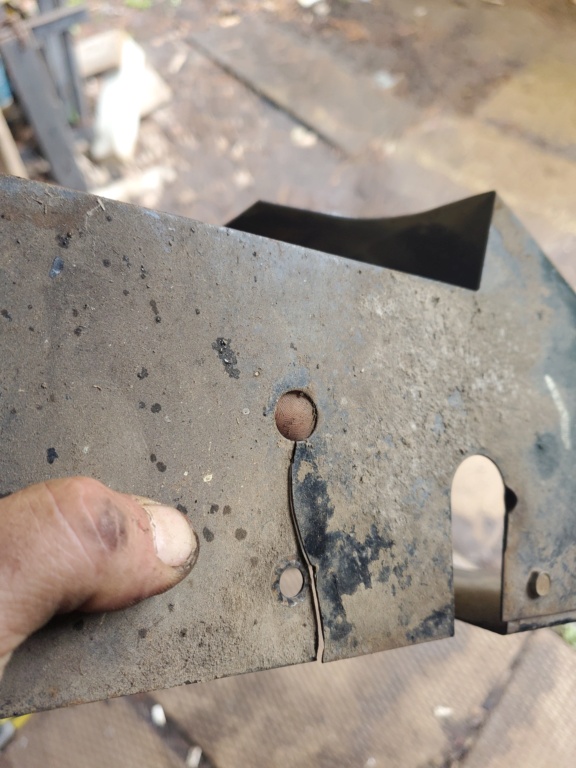 After cleaning and welding it quick I gave it a shot of paint...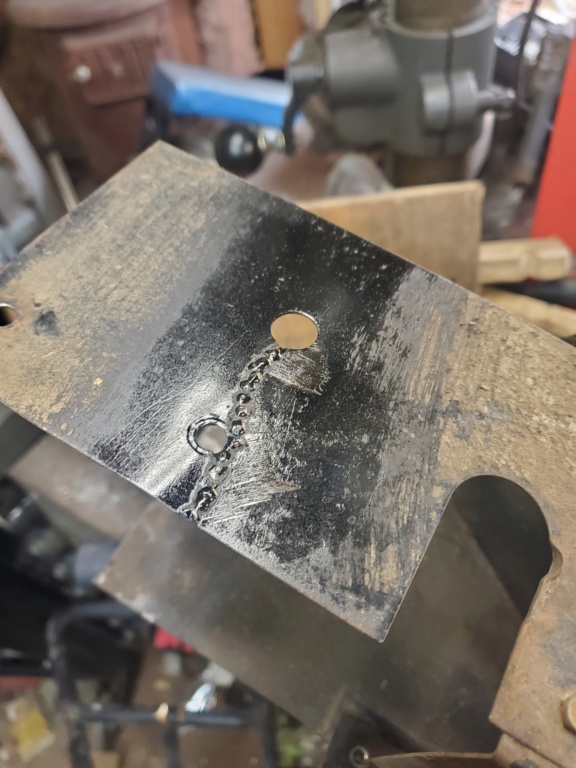 ...then flipped it over and saw it was even worse on the other side! It got the same treatment.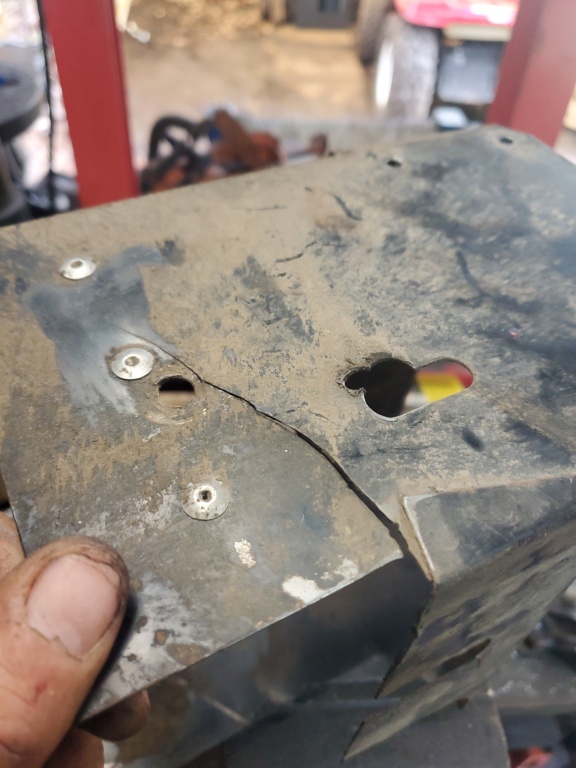 As I'm poking around I noticed another loose tin and spotted this rivet not doing its job, it's definitely not factory!  At this point I'm struggling to see because it's dark and raining so off comes the hood and grille! Then I smashed that rivet out of there with a screwdriver, straightened the bracket behind it and put a rivet in that will actually hold! Lol.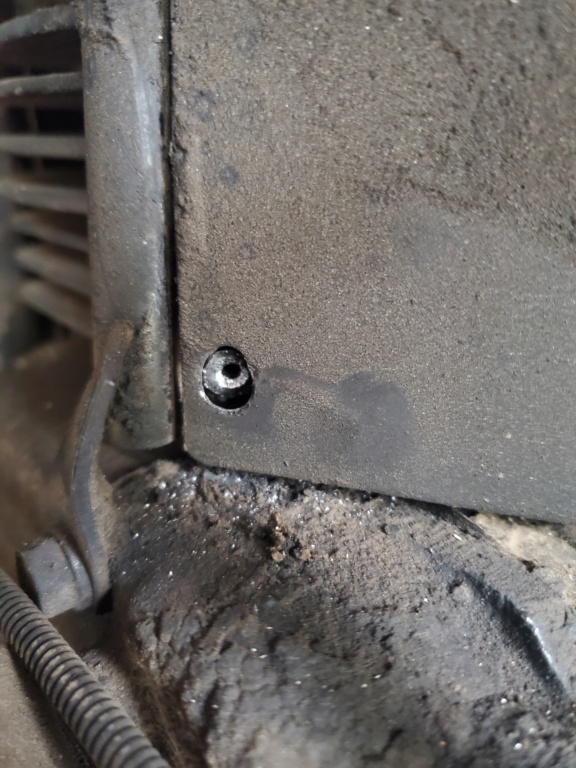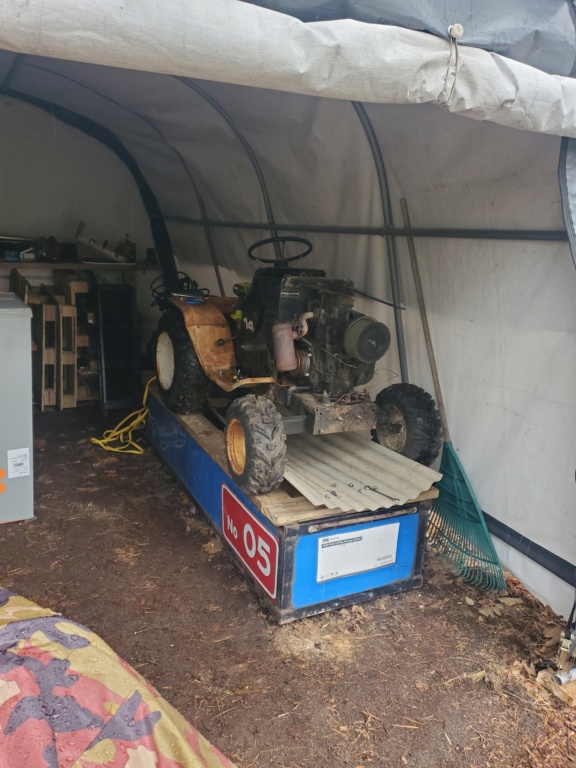 With that done I noticed the grille support bar on one side was drooping way more than the other one (can be seen in above pic) and yup, here's why! I'm starting to get a little annoyed at this point and figure a big washer on each side to reinforce it for now is good enough!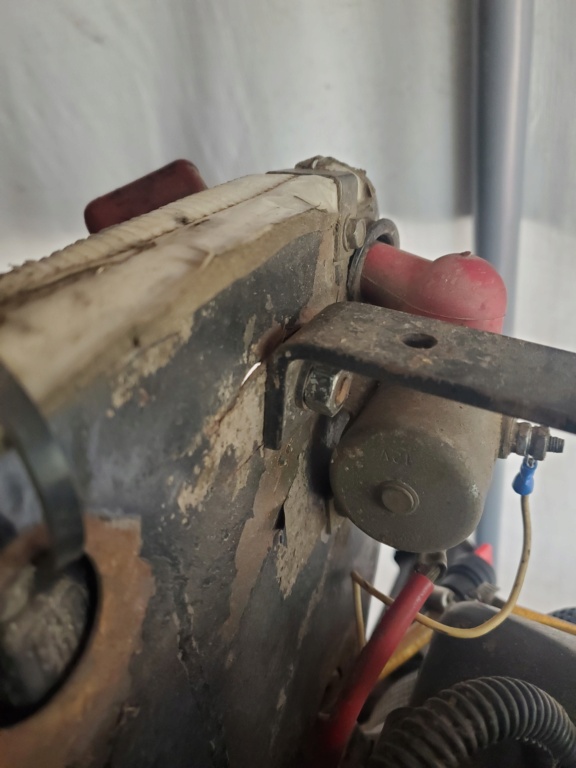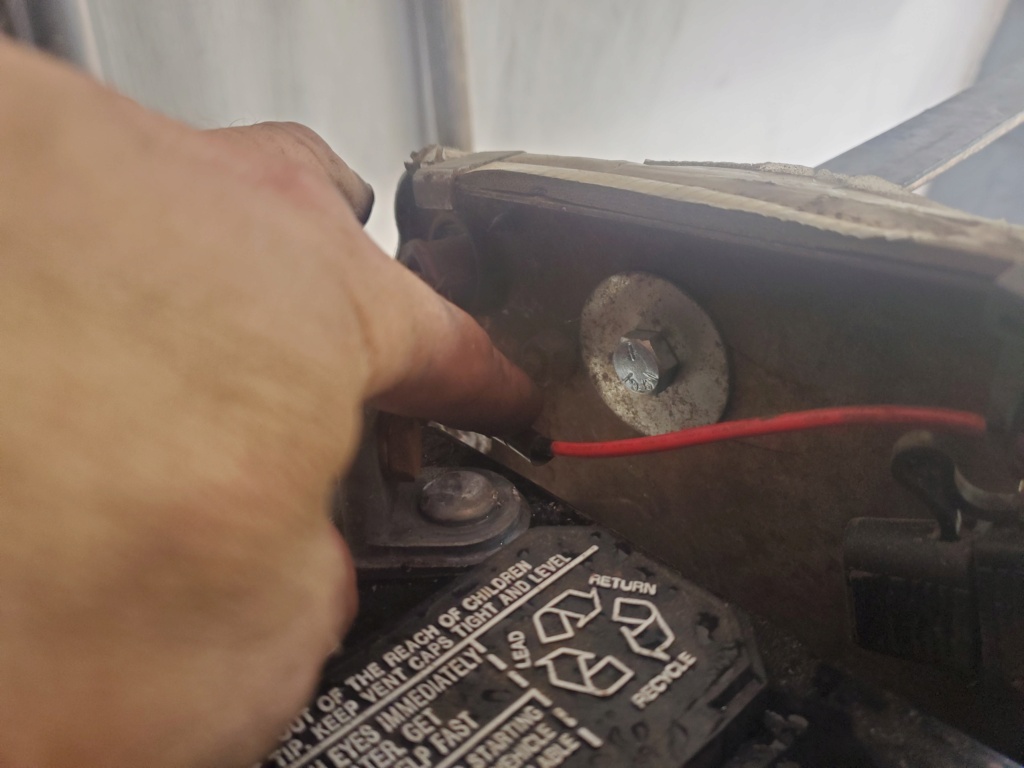 I installed the new drag link to kind of wind down and have a break, I think it looks great and should take plenty of abuse as should the tie rods.
Now things get VERY interesting... as you can see there's basically no room to install the 2 rear tin bolts (pic taken after assembly) let alone see what I'm doing but I could kind of see the holes in the other tin and get the bolt(s) lined up but couldn't get either to thread in, that darn thing is loose! After about 10 minutes and many colorful words I removed the tin around the spark plug and fished the other one out, well there's the problem! 2 little tack welds and I was done with it! Lol.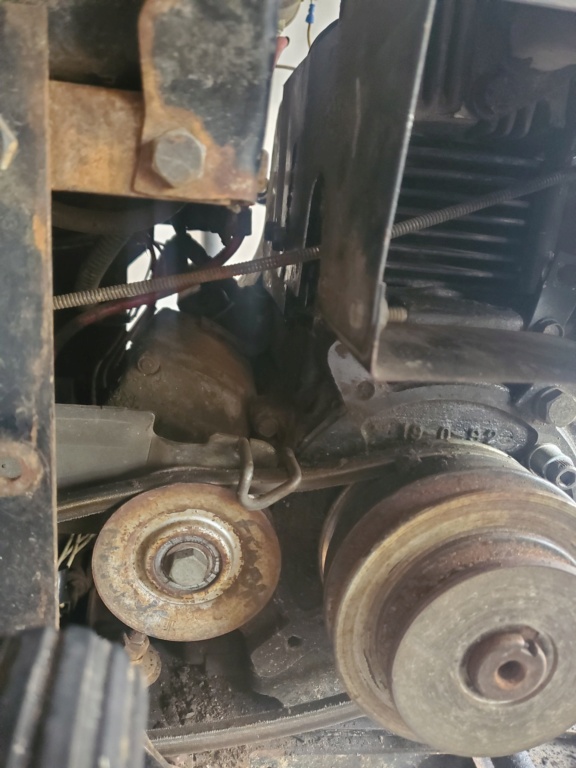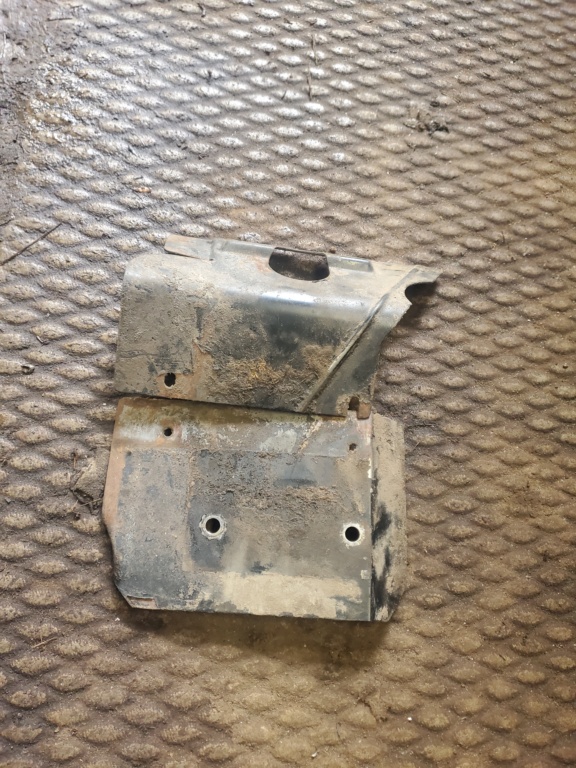 I'd like to take this moment to say that I don't easily nor often lose my patience in general or even with this kind of stuff but if I do feel myself getting frustrated I usually would just pack it in. It's a hobby and if I'm not enjoying it then what's the point right!? I wanted to push ahead and I was rewarded with the tins lining up easily with the bolt holes!
Back to the front (any Metallica fans out there? Lol) of the engine and the original reason I removed the tins, there was nothing at all securing it so I predrilled a couple of holes in the outer tin so I could bang 2 self tappers through the inner tin to hold it all together, that worked great and all the tins are now secure!
My brain was pretty fried at this point so as I start scoping out the throttle cable again I'm seeing how I'll have to make a bellcrank or maybe use a spring on the throttle cable because the throw of the pedal exceeds the throw of anything I can attach it to... I just had a "nope" moment and decided I'll get back into that with a clear head another time.
What I did do is install the seat and the ATV rack which were ready to go. The seat had loose bolts and because it came off of a totally different tractor it had been jury rigged with j-clips slipped in through huge holes drilled in the seat frame. I was able to save 2 which I put at the front of the seat and I banged in 4 fine threaded self tapping screws, it's pretty darn secure now and there's plenty of seat padding so I shouldn't get jabbed! Lol.
That's where I left off for the day, overall I guess I got alot done and I'm happy about that but there's still lots to do like either fix the leaking fitting on the fuel pump or replace it with a B&S style pump, figure out why I can't tune out the choking/surging that happens at low rpms and idle and get the headlights working. That's all I can think of right now but I may come across other things as I'm working away!
Sorry for the novel folks, I hope it was entertaining at least!