#Lil-Red
I shared my Utility build tractor project Sasquatch
Here
, but this is my Off-Road build.  
Here is my current project, Li'l Red "Murray" build.  I had been playing with tractors, modding some.  The more I learned and more that I read in forums across the net, facebook groups, and YouTube videos, I decided to try my hand at a Muddin', Off-Road build.  I toyed with converting Sasquatch into this, (still am), but an integral part of these builds seem to be the "locked" transmission.  1) I am not a "good" welder and 2) I wasn't sold on flipping gears to lock the Craftman's transmission.
I found on craigslist, nearly 3 miles from the house, this Murray.  The PO purchased it for the engine and could not get it to run.  Poor guy try to run diesel in it.  Got it all cleaned up and it runs decent.  Had some scary hiccups along the way like it puking a water/oily residue all over the garage door.  The engine does not blow or burn oil now.  I figured it was due to the Diesel or the guy I bought it from put oil in the chambers to prohibit rust? Thankfully a good soaking of purple power got that right off.
Here it is after I unloaded it off the pickup.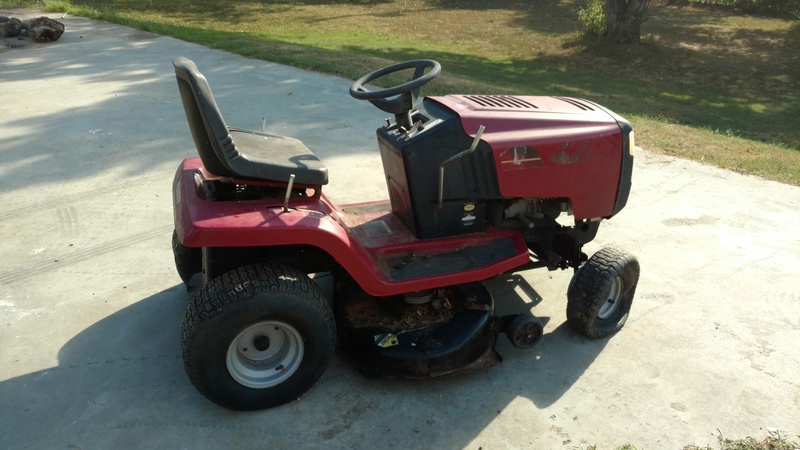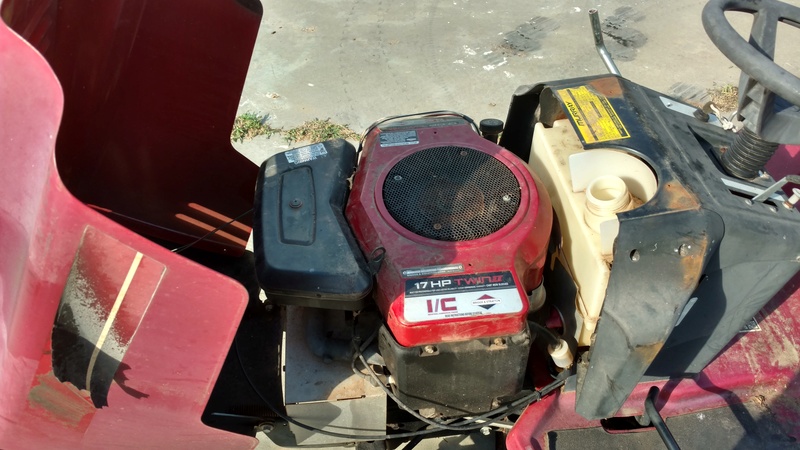 I decided to strip the thing completely down and start from the frame up.
Changed out the clutch single pulley for double pulleys
Doc Locked (Weldless 2.0) the transmission and pulley swapped and vented. (Could go smaller, but wasn't looking for speed, just faster)
Some shots of it coming back together...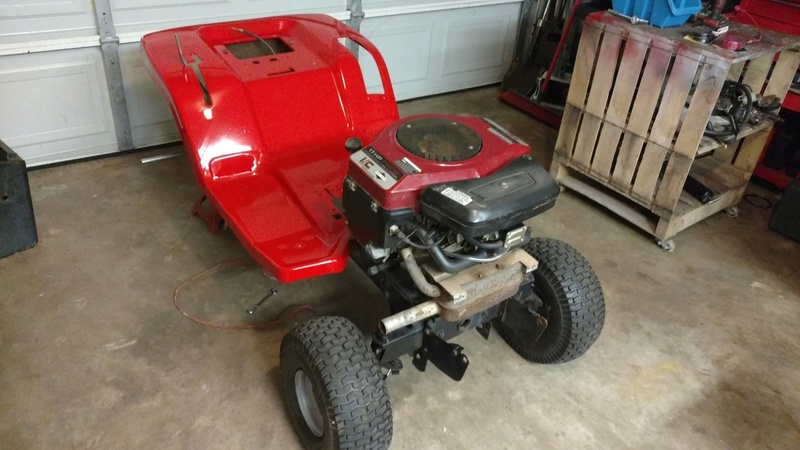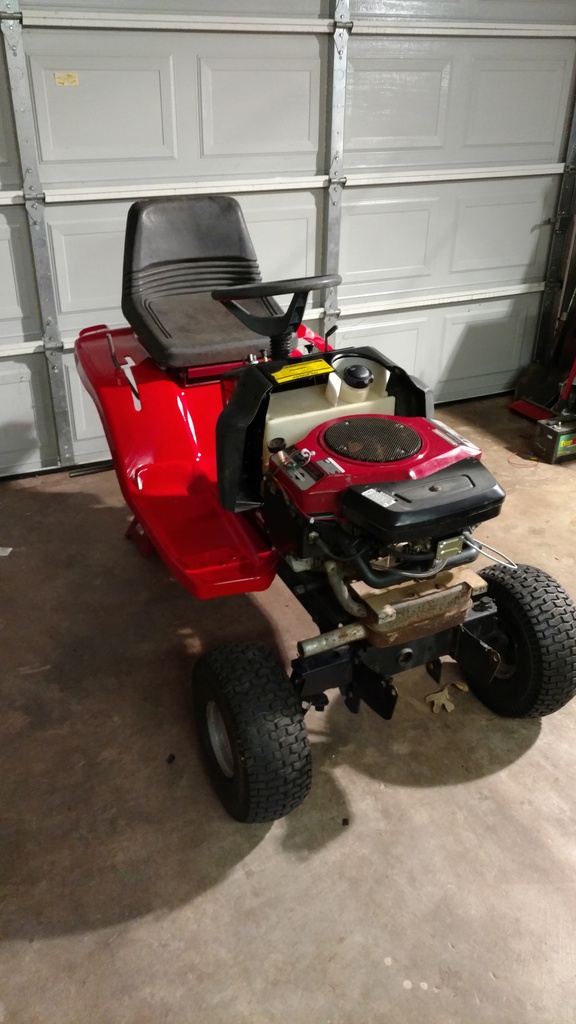 Added some tail lights,
Created a gas petal from an older Murray hydro that was mangled. (work still in progress)  I still have the dash throttle at this time.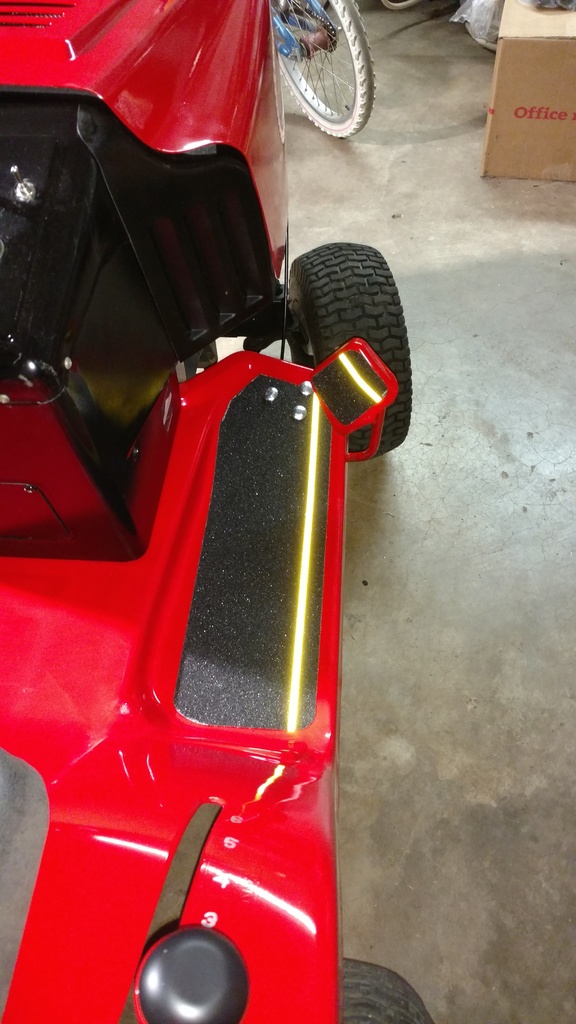 More pix...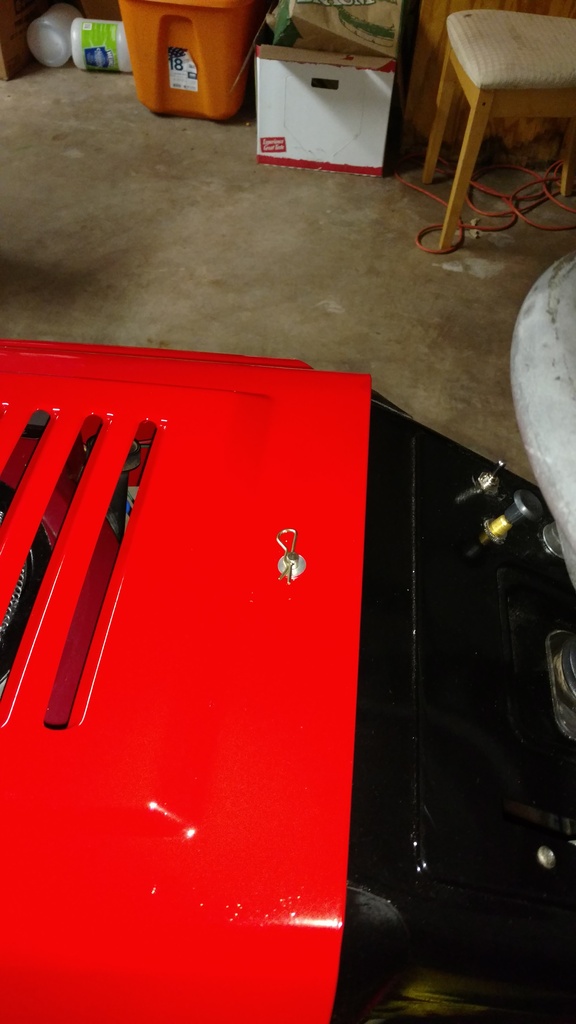 Things I still have in work:
Finish foot throttle.  Having both, dash throttle and foot isn't working that well at this time.  COMPLETE!

Mount new tires to rims. (can be seen in walk around video below) **COMPLETE

Fix an oil leak in transaxle.  Appears COMPLETE!

Engine still needs some fine tuning (I think it is starving for fuel a bit *COMPLETE...Didn't have cut off all the way open

Build a bumper that I can mount my dad's old wench that I need to fix input post

Build a back basket? storage for tools, etc.

From there it's whatever comes about!  I figure this type of build is like an artist's painting.  Never finished.  
Current state of Li'l Red.
Enjoy!
Edits: Marked off Completed items in list. Added exhaust to list.