The taller the tractor is off the ground- more unstable itll be (top heavy) at high speeds - ditch the stock steering if youre aiming for anything over 20mph - stock craftsman steering has way too much slop for anything over stock speeds - when i had my LT12 opened up - it wandered all over.
The MTD in my av pic ( to the left<<<<<) is a inital mild mod going to full bore hot rod as a prequel to my future build of a 69 wheelhorse sheetmetal on a 2003 MTD bolens chassis - which will be lowered ( 4" off the ground) , wide and real fast, but built to handle that extreme ( direct steer, brakes).
The MTD sits about 2" lower then stock , due to raising the front axle to top of chassis, lower profile rear tires and lowered seating position- just those simple mods makes it handle tons better . Actually feels like im driving a big wheel .
The MTD is my 3rd modified build ( speed wise) - first was the LT12- then came my 94 murray then the MTD.
The LT12 ( in its fast days) had a 14.5HP OHV briggs, 6" motor pulley and 3" trans pulley on the stock 5 speed trans. Top end was maybe 30mph - too fast for stock steering and no brakes. The motor pulley contacted the clutch pulley every time i engaged it with a screech.
The murray originally had a 14.5HP OHV as well ( stock) - that got the pulleys off the craftsman- basically stock at first ( tires n everything) , it ran around 30mph with a 6 speed shift on the fly. So i picked up a tractor with a 18.5HP opposed twin that found its way on the murray, i upgraded the front wheels to golf kart rims and tapered berings, and larger rear wheels and a steering wheel throttle ( still no brakes and stock steering) . 1st and second were mainly stockish speeds- after 3rd ( i never went over 4th gear) were frighteningly fast - well over 40mph and i wasnt even near wot and 6th gear for a stock tractor sitting too high and loose steering and no brakes - it scared me too much to drive it, even with a helmit on so i took it apart.
The MTD is actually pretty slow at the moment - was an experement using the stock transaxle, and variable pulley a 6" engine pulley and 4" trans pulley - so its getting the opposed twin off the murray , fixed center pulley to match the stock transaxle and ill see what that does - if its still not fast enough, its getting a spare 6 speed shift on the fly trans setup off another 94 murray i have. If i go that route, itll get a full lowering with drop spindles up front and chassis notch in the back for the 4" ride hieght.
For a foot throttle, on the twin, i removed the throttle cage assembly and hooked a bicycle derailer cable directly to the throttle plate link - i left my governer intact ( i DONT suggest moding a governer/deleting it unless it has been properly modifed to handle the extra revs ( all new internals, billet flywheel, ect) - over revving a stock motor will 1. blow it up, 2. possibly make the flywheel explode .
My murray went that fast with its governer intact and functional.
id suggest the foot throttle- as its easier to control then a steering wheel one - you run the cable to a pedal setup ( i used an old pedal off my wheelhorse on the MTD - i posted pics of it under the projects section.
Agway :
foot throttle:
mod murray before i took it apart: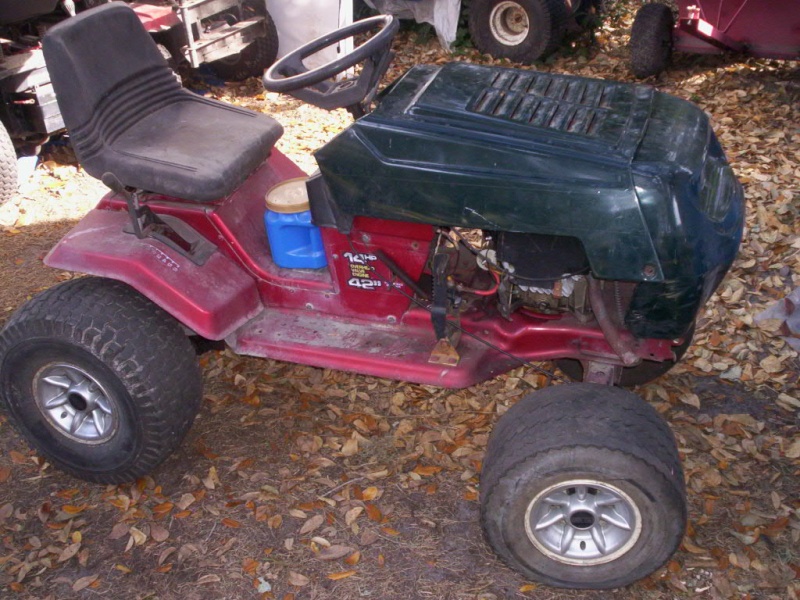 governer/throttle setup on carb: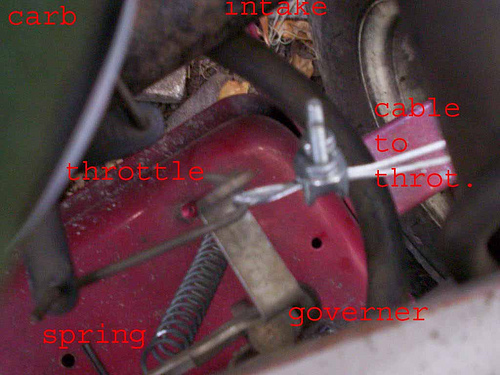 Pic that inspired me to build my modifed wheelhorse ( found this online - mine will look similar to it):