I'm not much of a "gaming" guy, I'm a little bit past that being a significant part of my life.
But I do have and xbox one x. I used to use it to play games with my daughter when she would come to visit (divorced) and it doubled as my blue ray / dvd player. It's handy to be able to cast movies from the laptop to the TV via the xbox too.
But some time back, I got into racing games. it's one of the few "crossovers" in my life with cars, trucks, airplanes, bikes, etc.  Actually, it's only one racing game: the Forsa games by Turn 10.
And while I could get passable with the hand controller, it mostly sucks for that stuff. So I picked up a used Thrustmaster 458 wheel and pedals. That made the game much more enjoyable.
But it's a PITA to drag it out of the cabinet, clamp it to the coffee table (ours lifts up), run the wires, find a way to keep the pedals from sliding around on me and just generally getting it to feel positioned right. By the time I get it set up, I pretty much have lost interest in doing a lap or two. Finding a place to keep it is also a pain, as it doesn't exactly lay flat or make a compact package when not mounted to the coffee table.
Seemed like a wheeled "sim chair" would fix me up nicely.
So I started checking prices.
SWEET ZOMBIE JESUS!
Hundreds of dollars for even just a basic gaming chair!
That's ridiculous! Especially considering you can tell that it's nothing more than an office/desk chair with different upholstery to look more like a car/racing seat. And they don't even have a steering wheel/pedal mount for those prices! You have to get up in to 500-1000 bucks for that and even then it's this great big box or metal thing that's not so easily moved around.
Nope, I need something else. For both budget and usability reasons.
Then I thought I'd make one out of a car seat. Nope. Still pricey at the wreckers for what you got. Plus, lots of fabrication and lots of weight when done.
It was beginning to look like I was just going to have to stick to clamping the 458 wheel to the coffee table. Ugh.
I was walking through the thrift store today and ran across a leather office chair. Arm rests were chewed up (like most old office chairs) and it was overall fairly well used. But the base and back were in decent shape and all the adjustments worked. It even had a touch of a bucket seat look to it, albeit low back and cushy. More dad's Ford LTD II than Ford GT40.
Tag says 12 bucks.
Yoink! Mine!
So I drag it home and yank the armrests off. I put them away in case I want to use them later.
I rummage through my scrap metal pile and come up with the old legs and supports for a Delta table saw and some other useful bits.
I yank the seat bottom upholstery and bolt on a couple side brackets, then staple the upholstery back into place.
A little cutting and welding and I have two side supports and a crossbar to clamp the 458 wheel to. A bit more cutting and welding and I have two lower side supports and a couple crossbars to sit the pedals in.
It's all bolted together solid for now, but I made the uprights with the ability to fold down to make getting in easy.
As it currently sits: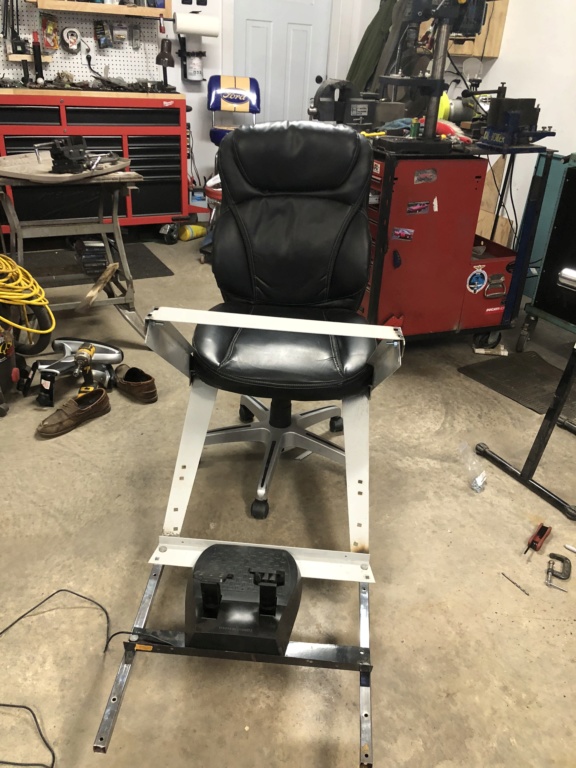 Initial feel is good. Since I was building it, I could put the wheel right where I want it and same with the pedals. I made it future adjustable so I can change game wheel if I want later on. Something with a shifter and clutch pedal for a bit more realism and fun.
I have some cutting and cleaning up to do tomorrow and I have to add a couple screw down rubber "feet" to the front pedal support (make it solid and keep the chair from swiveling on me). Once that's done, a quick shot of paint and it should look pretty good! Probably just go with a semigloss black (since the chair is not supposed to be a "stand out" part in a sim) and call it done.
Hundreds for even the cheapest gaming chair...yeah, right! Screw that! You're not going to get that kind of scammer profit from this guy!
I don't even have 20 bucks in to this one and it's perfect for my uses. Even if you add in the thrustmaster, it's still under 75 bucks! I dare say it might when look "store bought" when I'm done.
More importantly; now I can just roll it out of the side room, plug in the usb cord and be playing my game with minimal hassle. The longest part will be waiting for that damned xbox to do it's updates (I don't use it a lot, so it updates almost every time I start it).
When I'm done, it's just unplug the USB and roll it away.
I'm already thinking about adding rumble and a few other neat tricks to it!
Stay tuned for pics of the finished product......