This was my project last summer. Before I get to the modifications I want to tell the story of how I acquired the tractor and the origin of the name "The Hunk".  
Well here goes. I bought it from a guy on Facebook marketplace, however I do not have a Facebook account (this is where it gets funny).  I asked my wife to message the guy with her Facebook and her response was something along the lines of "you don't need another tractor"...I disagreed.  So I called my grandpop who has a Facebook and asked him to message the guy, which he did.  When I told my wife what I did and that I was going to look at it the next day she was less then happy, but I still proceeded to go and buy the tractor.  When I got it home she asked (With an angry tone) what I was going to do with another HUNK of junk, so to be even more spiteful I gave the word hunk a positive spin. And that is the story of The Hunk.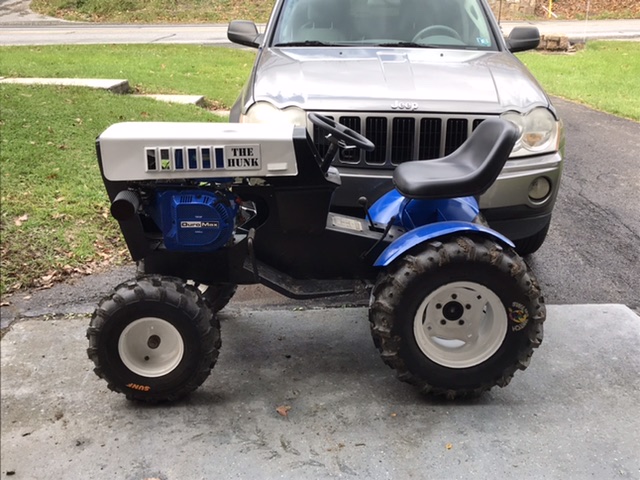 What I've done so far
New paint job (most obvious thing)
Engine swap Duromax 440 with exhaust and air intake upgrade
6" engine pulley stock transmission pulley
Foot throttle (hand brake handle on foot board)
New seat and steering wheel
Locked rear
Rear tires 25x10-12 Swampwitch
Front tires 19x7-8 Sunf A003
Coming soon!
Diamond plate foot boards and dash
Front and rear bumpers
Upgraded drag link and tie rod
Upgraded foot throttle
Transmission drag plate
Maybe rear rack