Compression test revealed that cyl
#1
is odd man out. 2-4 is running 140-145 psi.
#1
only pumps up to 105 psi.
A quick check of valve clearances reveals that while
#1
cyl isn't being held open, the clearances were tight, very tight. Cold the clearances should be around 10 thou for intake and 15-18 thou exhaust. Feeler check showed both are a very tight 5 thou.
This could be the problem as the intake would be held open longer than it should and the exhaust opens earlier than it should. Could explain why it takes longer to pump
#1
cyl to it's max value while 2-4 only takes a few revolutions to make max psi. I thought I had ordered the special valve shim removal tool a few years ago, but it appears not. So I'm now waiting for the tool to arrive so I can fix the valve clearances and check the compression again.
I really hope that's the issue as I'm not really enthusiastic about removing the head and ruining the head gasket with cyl's 2-4 making such good cold compression. It's possible only the
#1
cyl bore has a problem, but it's not likely with the others being so good.
Also ordered up 4 carb kits and a revised starter chain oil nozzle. My emulsion tubes are quite ovaled out, which does crazy things with the fueling. The nozzle is more preventative. the original nozzle is a long stamped sheet metal ojb, the new one (genuine Yamaha, designed for the XJR1300, which is the same as the FJ engine) is a machined piece. the problem with the original is that it is so long it reaches out and over the starter chain. The starter chain develops slack over time (no tensioner on it) and can flop around enough that it strikes the nozzle and makes a horrible "can or bolts" noise when running.  
Also ordered an Ignitek tcip-4 programmable ignition. I run one on my VMax and it's fantastic. So the Fj is going to get one too. Only problem is the seller doesn't have an ignition map for the fj1200, so I'll have to map out my own advance curve.  You would think the service manual would have all I need, but they only give you a very 2d map: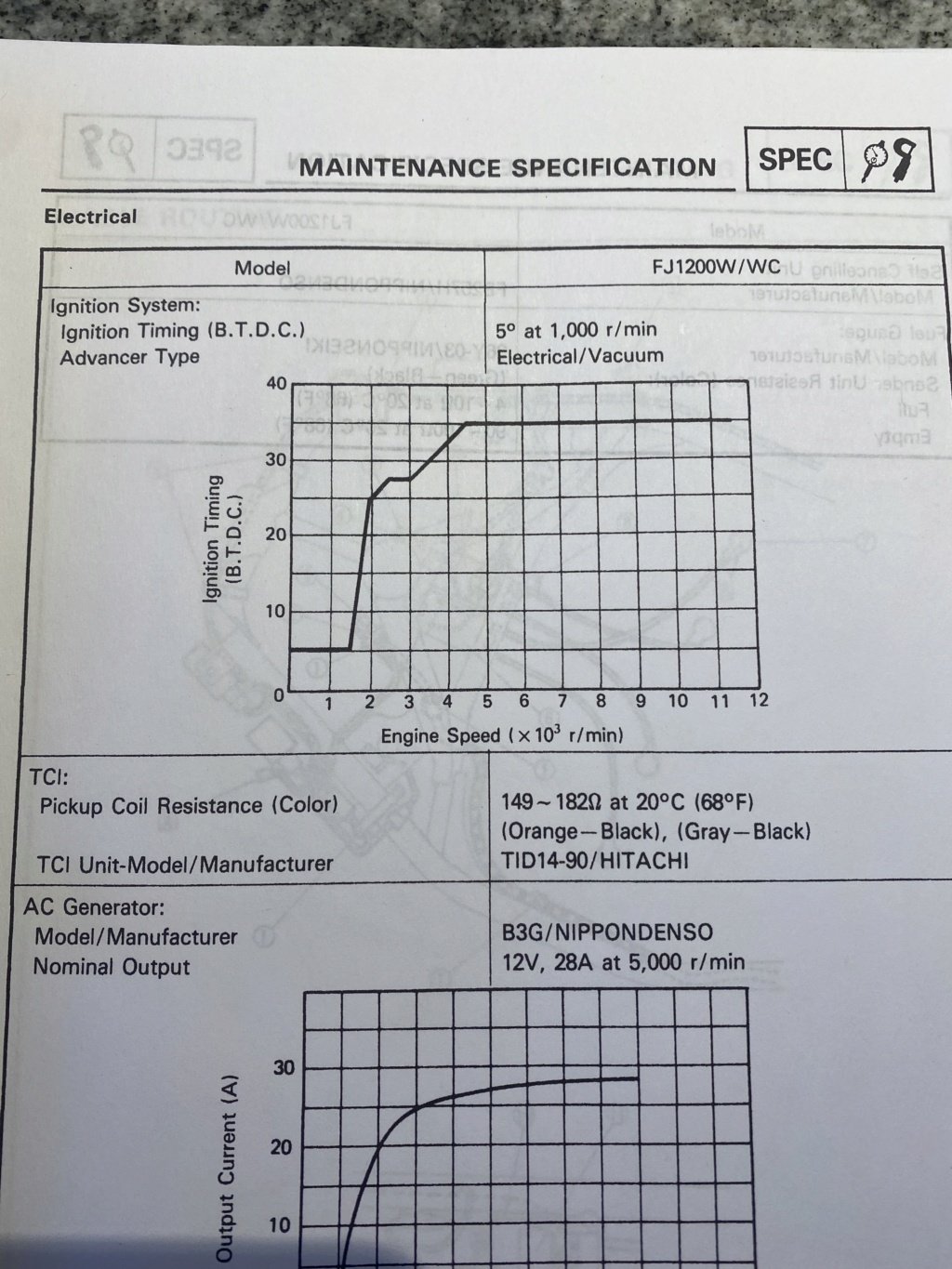 Problem with that is there is also a map sensor in the system, which provides load data to the ignition unit so it can advance/retard the curve based on engine load. that's going to take some doing to flesh that out on my own wit no starting point. Not beyond my abilities. it's just a lot of painful, detailed, experimental work....