In my recent quest for a diesel engine, I had a want ad out looking for an aircooled single to mess with. Didn't find one. I did find a Kubota z400 in running order, and grabbed it up. At the same time, another guy contacted me with a diesel... still attached to a compact tractor. Now-
He have me a price for the whole thing. His price for the engine and related parts was only $100 less, and I'd have to help him take it apart? What did I do? Same thing you would. Took the whole dang thing. So-
Here she is, a Yanmar D135 4x4 compact tractor. Yeah... 4x4. Gotta dig THAT. The engine is good, a 2 cylinder liquid cooled jobby, rated at 13hp. 630-something cc's, lotsa torque. Fires right up.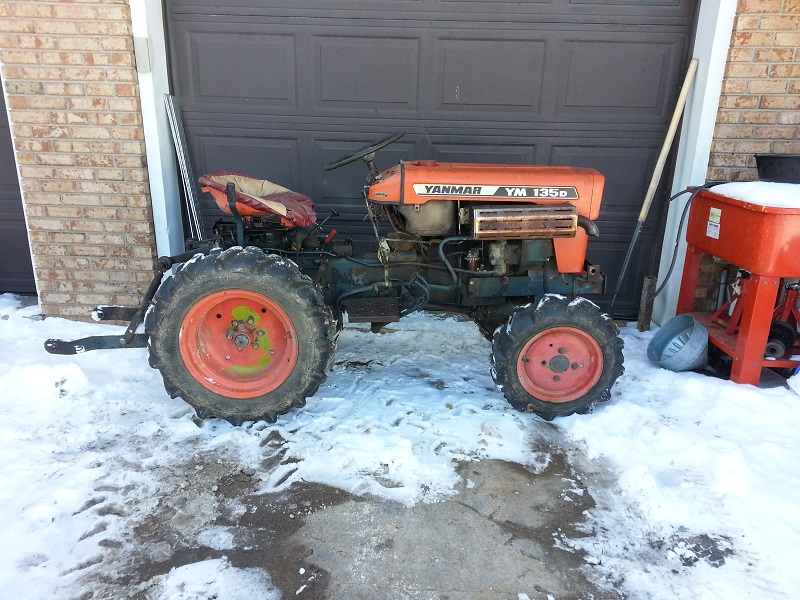 Now, the bad. Gear. The tranny has several bad gears in it, damaged from rough shifting and such. The previous owner split the tractor (more on that later) and took the tranny apart. He marked the screwed up gears for later identification. At some point, he loosely re-assembled the tractor so it could be moved around, while the gears sat in a box.
So what's the dealio? Man... 4x4. I just can't bring myself to haul the engine out and use it elsewhere. I guess I'm gonna have to find and order some parts!
What was that about splitting the tractor? This is no GT, it's a compact tractor. Same as a fullsize, just smaller. As such, there's no frame. The engine block, bellhousing, transmission, and rearend all bolt together to form the chassis. The downside to it all is that if you have to do any work to it, (like putting  a new clutch in for example) you're taking the whole dang thing apart basically.
Here's a quickie clip of it running.
Stay tuned!