So heres how im doing my home made driver sprocket and it came out great.
What you need:
Sprocket you are going to use that has space in the middle of it like mine pictured
brake rotor that has the same splines as the output shaft of your 700, mine came from a MTD FNR trans.
a good tape measure or best tool is a dial caliper
Vice and a few c clamps
Welder, or u guess you could bolt it together.
Theres a few measurements you want to take before cutting:
how much your splined output shaft sticks out to the e clip groove
how wide your rotor is at the spines, so you know how long your spacer from the original gearbox sprocket will be
out how far the sprocket needs to be from the gearbox, like where it is on the output shaft.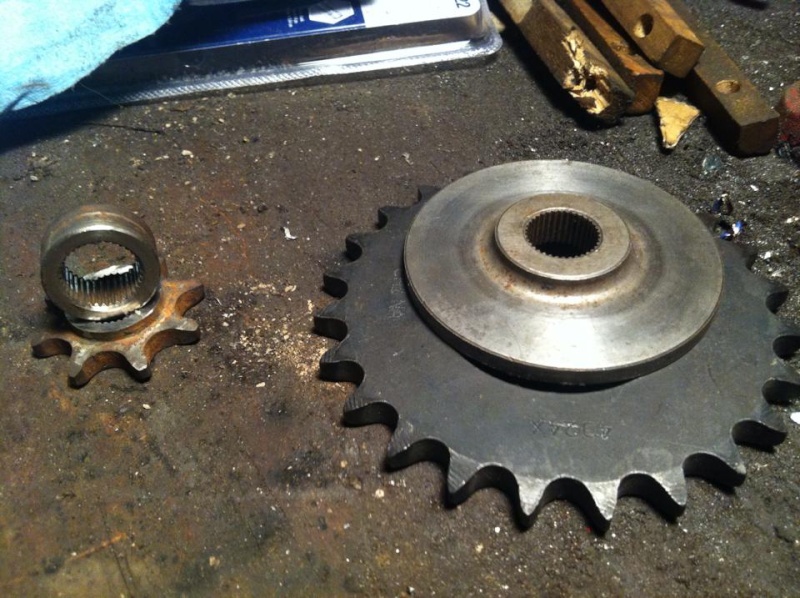 Heres everything i have, the new sprocket, the rotor, and the old sprocket, cut to the appropriate length as a spacer on the shaft.
Lightly clamp and VERY CAREFULLY center the sprocket on the rotor, TAKE YOUR TIME, this is not a race and you do not want to mess it up, make it perfect all the way around.
Once center clamp it hard, i re checked mine to make sure it didnt move.
I clamped my rotor on both sides to make sure it was flat, then i welded it.
After that i welded the spacer i had to the rotor for more splines to grab i guess, and less wobbling on the output shaft
After that just throw it on the trans and put the e clip and chain on!