Has anyone here dealt with the craftsman/kohler antibackfire solenoid?
This is not your ordinary ABS which has a needle sticking out the end that you can just cut off.
Here is a pic of the solenoid.
Here is a repost of a drawing I made that kind of explains the solenoid.
To explain...
Most B&S carbs have a tube that goes up from the center of the bowl. There is a jet in there, that the needle from your ABS fits into. When the solenoid is activated, the needle is drawn down, allowing gas to enter the carb. When the power is turned off, the needle snaps back upward, and seals that jet, so no gas can enter the carb.
Well, on this one, that jet is a part of the solenoid body.
Here is another pic with the jet removed.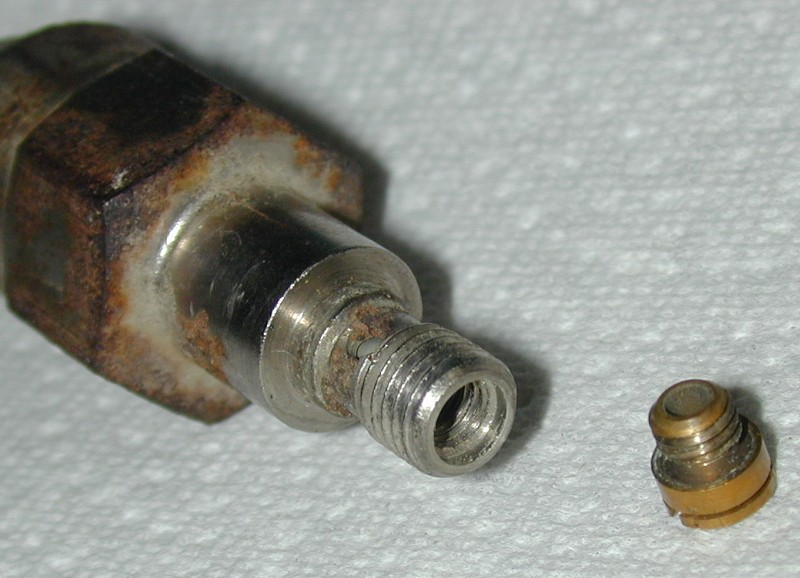 I have several thoughts here, about what I could do.
1. I could get a bolt, and drill it. But then I'd have to have exactly the right length bolt. I'd have to drill it sideways for the gas to enter. Then I'd have to drill it lengthwise. Then I'd have to tap that hole for the jet.
That's a bit more precision work than I'd like to do.
2. I could drill through this one, where the gas is supposed to enter. But I think the 'pin' in the middle is too large. I'd drill through, but the pin would still be there.
3. I could apply 12 volts. Then while the pin is in the retracted position, drill another hole, across, in a cross pattern with the original supply holes. And push as small a pin as I can, through that hole. Then cut it off flush, so I can screw the solenoid back in.
Kind of liking option number 3 the best. It'll be difficult, but not as difficult as option 1. And not as permanent or damaging as option 2. If I ever want to go back to using the solenoid, all I have to do is remove my pin.
Has anyone done anything different with this type?