Well, I decided somewhere along the way that my MIG wasn't enough for what I wanted to do and bought a TIG.
But I also wanted (not necessarily needed) a plasma cutter. I had considered a "combo" unit when I was looking at buying an Everlast, but decided I didn't want to compromise the TIG properties for a more "multi use" machine. Having HF circuitry in a case with the TIG boards also didn't seem like a good idea. I ended up buying an Everlast 250EX (TIG) and have been very happy with it. At least as far as my beginner skills will let me go. 250 amps of TIG power and it will also do stick, although
I
don't do stick. lol!
Now, plasma cutters are expensive, if you go with any kind of brand name. Whether it's Hypertherm, Miller or even a less expensive Everlast, they're pricey. Cheapest would be the Everlast, which was going to be in the 1500 Cdn range. Too expensive for a guy who just plinks around in the garage working on his own (and friends) cars and bikes.
So I started looking at the cheaper "import" ones. After some reading and watching youtube reviews, I settled on the Cut 50. I knew I didn't want scratch start, so that meant I was looking for a Cut50P (pilot arc). Basically, pilot arc means you don't need to touch the work to start the plasma arc, you just pull the trigger and the torch tip starts the arc for you. That's a nice feature because if you're cutting really rusted, painted or expanded metal it will keep the plasma jet going as you transit to the next spot where there's bare metal. For example: cutting expanded steel with a scratch start means every time you get to the end of a little piece and move to the next, you have to scratch start every time. Painted/rusty metal, the pilot arc blows the paint/rust away and gets you down to bare steel, where you can cut.
Reviews for the CUT 50 range from "best thing since sliced bread" to "Chinesium garbage". But there were more positives than negatives, so I thought I'd give it a go. At least the price wasn't through the roof like the brand name ones, so if I got burned it wouldn't be for an obscene amount of money.
I found a seller that had stock already in Canada and claimed he was selling 2019 models. So I ordered one up through ebay. 315 bucks. Not too shabby, if it works that is.
It shows up in under a week, which was nice. The box was a little "distressed" though: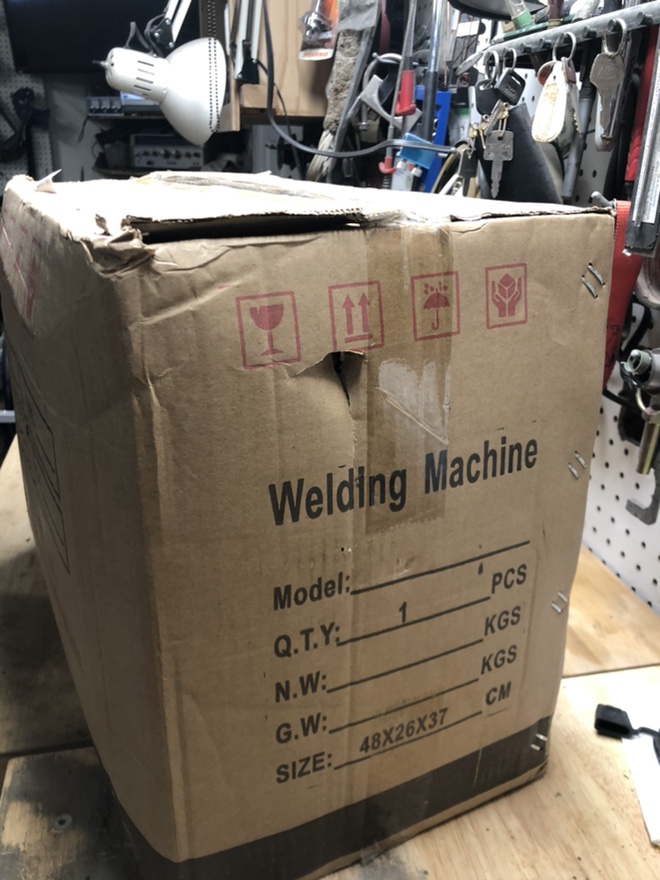 Luckily, it was double boxed:
and Styrofoam packing: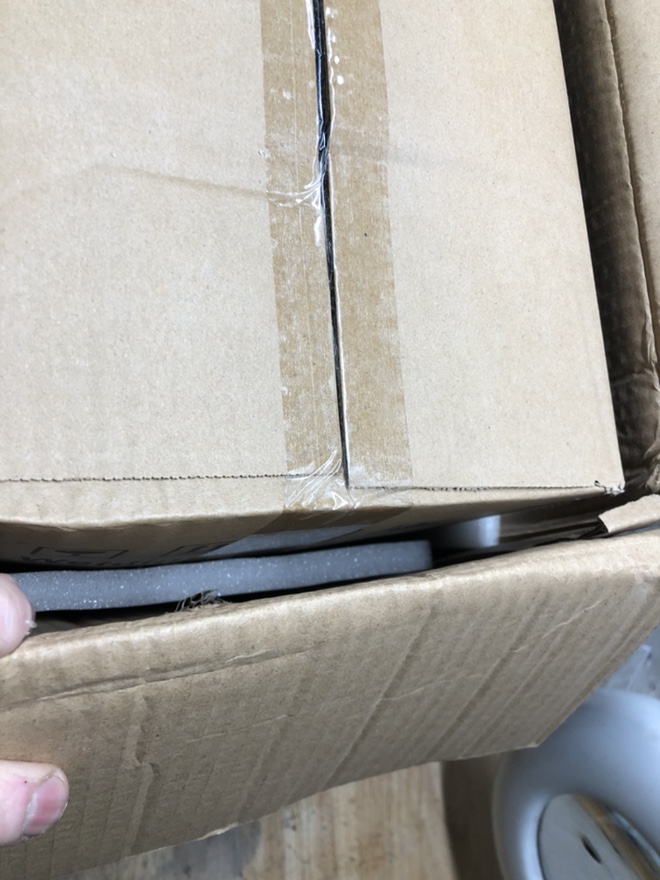 So it came out fairly well, despite the somewhat careless shippers along the way:
Only thing out of the ordinary was a strange dent in the case: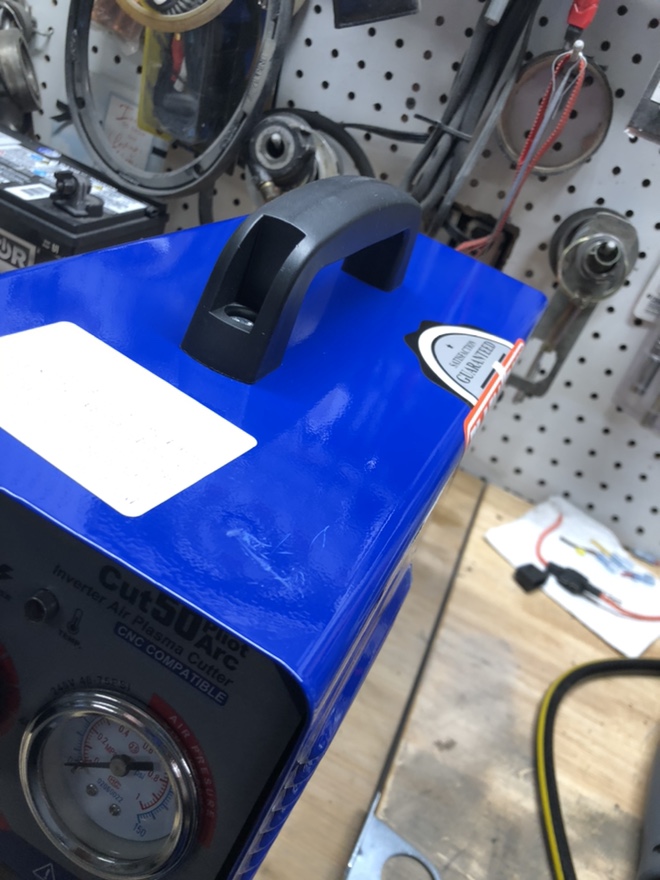 There was nothing showing damage on the box, so it must have gone in like that. I suppose it could have been the torch, as that's where it was sitting in the package. Hard to see the plastic torch denting the (what looks like ) 18 gauge steel case without at least crunching the ceramic insulator, but you never know. I guess I could complain to the seller, but honestly, it doesn't effect anything other than it's looks and I very well may have ended up denting or scratching it myself in it's first week of use anyways.
As with anything you buy from China directly, you have to consider it (essentially) a "starter kit". The Cut 50 is actually sold by some larger sellers, but they probably put it through a QA process (and different cosmetics) so when they sell it, they're pretty sure it's not coming back on warranty. Well, that and they can charge more for it. But with a "direct buy", you're trading off purchase price for no real QA process and a "dubious" warranty policy. So step one is to pull the case off and give it a good, detailed once over: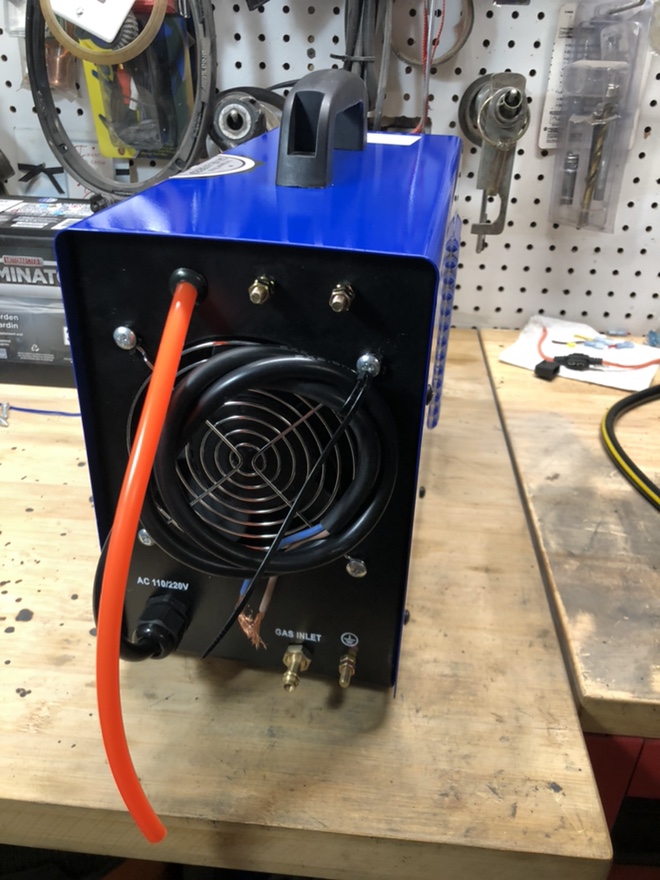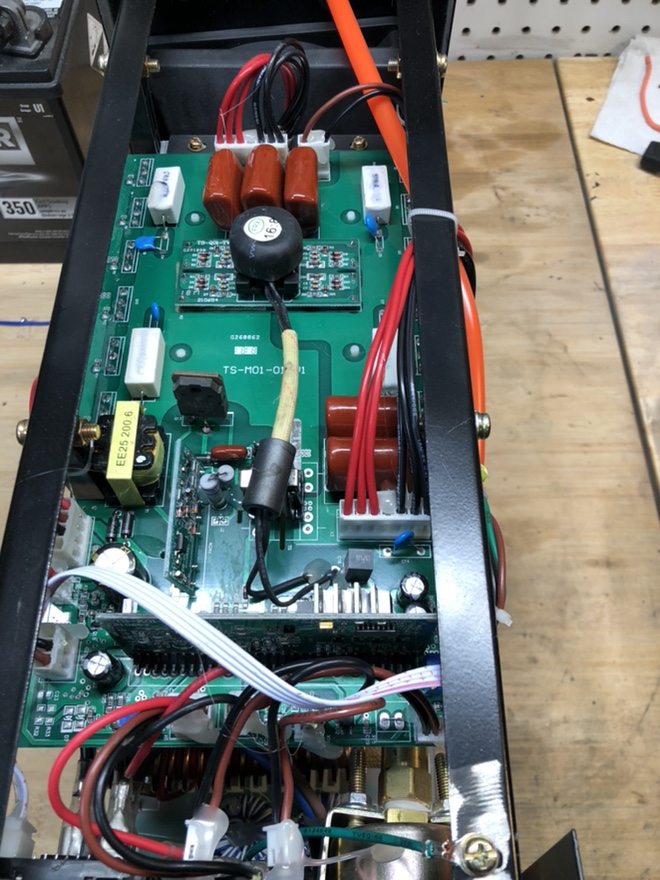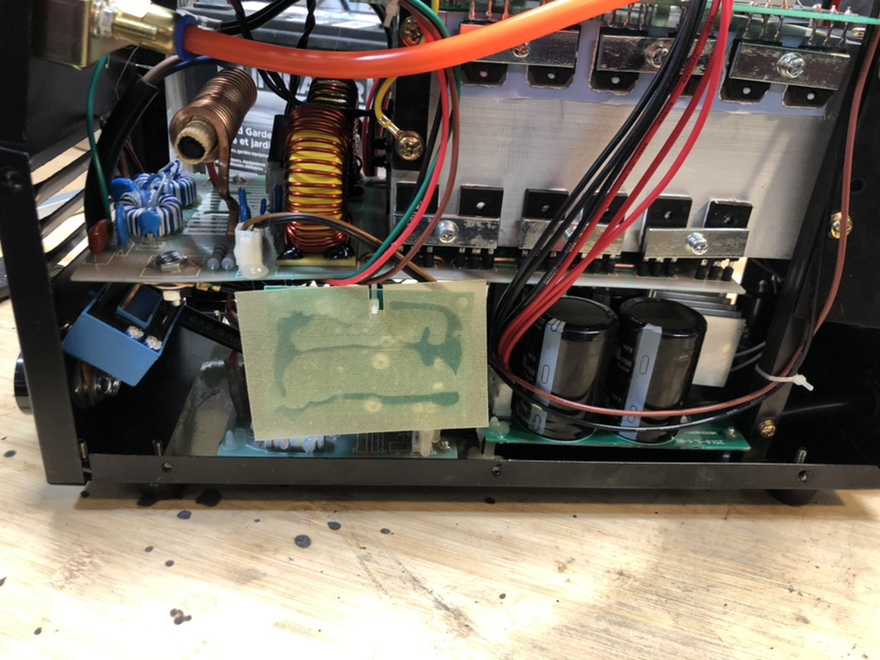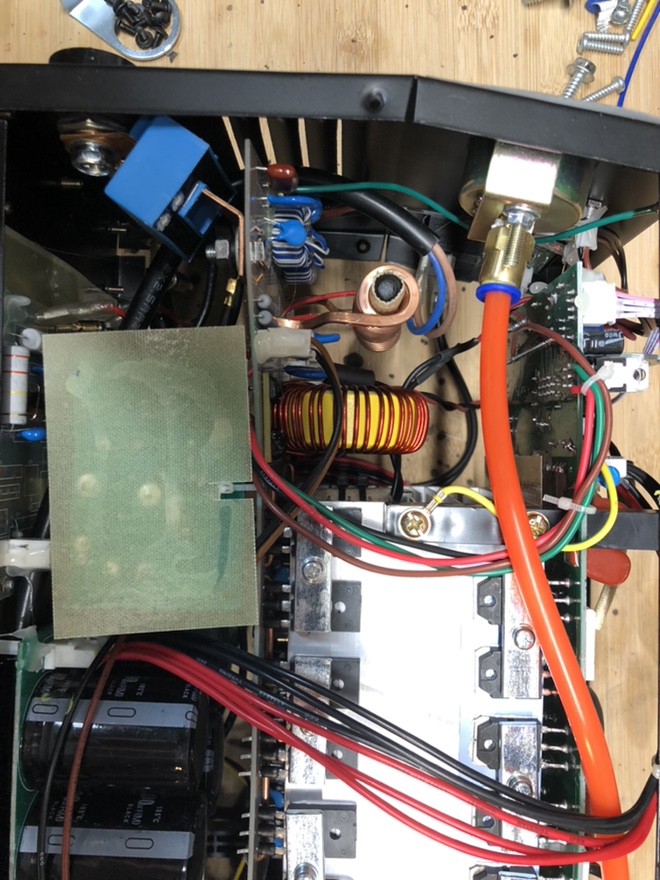 Overall, nothing looked out of place. I straightened a few components on the boards, just to satisfy my OCD. Things were gooped all over with hot glue (presumably to back up the connectors) and there are a few areas where you can tell attention to detail was a little.....relaxed. I clean up the hot glue from where it had dripped on components and the 8 million little "glue hairs" hanging off everything. If you've ever used a hot glue gun, you know what I mean by "glue hairs".
You can see where they cheaped out on things like the copper strap that holds the pilot start relays and the middle circuit board, evidenced by the severe bend in the CB itself. Some cheaper components were noted, but weren't a real problem. Other items of note were spots where they had soldered two resistors together instead of using one of proper values. Meh, whatever. This sort of stuff is to be expected at this price point. If it works, it works.
Looking at the power cord:
A couple things become evident. That it's short, it's pretty light gauge and it only has two wires in it. First is to try and understand why there is no ground wire on the cord. So I read the manual (next to useless, as are most Chinese product manuals) a little more and it claims the machine is "double insulated" so it doesn't need a ground wire. I read a little further and under "using" it says you have to attach a ground wire (to the rear stud on the case) before use to guard against....in their words..... "stray electricity".
STRAY ELECTRICITY?
WTF!?!?!?
That's like calling a nuclear meltdown an "undesired excess of fission".

Now, double insulated power tools are the ones you see without the ground wire. But they have their power supplies isolated from the case and the case is almost always some kind of "non conductive" material. Inside this thing it is
NOT
double insulated and the case/frame is entirely made of steel. Yeah, that short little 2 wire power cord is outta there! Especially since I'll be powering it with 220V power. They threw it on there because it was cheaper than a 3 wire and tried to pass it off as "double insulated". Thank eff I knew enough to open the case and give it a good going over before powering it up! I'm 54 and I would really like to see 55.......

So I drop into the local Home Depot and buy a 30A 220V plug and 3 meters of 10/3 flexible wire. 10/3 in the outdoor wire I chose is actually 3 wires, as opposed to house wiring where 10/3 would have 4 wires. The outdoor wire is also stranded (like an extension cord) instead of solid copper like house wiring, so it's nice an flexible. The little "wuss" bulkhead connector is too small to take the 10/3 (not to mention, it's
REALLY
cheap plastic), so I use a metal box pass-through clamp: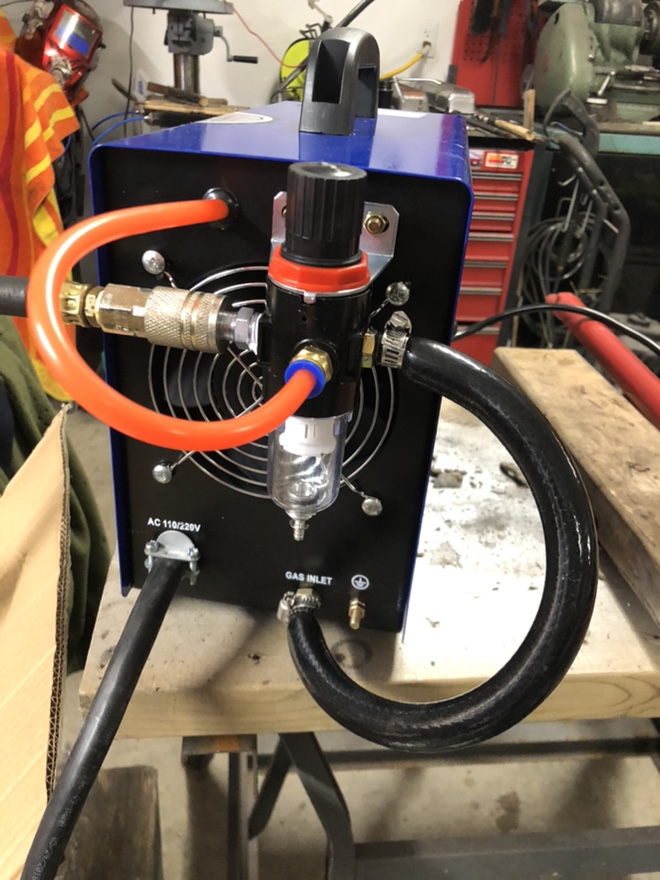 Ah, now the case is properly grounded, the cord is long enough that I don't have to work right up against the wall plug, it's overall more solid, and just all around safer.
The air regulator that comes with it is cheap, but it works. It's described as a "water separator" in the literature. However, that little filter is anything but. Definitely not enough to dry the air for a plasma cutter. Luckily, I already have a filter/separator setup in my air lines. Still, I'm going to add a big desiccant dryer to help it out more. Dry air is essential to a long consumable life in a plasma cutter. The black hose from the reg to the machine, however, is another "cheap out" spot: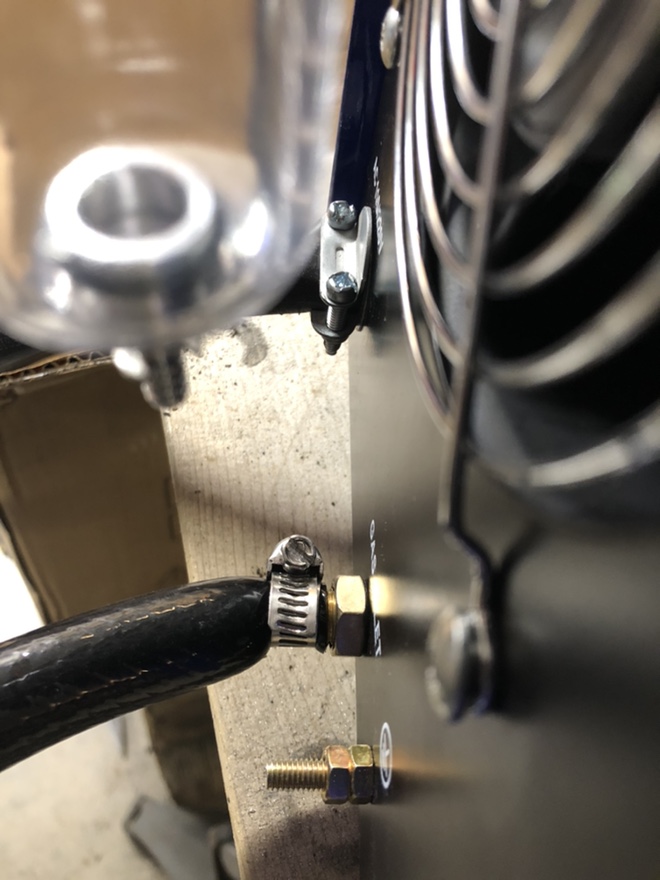 That's only 90 psi and it's puffed up like a piece of well cooked Rigatoni. That's an easy fix and I've got lots of wrecked air line lying around I can grab a nice chunk from. I may see if I can swap out the fittings for brake air line connectors so I can use nice rigid tubing instead of regular air hose and hose clamps. I never get a good feeling when you are relying on hose/gear clamps to hold back 90-125 psi on a barbed fitting......
The torch is actually better than the one they had in the auction pictures: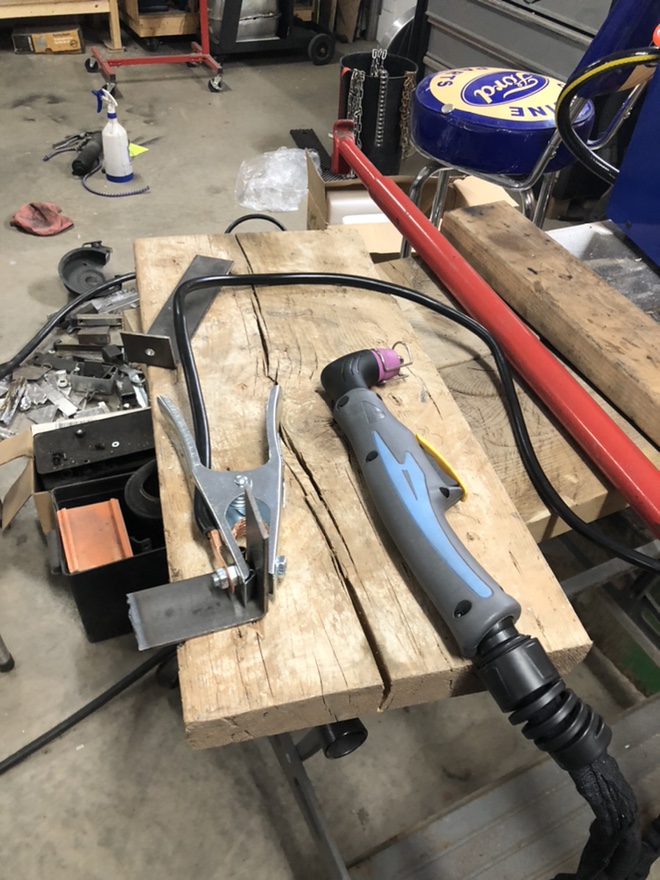 Nicely shaped for the hand, a nice pull trigger with a spring loaded guard (very important on a pilot arc machine because if you bump the trigger by mistake, about 20,000 degrees of plasma is coming at you!) and a swivel fitting at the base.
But they cheaped out again on the hose, making it very short. It's advertised as being 2 meters, but I'd be surprised if it's even 1.5 meters. I had already ordered a replacement torch with a 5 meter hose, so no biggie. I just wish I had known the torch was going to be the better one, so I could have just ordered a longer hose instead of a hose and torch. Oh well, I guess I'll have a spare. That's not exactly a bad thing....
The work cable is also pretty short, somewhere around a meter. It seems a little...."whimpy" as well (IE:smaller gauge). That's an easy one though: just pick up some 4 or 8 gauge welding wire at Princess Auto next time I'm there. The clamp is a mix of good and bad. It's got a nice thick copper braid connecting the two halves, but the clamp body is actually kind of weak/thin and the teeth in the clamp seem like they are steel instead of copper.
Satisfied it's at least not going to electrocute me or explode, I button it up and get ready to give it a test cut. I grab some 1/8" scrap, dial it up to 40 amps and give it 70psi: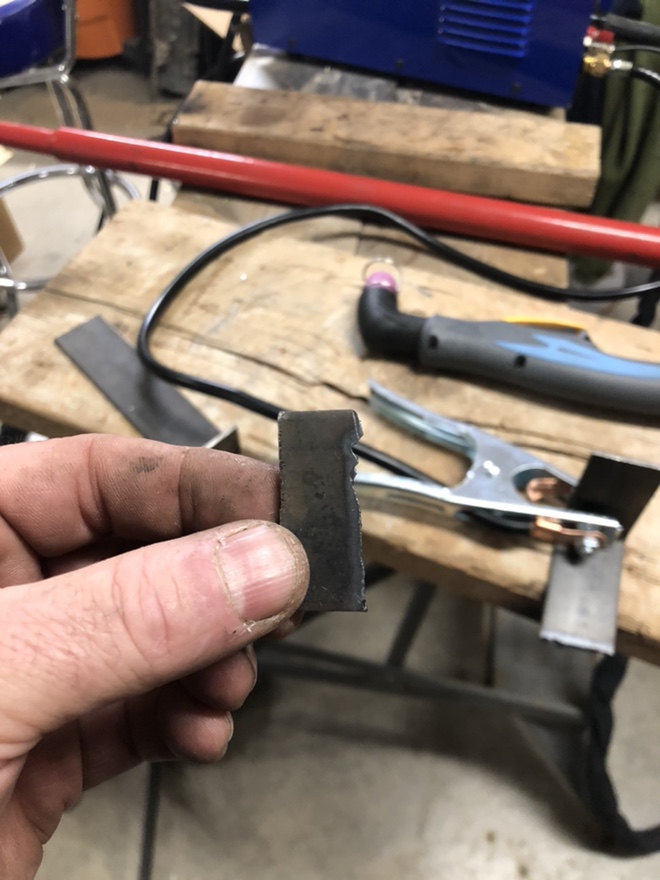 Goes through it like butter. Soooo much nicer than using a grinder/cutoff disc. The cut is pretty ragged though: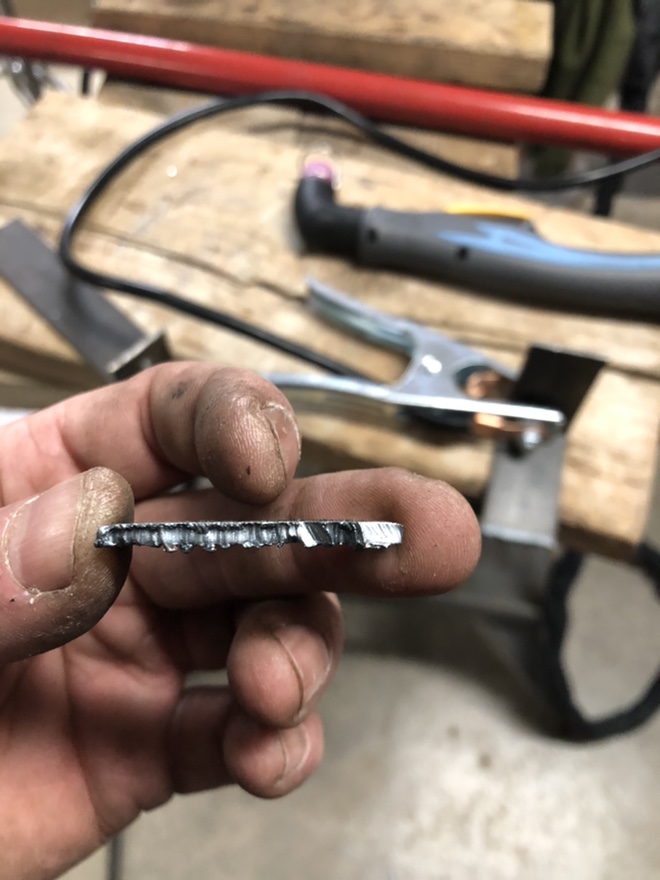 But that's more a result of my poor technique that the machine performance. My hand was jumping around and I was not pulling the torch at a very consistent speed.
So I'm into it for about 380-400 bucks right now, including the new/longer torch (comes with 25 extra tips and electrodes). That's less than a third of the price of even the least expensive Everlast plasma cutters. Chuck in sales tax and it's probably closer to 1/4 of the price. Not too bad, not too bad at all.
We'll see if it lasts, but so far, seems like a pretty good deal. As long as you can do your own QA and fix a few things that are (IMHO) substandard that is....