Well lots of things have changed over the past bit.  I apologize for the lack of updates but this project took an unexpected turn.  
First change: Axe the peerless 700 clone transmission.
I'm not planning on trying to break this thing, but if I want to pin it and side step the clutch, I really don't want it to be a coin toss whether or not the case will explode, especially with the 26in Kenda's for off road trim.
The solution is to use the the peerless 633a1 that I have from a long time ago.  I had already built a locker and cleaned it up a bit.  I'm currently cleaning it up again since it's been sitting and has some speckles in the case.  I am also going to machine some keyways into the shafts so I can mount a sprocket on the output to drive my live rear axle.  I want to be able to easily change drive ratios which is why I'm going to use the sprockets.  I'm only going to use one side to drive, so the unused side will be a spare in case I twist a shaft apart.  I'll also cut the shafts down short to fit between my frame and rear tires.  Unfortunately my phone died yesterday so I don't have any pictures of the guts right now.  I'll get some tomorrow, is just all torn down and clean.  
Change two: Switching from vertical to horizontal
I have this Kohler cv23 that I like and that seems like it's in great condition.  I love the idea of 23hp but I can't really use a vertical with the 633a, and I don't want weird twisty belts.  My first idea was to use the 18hp opposed flathead that I gave to a friend.  I do wish I had it still, it would have a lower cg than the v, and 180 degree flats sound so much cooler than v twins.  I think Harleys sound kinda dumb so I'm not all that stoked on the v twin exhaust note but I'll probably try to build an interesting exhaust for it.  I might be able to get the flathead back but it's not a big deal.  For now, the cv23 is going to get converted to horizontal.  It looks like it would be pretty simple with a different oil pump pickup and maybe some different drain holes around the engine.  This i do have pictures of at least.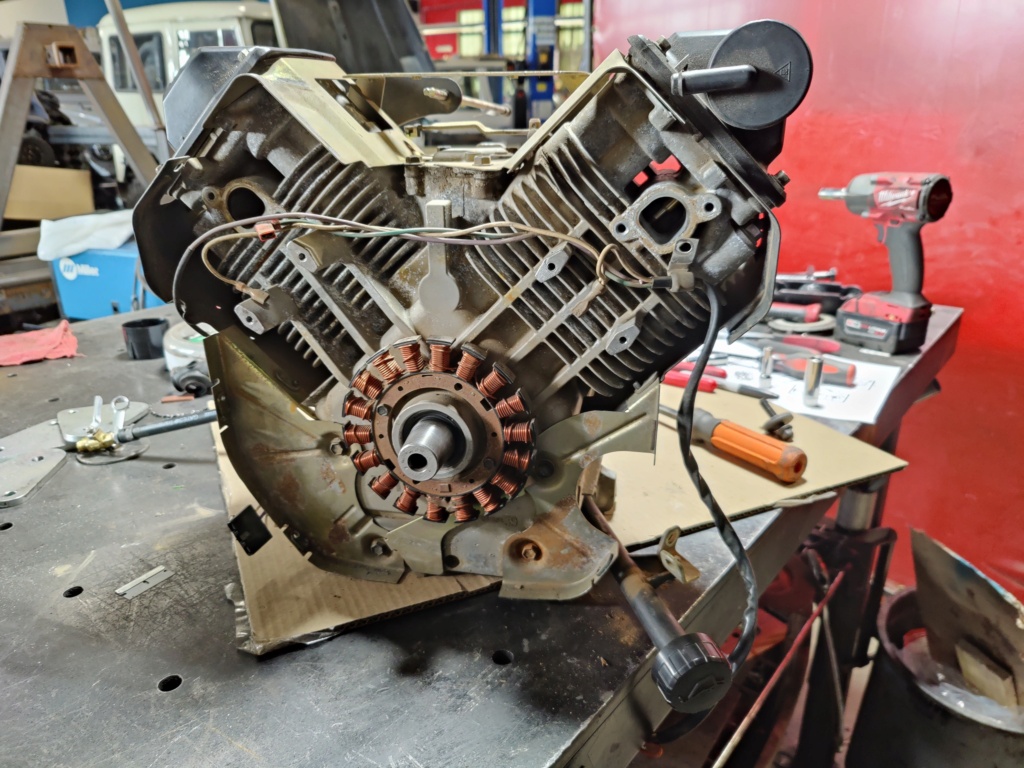 Removed accessories
Cleaned up the crank case and discovered that there are no gaskets between the case halves.  I've heard from some people that you adjust crank end play with sump gaskets, this is not the case with this engine at least.
I also found where all the end play came from.  I don't know if there's a missing trust washer or if the case just got eaten over time.  I'm going to try and find something to use as a thrust washer for when it goes back together.  I guess just the weight of the flywheel constantly pushing on that thrust surface just ate it away.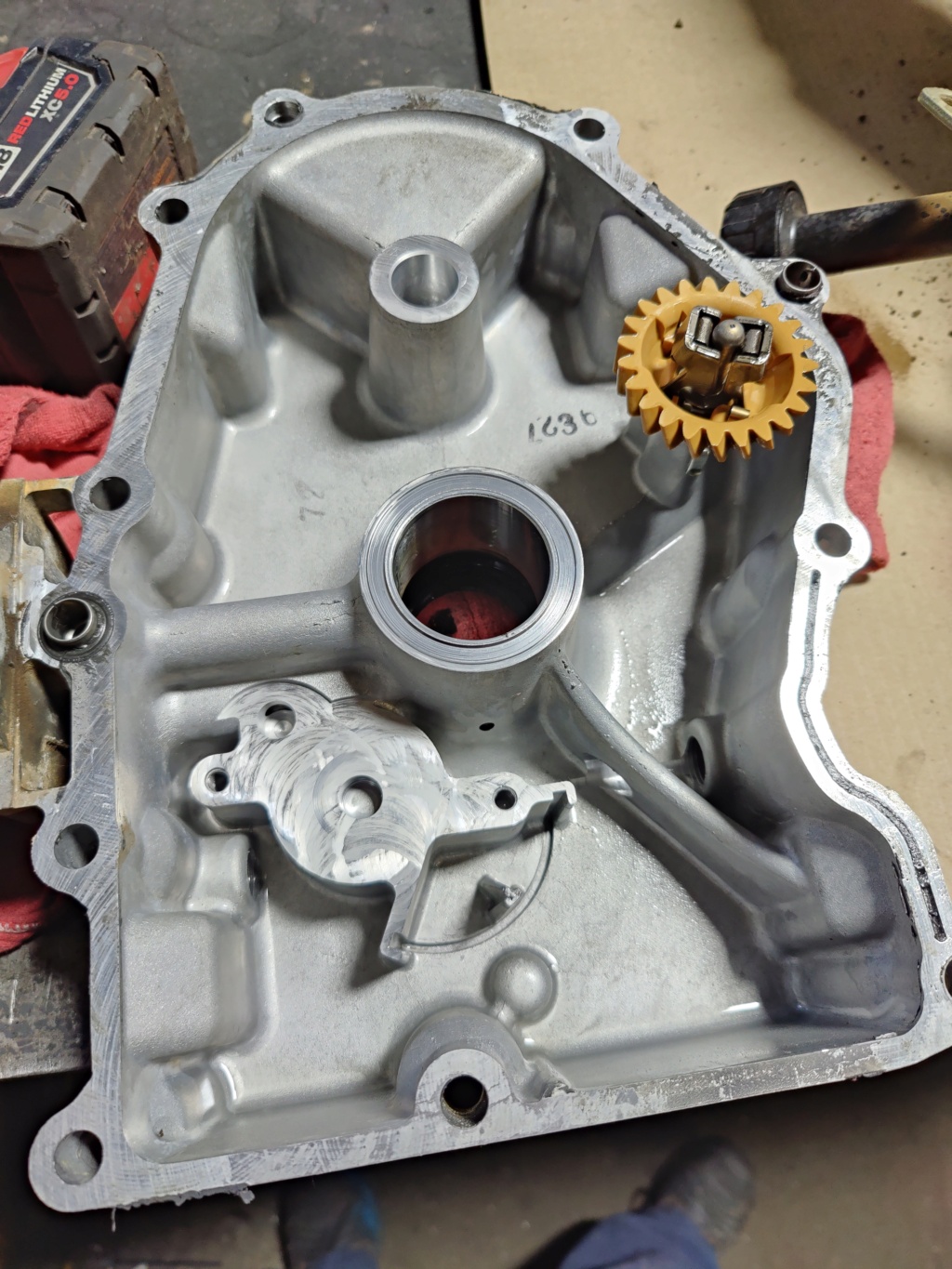 I removed the oil pump and cleaned this half too.  I removed the guts of the governor so I can rev to the moon if I see fit.  Everything looks pretty great, no measurable wear on the oil pump thrust plate or the pump body.  I'm going to try and preload the regulator spring a little bit so I can have sightly higher oil pressure.  If I can find a cam, I'll put one in for a little more power, maybe some rings as well if the walls don't look perfect witch a clean up hone.  
Tomorrow I'm going to get the shafts out of the locker in the trans and finish cleaning the engine internals.  I'll probably pull the heads as well if I have time.  
It will be fun designing another clutch and new mounts for everything.  Do you think
#40
chain will be strong enough for the final drive?  I haven't worked out the gear ratio numbers yet but I have a feeling I'll be slightly overdriven on the final so I need a strong chain.  I hope I can use the
40
and some of the sprockets I already have, but I'll go stronger if I need to