I was/am riding the fence on this project.  Trying to decide to keep it utility or off-road.  Since it is more Utility right now, I am posting my build here.
I share with you my project from a few years ago called "Sasquatch".  It began life as a 1990 Craftsman II 18HP Lawn and Garden Tractor.  It originally had the horizontal engine with drive pulley on the flywheel.  But more on that as I share.  The original PO of the tractor was my Dad.  We got it back in 1990 when the '75 Sears ST/16's engine finally kicked the bucket the last time. (I have that tractor now too, re-powered and can be seen in the background of some of the pictures) Tractor worked well until the later 90's when it decided to throw a rod and frag the block.  It sat for years behind the shed until my Brother-in-law wanted it.  He tried to put another engine in it, but he could not get it to run.  It sat behind their building until I recovered it back a few years ago.  It still had the engine he put in it.  Found out there was no compression on either cylinder, starter was shot, no spark and a multitude of not cheaply fixable issues that required full replacement of parts.  I was seeing lots of $$ to fix this engine.  I saved what I could off it and scrapped the rest.
Here is a shot the day I was dragging it to the garage to start my project!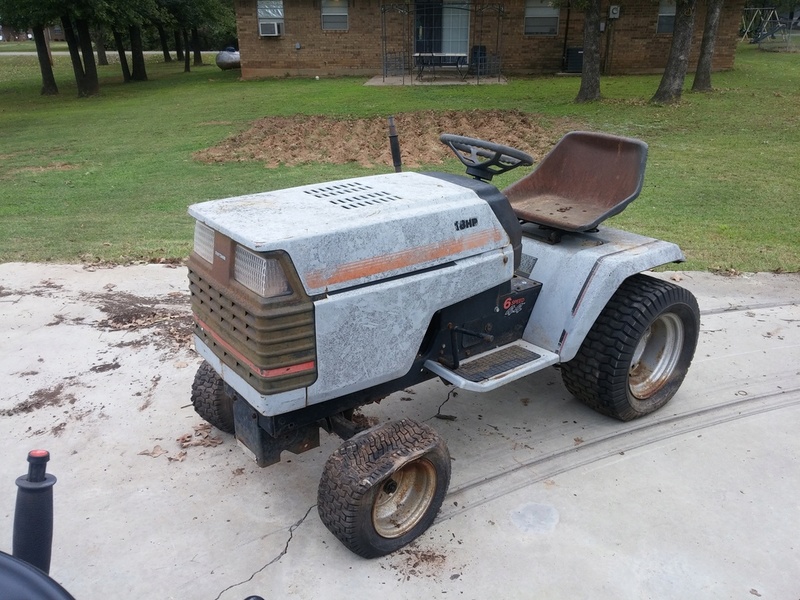 Had to put on a spare pair of tires to get it to the garage.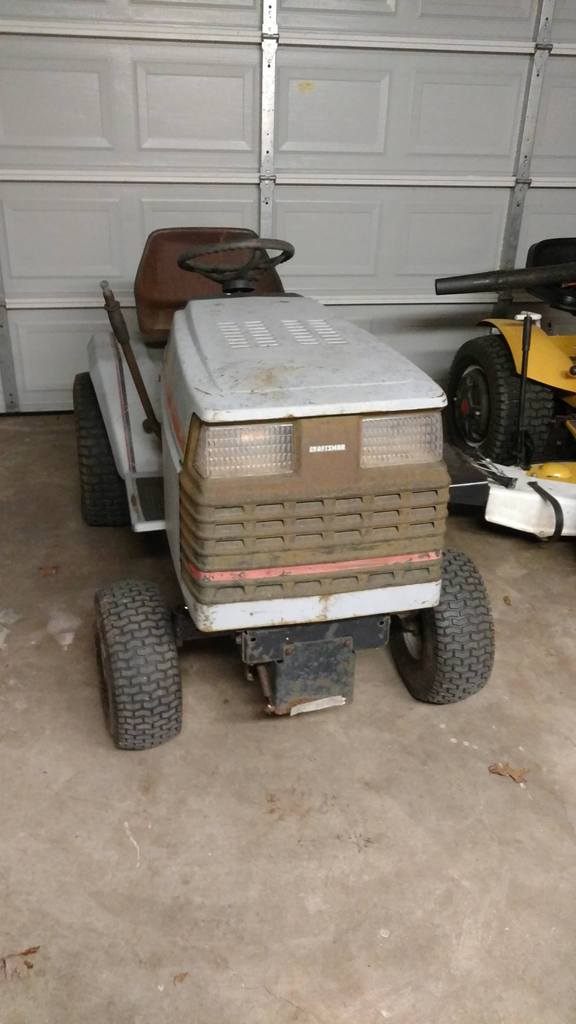 Here are some tear down and rebuild pictures of the project.  I decided to repaint Kubota Orange and Black.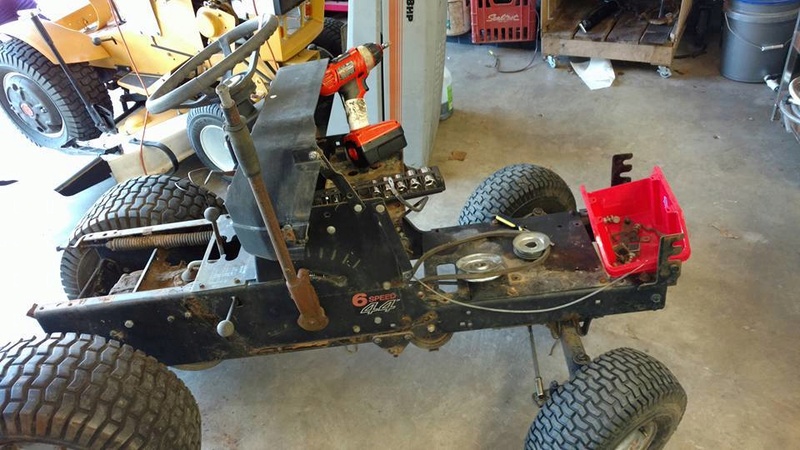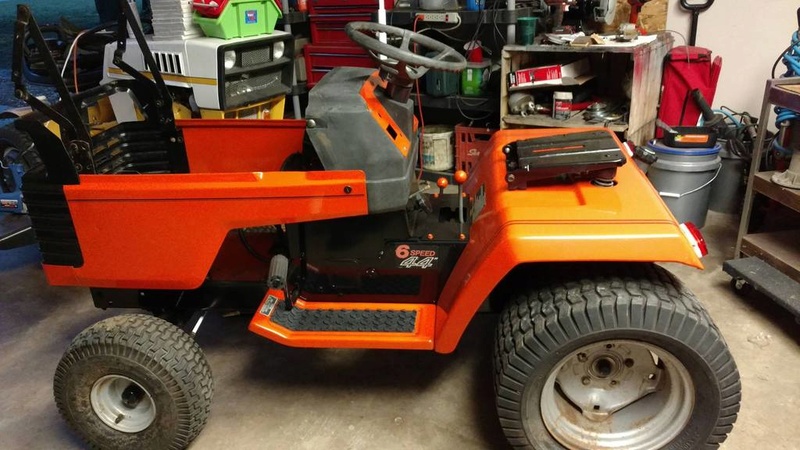 Bought some go-kart hubs and converted the front to 4 on 4  wheels.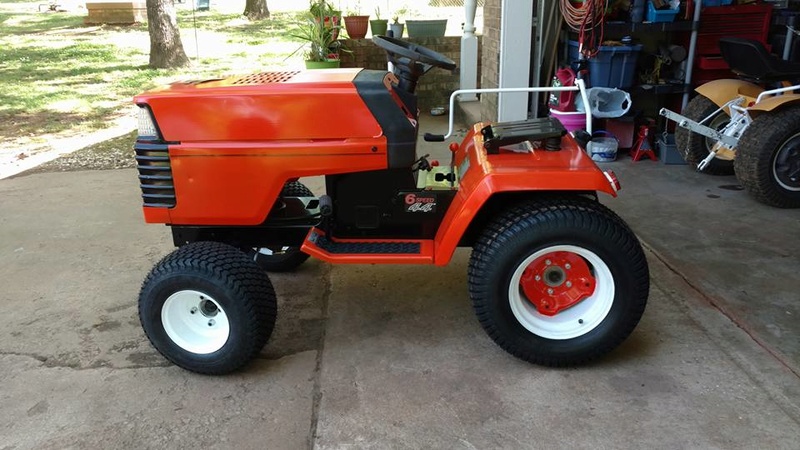 It sat pretty much in this condition for about 4-5 months of searching for an engine that was not overly priced or something closer to home.  During that time, I knew my dad had a 16hp opposed, but it was a vertical engine, mine had a horizontal.  Did some research and realize that I could convert it easier that I thought.  I could either find a newer Craftsman II (GT6000) with a vertical engine and go the easy way or just try to come up with something myself.  The easy way, I could potentially use it as a mower again, but I did not want to.  I decided to make something myself and see where it went.
The Engine loaded up at my parents. From an old Murray, not sure the year.  I'll have to look at the engine tag to find out.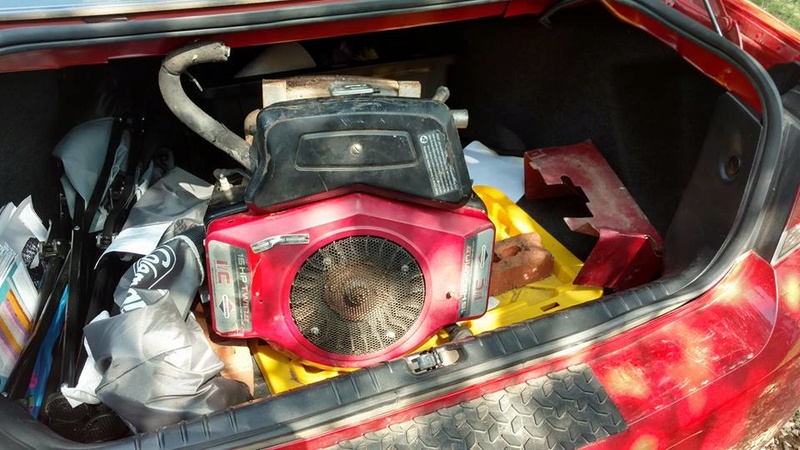 First Mock-Up, and checking clearance to the front axle and steering plates. (The other front end I think is a little further forward and has different steering to give pulley room).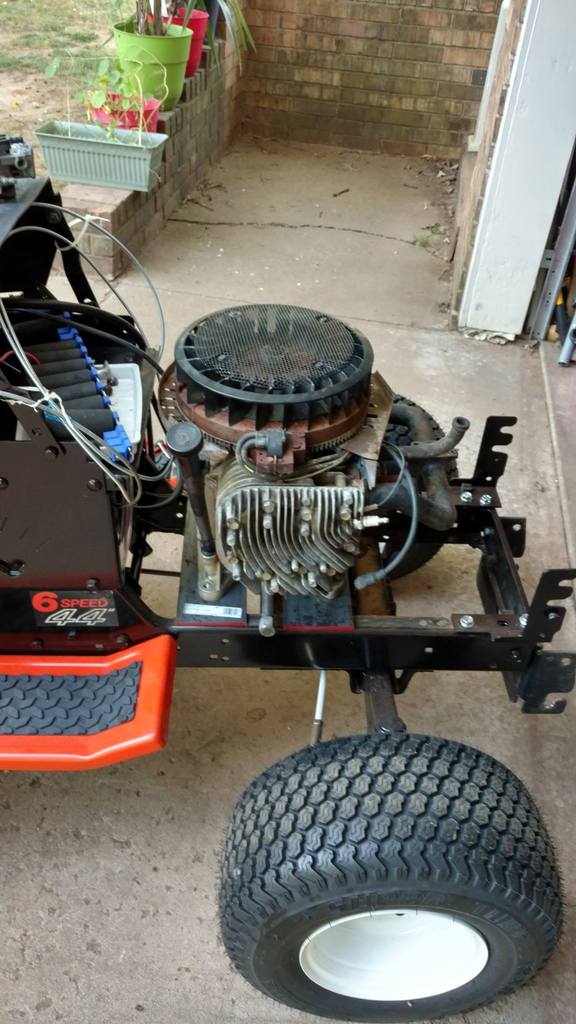 Final engine bolt down and carb being rebuilt.
Here is the routing of the belt.  Pretty simple actually.  Added a pulley using the bolt that holds the engine down.  (I know, it's kind of large.  If I put on a larger engine pulley...currently 4.5inch.., I will have to use a smaller one.  It's what I had handy)
I made a front bumper and sorry for the blurry pic, this is what it looks to date:
And for a quick walk around.  Sorry for the phone video.  I'm a little better at it now. :-) Also, before I was playing with massive fog lights.
I'll start a new thread in the Off-Road forums for my other Project soon. It's a Murray that I call Li'l Red.