It was suggested I give the roper clone it's own build thread, so here it is:
Started out as a truly worn out 540 hour bucket. The only things good about it was that the M20 ran, and the 633A didn't leak.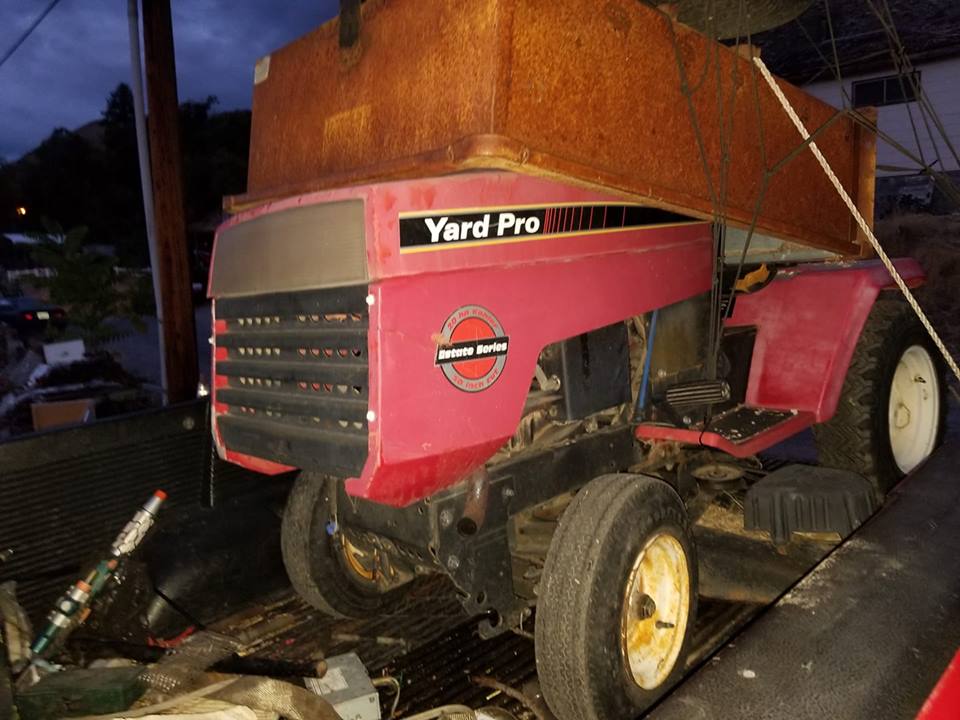 It had narrow rear wheels from the late 60's, what appears to be a simplicity broadmoor 717. Tires so dry rotted that one exploded when I put it up to recommended pressure. Front wheels were off some garden cart, and way loose on the spindles. Here's all the problems it had:
Mower deck would throw sparks everywhere when engaged.
bad tires/wheels all around
engine throttle non-responsive - either it ran or it didn't.
steering components completely worn out to the point of being dangerous at stock speeds
hood cracked in multiple places, hinges almost seized shut
loose structural fasteners everywhere
drive pulley from Maker knows what, but it wasn't the right one
electric clutch wired directly to toggle, and would fry the toggle each time turned on
multi-light (dummy lights) 75% non functional - only 'check oil' light worked
front axle pivot nearly worn through
I found all these problems very odd at what I consider low hours given its age. It was ugly, didn't run right, rigged. But I had a plan, I had a little $ and a few tons of spare parts from past builds of the previous decade.
For a long time I've been wanting to do a 'distance run' on a tractor and last weekend I did. 34 miles, just under 3 hours. less than 2 gallons of fuel doing it too.
I upgraded the drive pulley to an 8" to match the rear putting it at 1:1. Swapped out the M20 vertical for a predator 670 horizontal, rewired and upgraded the fuel system, replaced all the steering components, swapped front and rear tires, LED lights all around, a nice rear ATV rack, kevlar belt and full synthetic fluids all around