351crownvic
New Member






Age

: 43


Join date

: 2020-09-01


Points

: 1200


Posts

: 8


Location

: Ne Ohio

Subject: Pennsylvania November 17th 2023, 7:57 pm

---

Majestic trails.

2605 PA-46, Smethport, PA 16749

https://majestictrails.com/

I ran my 1st gen craftsman lt with my friends 4 wheelers a few years ago. Many people had smiles seeing a tractor blasting down the trails, they took pics and many came to talk to me.  They have several different trails with different difficulties. The image as my avatar is carnage that happened there.



Last edited by RichieRichOverdrive on November 17th 2023, 8:06 pm; edited 1 time in total (Reason for editing : Fixed picture link)

MightyRaze, RichieRichOverdrive and Brianator like this post
MightyRaze
Administrator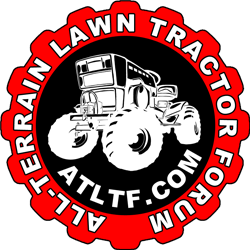 2017 Build-Off Finalist

2017 Build-Off Finalist

2018 Build-Off Top 3 Winner

2018 Build-Off Top 3 Winner

2019 Build-Off Top 3 Winner

2019 Build-Off Top 3 Winner

2021 Winner of Winners

2021 Winner of Winners

1st Place Build-Off 2022

1st Place Build-Off Winner 2022

10,000 POSTS!

10,000 POSTS!




Age

: 48


Join date

: 2016-09-06


Points

: 14290


Posts

: 10092


Location

: Oklahoma

Subject: Re: Pennsylvania November 17th 2023, 10:27 pm

---

I love seeing the strange looks when they see the tractors coming down the trails. I've only gotten one disgruntled looking person. Mostly a lot of "that's cool" looks. Nice tractor carrying rig!
351crownvic
New Member






Age

: 43


Join date

: 2020-09-01


Points

: 1200


Posts

: 8


Location

: Ne Ohio

Subject: Re: Pennsylvania November 20th 2023, 2:32 pm

---

Thanks Richie for fixing the pic. As for the ranger, it just barely fit both craftsmans side by side. I since have removed the tool box and I have a crane on the right front side. Not to sure I can get both on there any more. But it makes it easier to put damaged and non running tractors on the truck bed. I also have a snatch block that I run off a strap that's attached to giant D rings near the front so I can use the crane as a winch to pull rolling tractors up the ramps.

Granted I was a bit slower going up hills but I did it easier than many 2wd quads lol.
Sponsored content