I've had a load of people on YouTube ask me about how I build my stacks, so I figured I'd make show you on here too.
This is the stock setup. As I lived in a built up resindential area I opted to keep the stock muffler on it. Having it exit in the left of the engine would mean having a really tight bend in the exhaust, so I decided to have them exit on the right hand side.
Using some 1 3/4 inch pipe, I chopped the old exhasut, crimped the end of the large pipe so the small one would fit inside. This was my first welding project, so as you can expect, I wasnt getting good welds. After going at it with a grinder a few times and rewelding it with my MIG it was air-tight. Even if it didnt look pretty.
After this I used an old 'v' section from a motorcylce exhaust I got from my local scrap yard. I mounted it facing about 45 degrees backwards. This is unfortunaly the last detailed image I took of the exhaust.
After this, I had two 90 degree bends, again 1 3/4 inch diamter. In order to get them to sit side by side, I mounted the furthest back one first. Then angle the end of the other so it would sit further forwards. To get them the sit at the same distance from the tractor, I cut down the horizontal section of the most forward bend. I know that was probably hard to follow, and with out proper pictures its hard to explain.
This is best I have. You can just make out the top part of the 'v' section. That went to the front stack. From here I just slipped over a couple of Harley turnout exhausts that I had. Sounded really awesome. They had baffles in them, and the large daimeter pipe gave it a low tone.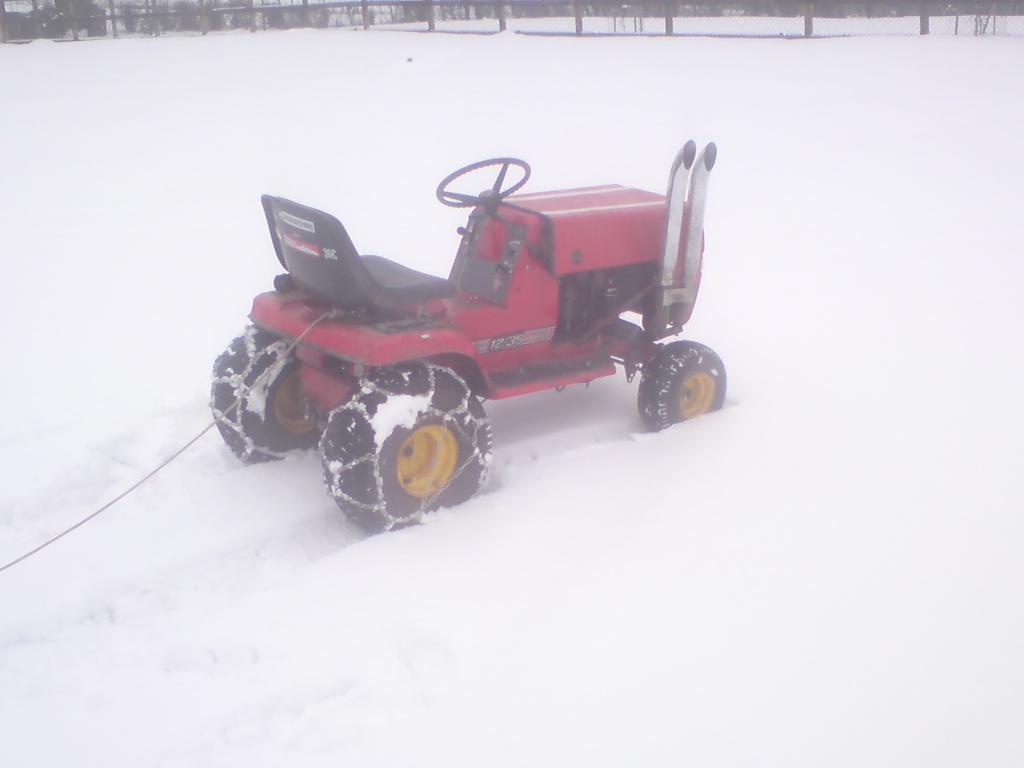 Strangely, this is the only photo I have with both the stacks.
These pipes have since been retired. I should have made a bracket to take the strain off the block. Fortunatly my welding at the time was so bad the welds broke, and not the block. After that I ran it without the chrome parts, relieving weight. They became totally useless when I got an opposed twin for it, although the chrome sections will be used on that soon!
Hope this helps someone