Well, got a lot done today.  Did a extended brake job on the front of the Impala today.  It was starting the shake something fierce when I brake.  Sometimes if on wet ground could be a bit controllable.   I changed the brakes just 3 months ago, and it was shaking before that.  This shaking has gotten worse over the course of the past 3 brake pad changes when I would brake.  The car did not have this when I purchased it back in 2014.
So today, I purchased new rotors and ceramic pads.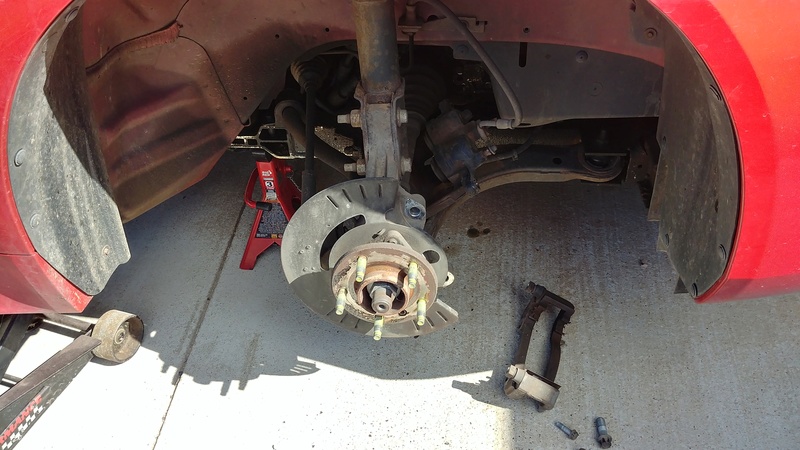 I checked the wheel bearings while I was there.  They looked good, felt good, and sounded good.  Cleaned the rust on the mating surface and treated them.  I didn't get new pictures of reassembly as my hands were nasty.
New rotors installed, they seemed way better quality of the stock ones.  I also replaced the el-cheapo pads I had used the past few times with some ceramic.  I did some research and the pads I was using got really hot and become ineffective.
Gave a good test drive and realized that all front end vibration is now gone.  I thought I had a bad tire but I guess turned out to be a bad rotor.  There was chunks of rusty metal coming off them.  New brakes now are as smooth as silk now.  No matter how fast or slow, it stops really well!
Another job well done!
Worked on the seat mount on my blue lawn tractor.  Almost done with that, need a new bolt.
Also got the yard mowed!
_______________________________________________
Tractors:
Dirty Rat - 77 Sears Suburban
Li'l Red Part1
Current
 - 89 Murray Widebody
Have a question? Ask me! Type in "@MightyRaze" in your post!
"MTD: Made To Die, Many Troubles Daily..." - Taryl