2 ways you can do that...
1, Source a GT6000 a few years newer with a vertical and grab it's parts.
Or...
You can attempt to do it yourself.  One thing I will give you a heads up on.  Should you go big on the engine pulley, the belt will be more prone to fall off.  6.5 seemed to be fine.  I never threw a belt when I had that size pulley.  I still throw it time to time with the 9 inch I have on mine right now.
Here is an undershot that may help you with some Ideas.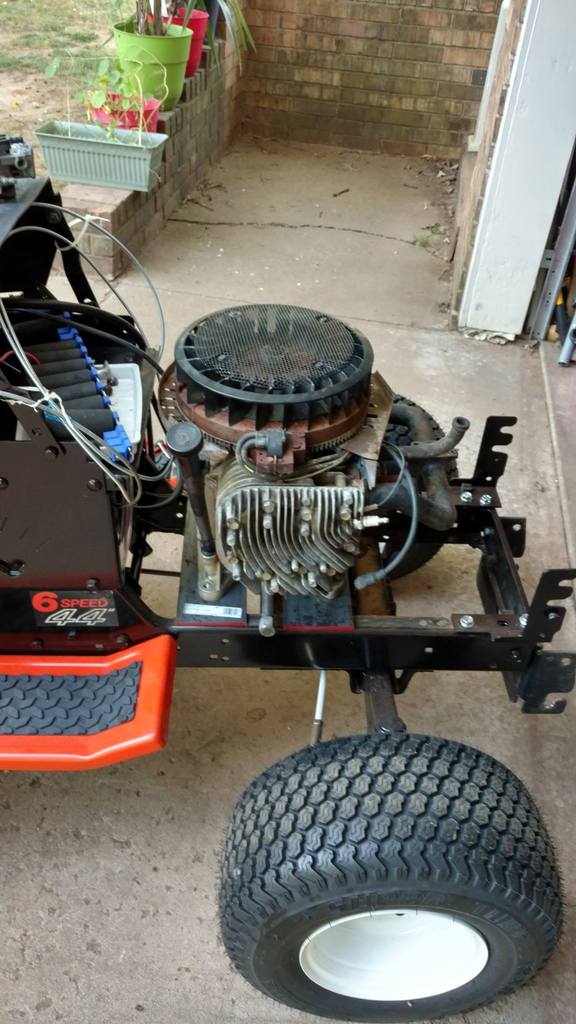 You will loose mower capability as the front steering is in the way.  I added an idler off one of the engine bolts as you can see to line up the belt.  This setup never failed on me.  Also note the belt keeper on the engine, and one between the engine pulley and the idler.  Those allow clutching to work fine.  I used 2 1/4 inch plates to mount the engine to.
I will probably go back to this setup next year.  Should a good horizontal fall in my lap I may go back to that.
_______________________________________________
Modified Tractors:
Li'l Red
 89 Murray Widebody
Kal-El
 82 Murray GT
TheGreenMachine - "coming 2022"
Have a question? Ask me! Type in "@MightyRaze" in your post!