Made some decent progress today. Welded on the shelf floors, added vertical supports, front casters, cut some horse stall mats to fill the space in the shelves (rubber keeps things from sliding around, adds heft and keeps the metal from clanking/ringing), started building the tank retainers and built the drawer: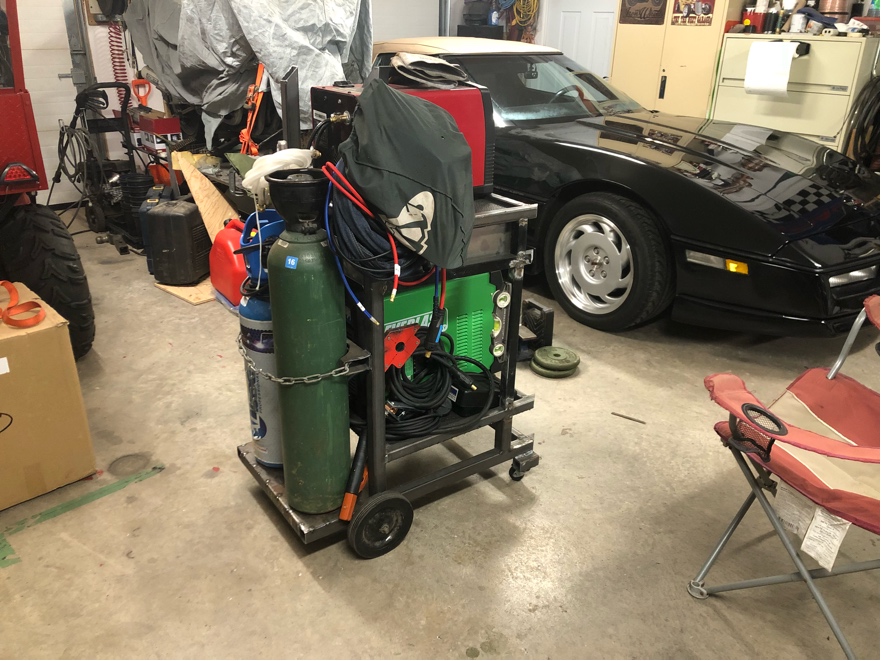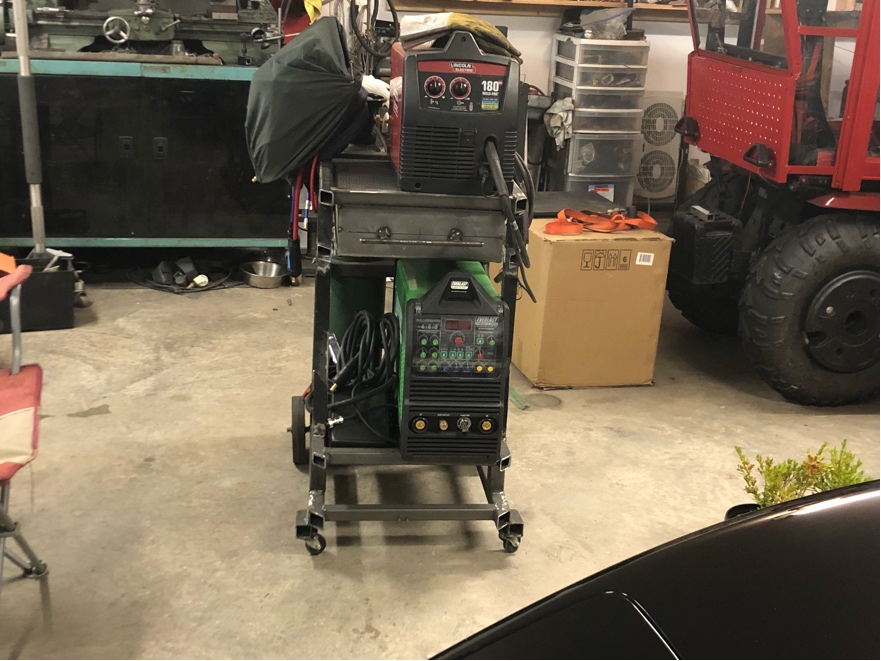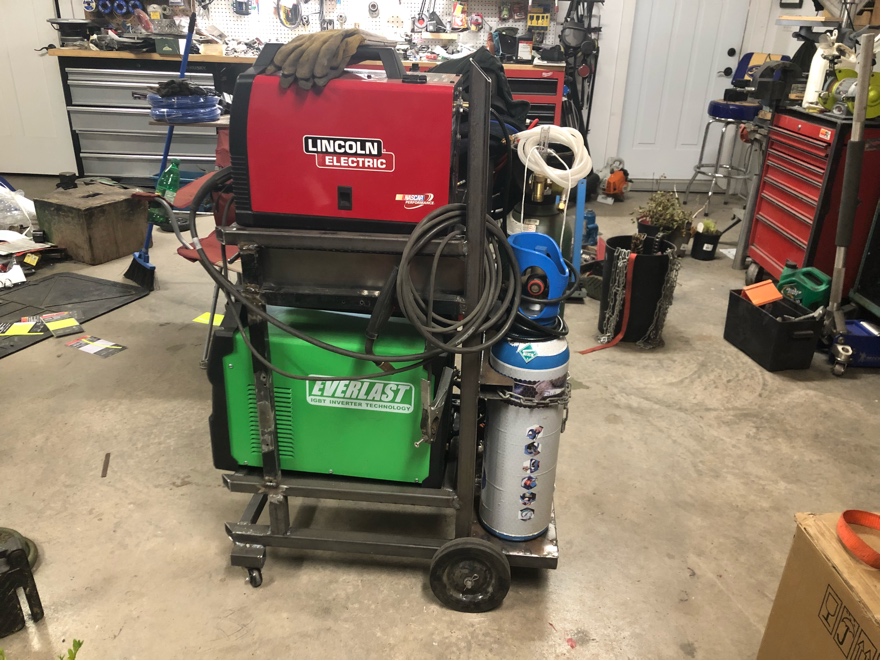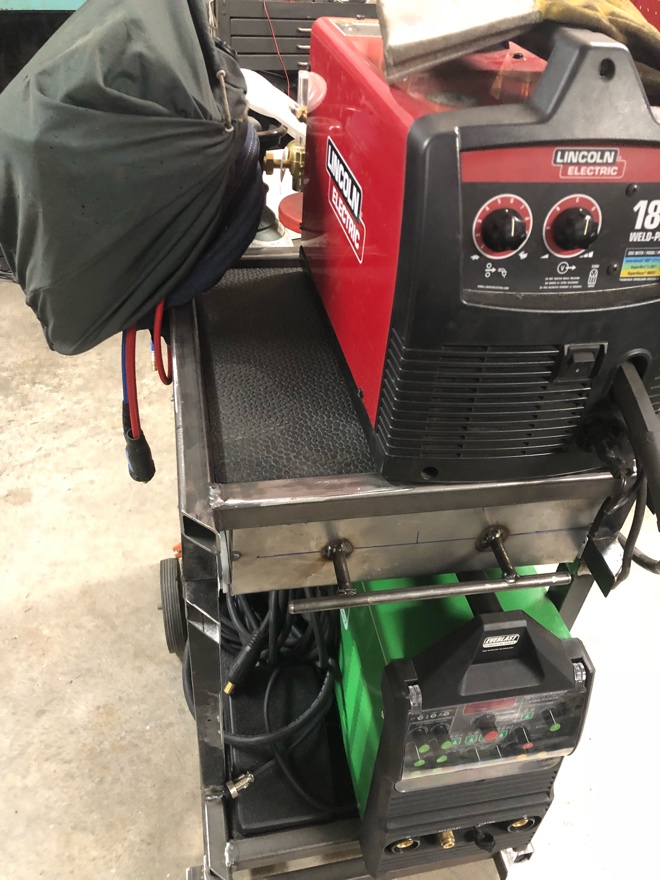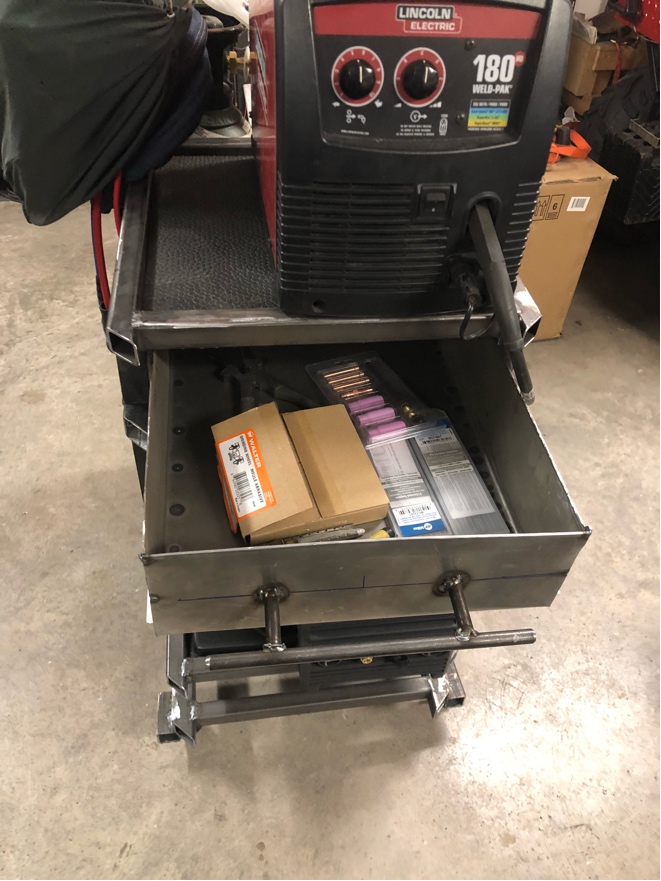 Still have a long way to go, but making good progress.
I originally wanted to leave the shelves open and have that "floating" look, but once it was together, there just seemed to be a touch too much flex in the assembly for my liking. I had no problem dropping my 200 lbs on a shelf and it not moving much, but I just couldn't get that "warm and fuzzy" without adding support to the front parts of the shelves. I think it still looks pretty good, even without the "cantilevered" shelves.
The drawer came out OK, but it's about twice as deep as it needs to be. Probably could have put two drawers there instead of the one. I may make a hinged panel (or maybe a "lift out" one might be a better way to go) to create an upper and lower section in the drawer.
Next is to build the cord storage hangers. The angle cuts need to be closed up on the supports and the bottle holder needs to be filled in and a clamp built to retain the bottles (the chain is only temporary). The drawer needs to have dividers built and installed to keep the assorted bric-a-brac organized. Still have to sort out some filler rod holders.
I also need to figure out some sort of "handle" for moving it around the shop. I'm only a hobbyest in his two car garage, so everything has to go in/on the cart and it needs to be "moveable" with relative ease. As it sits, it still rolls around easily. We'll see how it goes once it's fully built and loaded up.
Next up will be building the tig torch cooler, which will fit under the TIG machine. It's going to be fairly simple: an aluminum container, a submerged pump (from a tile saw) a radiator and a fan. Plan it to build it right into the cart itself which will, hopefully, leave enough space in front of it for some consumable storage (wire, etc).
Probably have to start thinking about a color to paint the thing. Red jumps to mind, mostly because the Lincoln is red and I have a gallon can of Tremclad (IE: Rustoleum) red. Green Everlast will stick pretty good out though. I suppose black is always and option too.
At this point, I'm into it for about 100 bucks. That's for a 3x8 sheet of 18 Ga sheet metal and a couple casters. The rest is all left over and scrap bits. Not too shabby so far!