A few weeks ago I got this 50cc mini quad in exchange for doing some small engine work for a neighbor. He never had it running, it had no carb, throttle cable or fuel tank or even spark for that matter! The plan is to bring it up to snuff and sell it.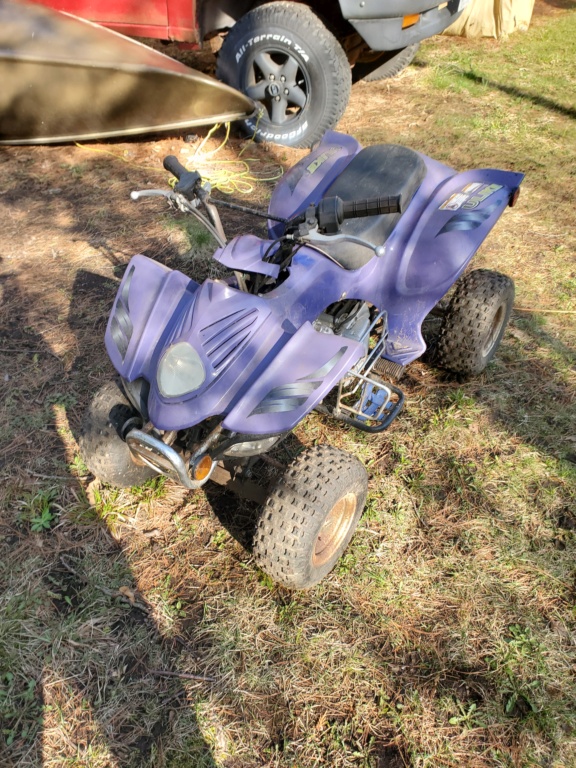 A couple weekends ago I started working on getting spark and nothing.  
I went through the wiring, removed the remote kill box, checked for power coming out of the primary coil, all of that was checking out but the blue/white wire for the crank trigger was grounding out and wasn't sending a signal! I opened it up and it was obvious someone had been into it at some point because I found not only was that wire pinched to the point of grounding but it was basically severed! One of the yellow wires was also pinched but it didn't pierce the insulation. I ended up robbing the crank trigger from a spare motor, soldered it in...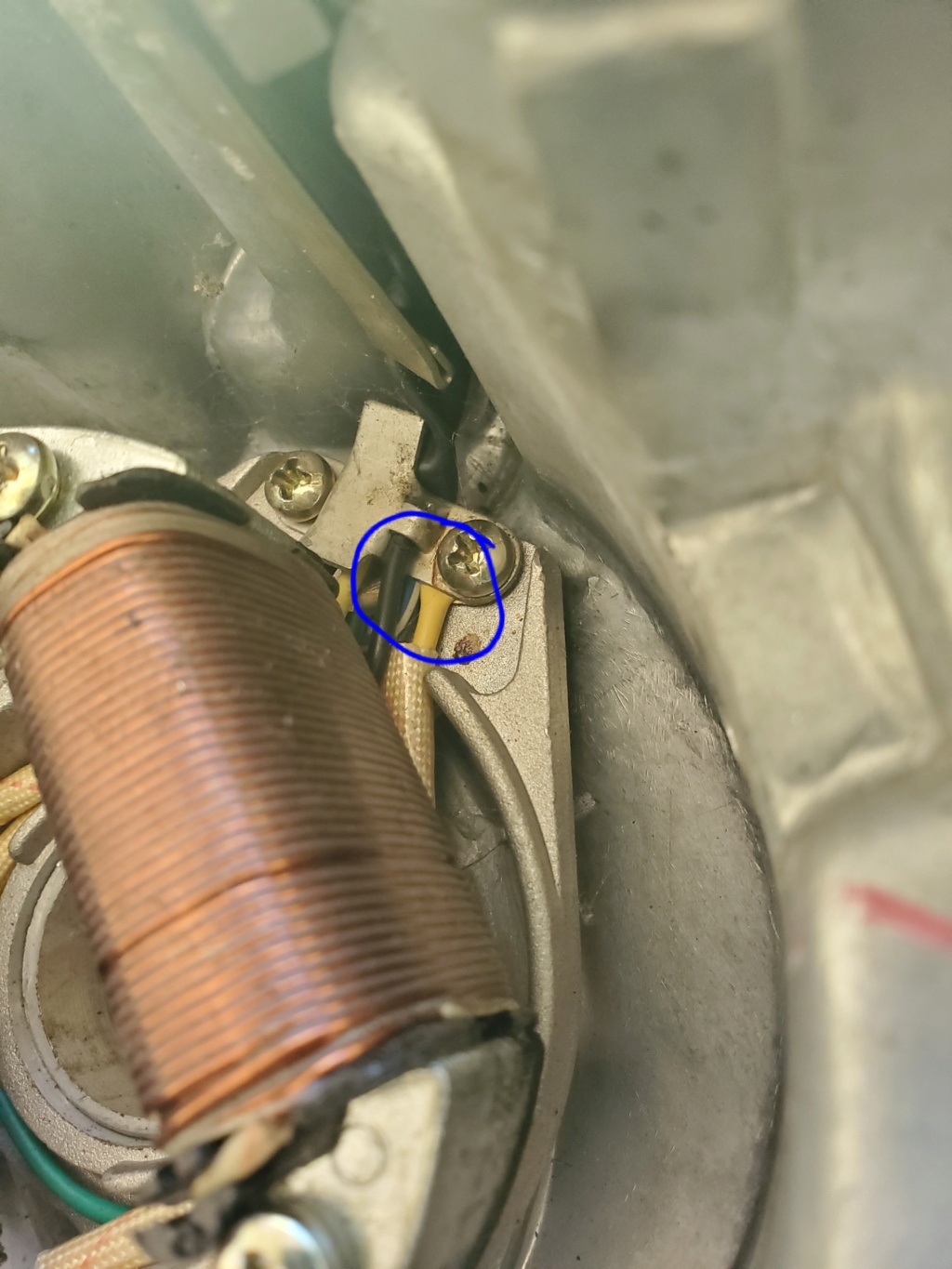 ... and still no spark! I'm looking over the wiring again and what do I find? A tethered kill switch hiding out behind the battery box! Once I capped that switch there was fire! Obviously the crank trigger would've still been a problem if I hadn't fixed it already.
Last weekend I dug through my parts and found a carb that not only was the right one to fit but has the spring loaded choke and plate to work with the handlebar mounted choke lever. I also found I already had the right throttle cable and I stole the air filter for
The WarHorse
(and ordered another) seeing as how I won't be needing it for awhile.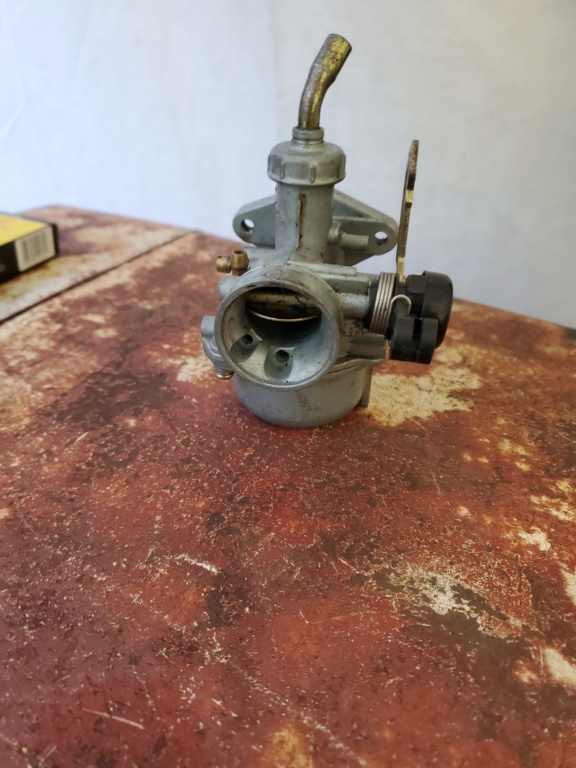 I taped a fuel tank from a pocket crotch rocket on it so I could get it running and start testing/tuning it, I got it running on my lift table, went to put the rear plastics on and it died! Take the plastic off, start it up and as I'm putting the rear plastic on it shut down again! So I start it up again, start moving wiring around and it's quits! Turns out the connectors metal tabs are loose for the rectifier and for the cdi (separate parts) so a little tweaking and it was good to go! I ripped the heck out of that thing, I'm actually surprised it hauled me around so well and it's quicker than I expected!
Fast forward to this week and I've custom mounted a larger fuel tank. I searched all over the web and Amazon, I ordered the one tank that looked like it was the right one but with my luck it wasn't! Lol.
Here's the new rear mount, I drilled and tapped holes for some Allen bolts...
... and one of the front mounts. I cut a couple tabs off an old ATV frame, trimmed them to fit and welded them on.
Here's the tank all mounted up finally!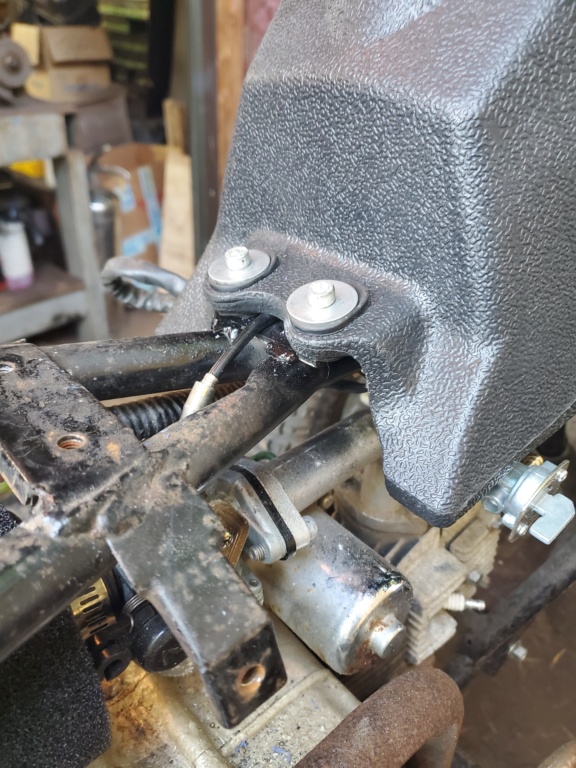 Some trimming of the front plastic is required to fit the tank, I've just been removing a little bit at a time and am getting close but still have more work to do (it should sit on top of the lights).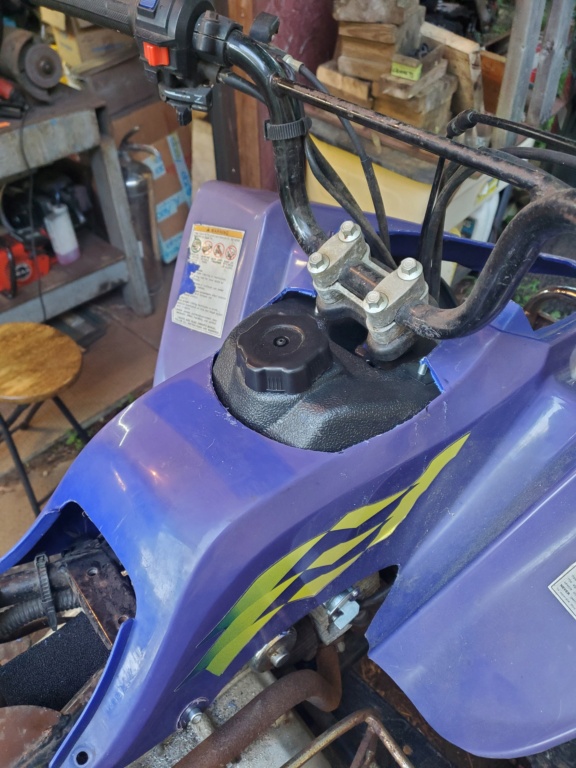 This is how it sits as of tonight.
There's still alot of work to do before teardown and paint but at least it's running and driving now!

My Tractors:
1969 MTD Seven Hundred
(Running/Driving ~ Light Yard Duty)
1969 Bolens 1225 (194) "Mud Duck"
(2022 Build Off Finalist ~ Work Still In Progress)
1973 Cub Cadet 149
(Saved from Impending Doom ~ Tinkering In Progress)
1974 Bolens G10 (1055)
(Running/Cutting/Snow Throwing ~ General Workhorse)
1984 Sears (MTD) LT(V)11 "The Warhorse"
(Offroad Trail Rig ~ Romping In Progress)
1984 Sears (MTD) LT(V)11 "Silver Bullet"
(2023 Build Off Entry ~ Work In Progress)
1986 Roper LT110CR "Trailblazer"
(Offroad Trail Mower Project  ~ Work In Progress)                             
Click Here To See The DIY and Build Threads I've Created!
 ~My Real Hobby Is Collecting Projects!~