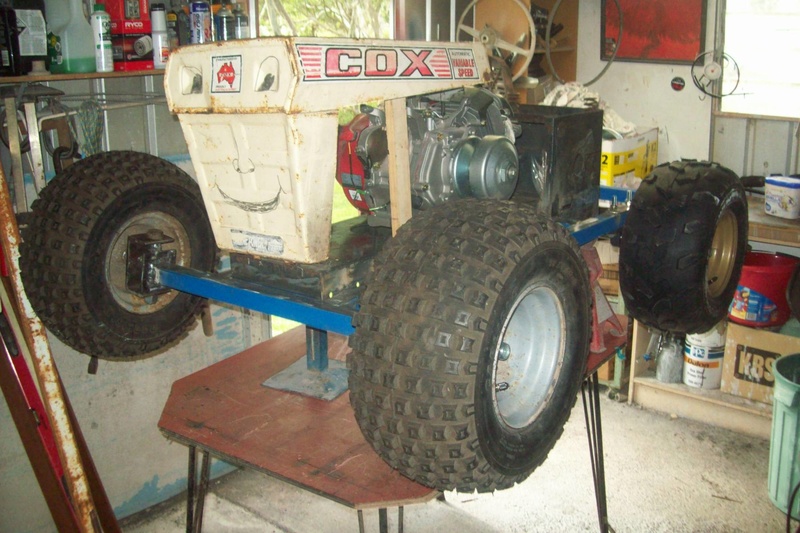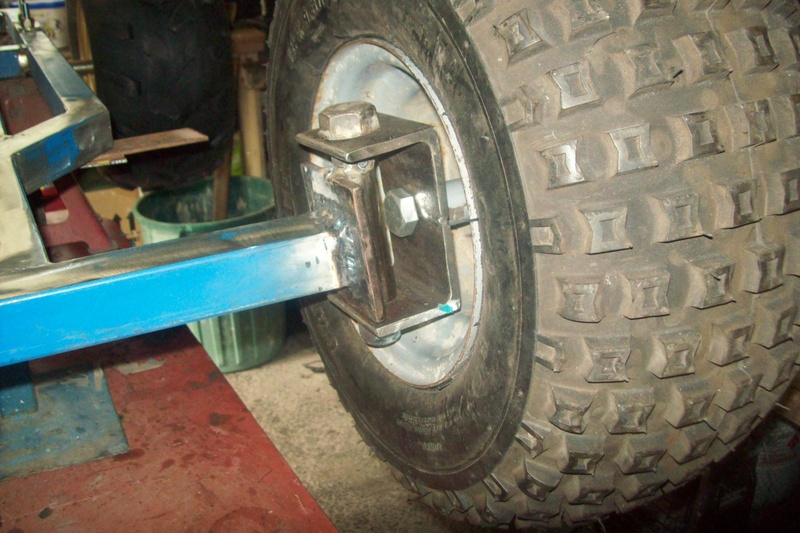 https://i.servimg.com/u/f58/19/61/16/56/ddvdev10.jpg[/img]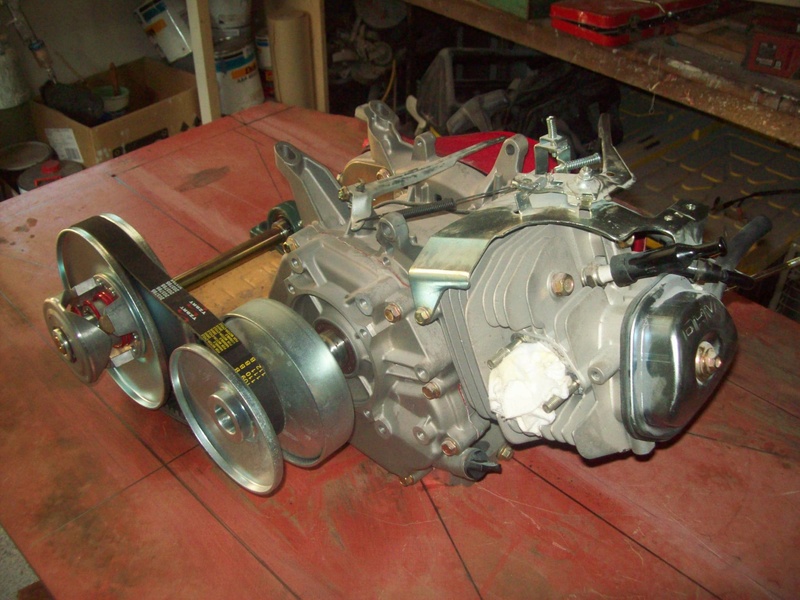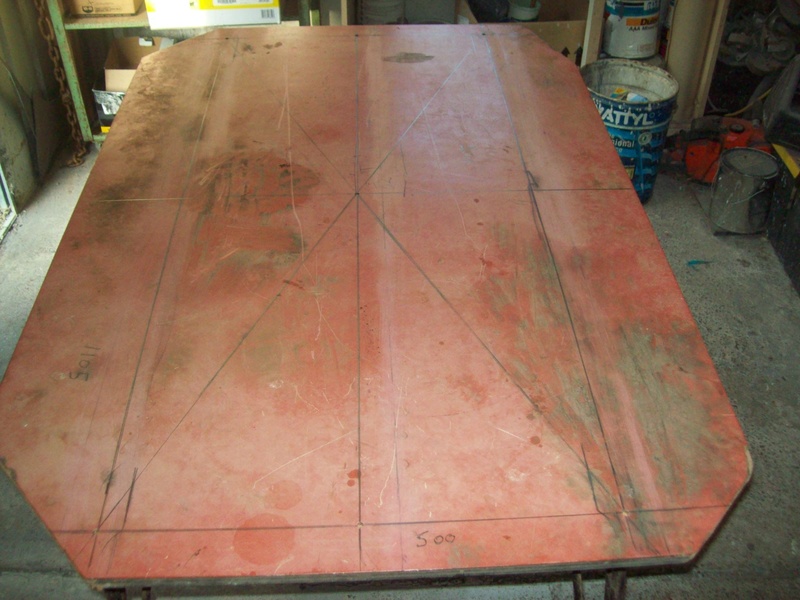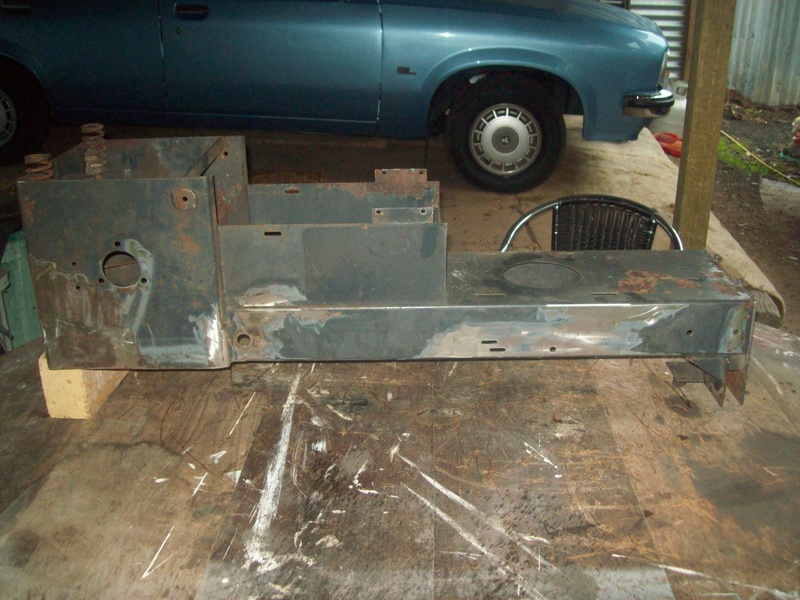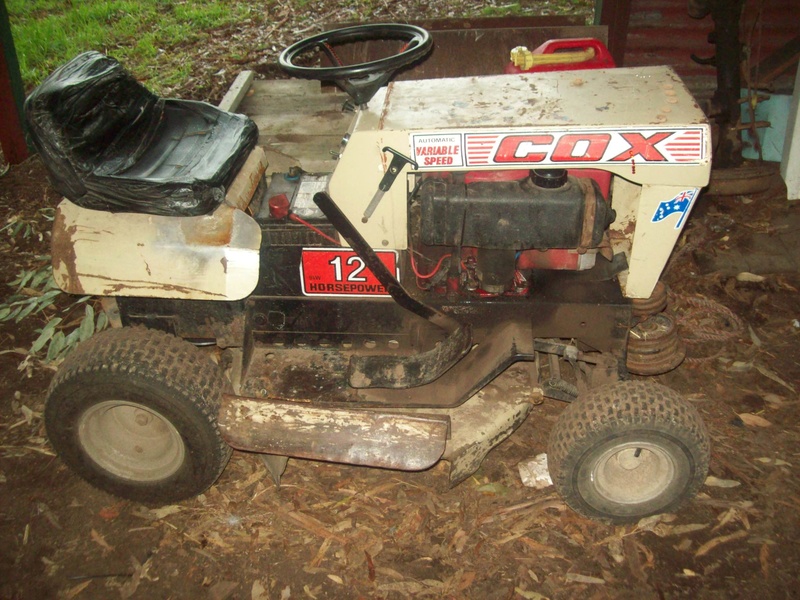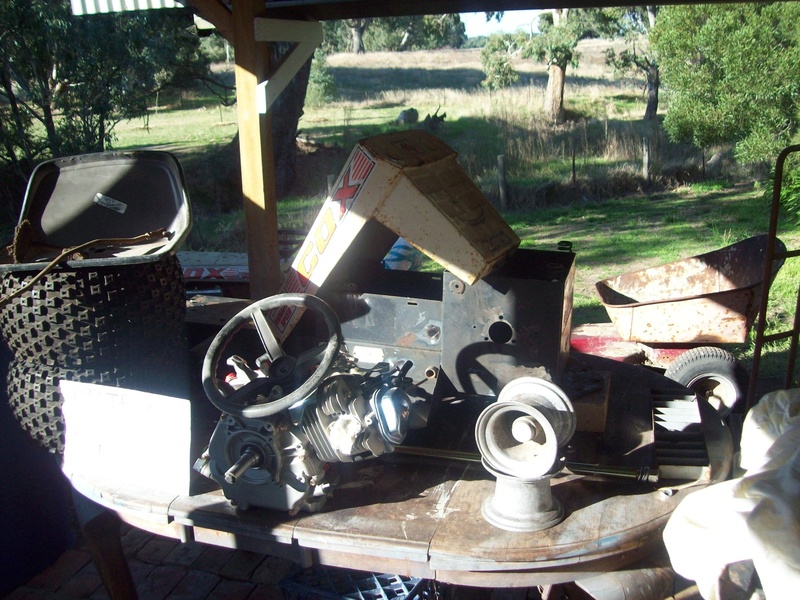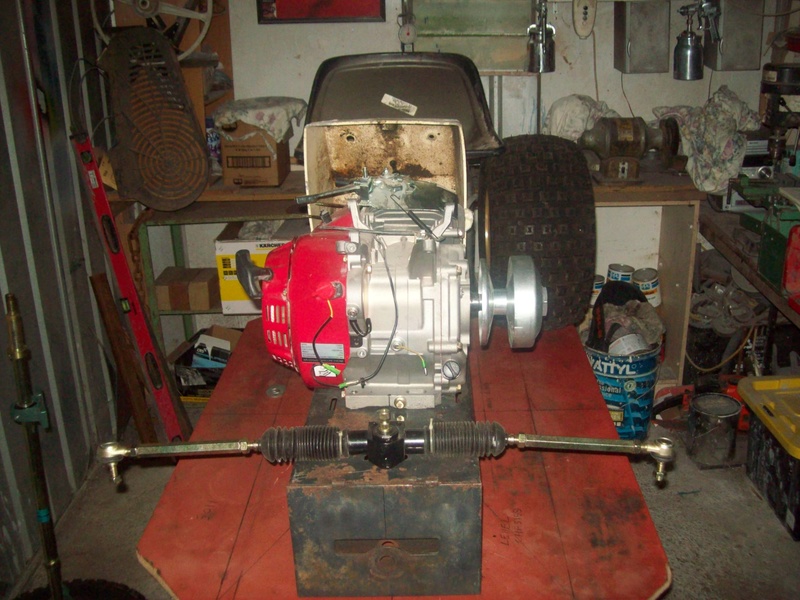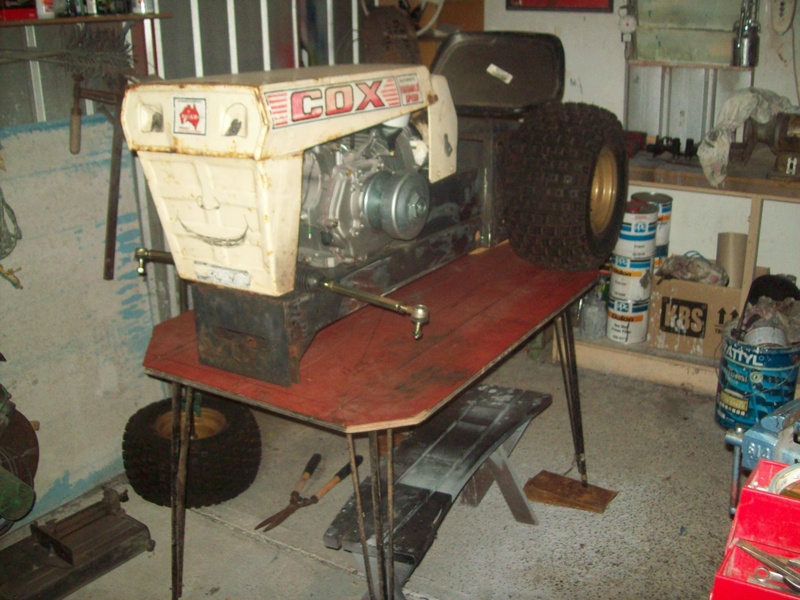 https://i.servimg.com/u/f58/19/61/16/56/rt7itr10.jpg[/img]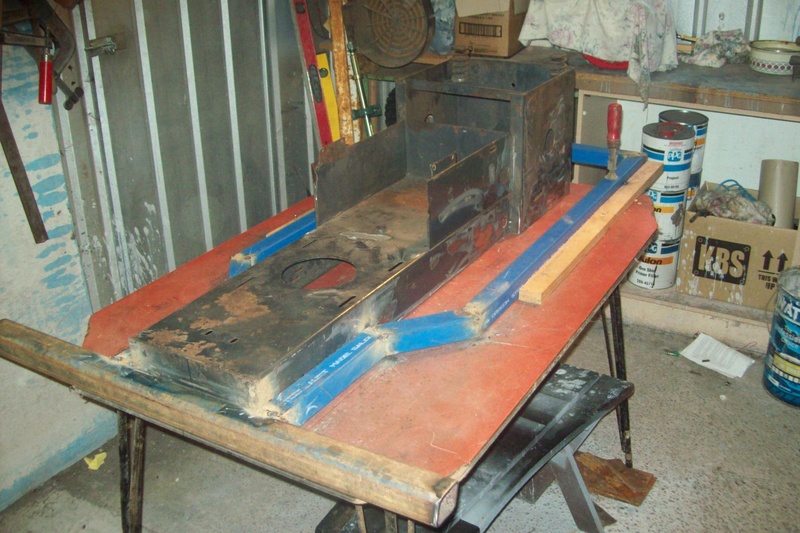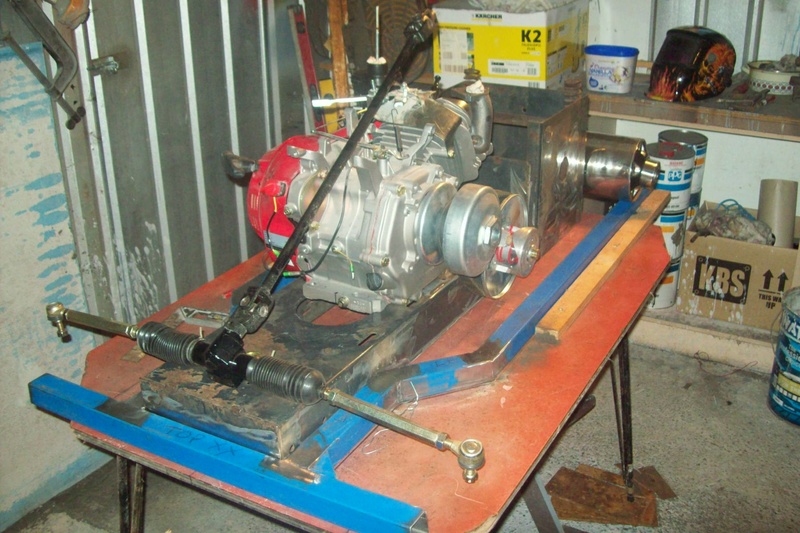 I am an Australian entrant my plan is to build a low cost high speed modified mower, Australia is one of the driest country's in the world, we don't get many muddy conditions where I live.
I do all my measurement in metric, there are conversion tables available if you want to follow my build methods.
This is my very first build. The mower is a Australian made cox mower early 1970s model. It will have a 420cc clone engine, the transmission is a 40 series tav with jack shaft drive. It will have a rear disk brake and 42 pitch chain driven live axel. The rear sprocket is a 32 tooth and drive sprocket is a 12 tooth This model Cox came out with no differential, It uses a friction drive arrangement. I will be fitting rack and pinion steering and off set front spindles. the chassis will be reinforced, I will also be doing some sheet metal fabrication. The rear tires are 18x9.50x8 the front tires are 18x9.50x8.
A lot of the build will be decided as I move on with the project. Most parts were found at the scrap yard and my sons got me the engine for my birthday. Thanks Doc and my new mower family for the support and inspiration.
I Received my series 40 transmission also went down to the scrap yard and collected some steel for the chassis
There are lots of parts coming soon, Just waiting for my front tires to arrive so I can mount rear axel and pillow blocks so I can establish ride height then work out engine and jack shaft position.
The colour will be Kubota Orange and Black chassis. I will have SPEEDSTER painted on each side of the bonnet with some hand painted Pin Striping.
Today I stripped down the mower body and removed the foot steps and cleaned up the old welds. I set out a plan for the chassis so I can attach the body to it. I will be building the chassis with cross bracing and also fitting side Intrusion bars. My sports steering wheel arrived along with my disc brake rotor and calliper. I am really starting to focus on the design and I am thinking about adding an alternator so I can run lights.
On the weekend I went along to a country Market, I picked up a couple of handy bits and all of a sudden , in the corner of my eye I saw a flash of chrome, I jumped like a Kangaroo and there it was a stainless steel muffler of a Fordson tractor, I asked the bloke how much for that muffler, he replied $5 ok mate I replied I'll pay $5 for that no worries. I walked back to my car thinking this would be perfect on my Speedster, how lucky to find it so cheap. It made my day.
Today some more parts arrived I'm still waiting on my front tires so I can start building the chassis, I spent a few hours marking it all out on my work table, getting it true was time consuming but I plan to use it again for my next build because I'm using the same model mower to modify. I guess I'm being fussy but I want it to be spot on so as I continue the build It will be square and true. This makes life easier when working out the height, engine and jack shaft mounting points also the steering brakes and drive sprocket, its also important to have the mower balanced, working out the seating position and so on. Had another fun day just annoyed with the delivery's taking so long as I live in a remote area of my State.
Today I sat down and did my drawings for my project Speedster, I have spent many hours with math and measurements. I have marked out a template drawing on my work table, set out where my chassis will be made, allowed for Disc brake, rear Sprocket. pillow blocks, also at the front end I marked out steering axel, rack and pinion position, steering hubs and roughly worked out the off set for the front axel so it will be level and track straight, I calculated where the steering arms will sit by measuring at the centre of the stub axel to the centre of the rear of the chassis as seen on Sprockets Garage. In the centre of the table I marked out engine position, jackshaft, and made allowances for tav40 clutch and driven pulley, from there I fitted the engine on the body to position the steering shaft, it clears very nicely with the bonnet fitting snug. I will first build the chassis then fit the front and rear axels remembering that the rear wheels are a bigger diameter and the front being smaller making sure the chassis sits level with the wheels fitted, I made a mock up of the seating position and held the steering wheel to see how it will fit up and so far it all looks good.
Today I went in to Ballarat to the steel supplier and was lucky to get some off cuts at scrap prices, I got
3x2.5 metre lengths of 40x40x2.5 mm and a 1metre length of c channel 100x80x80mm all for $15. the box section will be for the chassis and the c channel I will use to make the front stub axel sections. I have watched the Diesel Wiesel build about 20 times and have learnt a lot from Docs teachings. I seem to mention a lot about doing the math and planning a lot and also I have done many drawings as well. I have set up my work table as a template and will fix some timber to form a jig set up, that way I know each time I make a section of the Speedster it will be spot on each time. I'm going to make 3 basic chassis and that way the next builds will be a lot easier to modify and add to for the next lot of builds. I did an engine count and I have 12 small industrial engines to use, some from as early as 1950, Villiers, technemesh. and a few Briggs engines. Some I found at the dump and others were given to me by friends who all know how I love these stationary engines and mowers. I'm going to see about buying another ride on Saturday I'm sure I will be taking it home. then I will have 4 mowers to build. Thanks again you have all been great. It has really cheered me up.
Today I started building the chassis, using my work table and the template drawing I did on the table I set up a jig and sat the mower body in position then cut all my steel and made sure it would all fit. I made an allowance foe front wheel steer clearance and then in the jig I tacked the chassis then fitted the mower body then did a few more tacks then fitted the front axel. each end of the axel I cut a 20 degree angle for the camber then when I fit the steering stubs axels I will lean them back 10 degrees, I did this watching Docs build on Diesel Wiesel. I clamped and braced the chassis before tacking it so nothing moves, So good so far.
Today I finished the chassis. I sat the steel on my work bench and made a jig on the template I drew on my table. I sat the body of the mower in position clamped down the steel and tacked it . I did measurement to make sure that it was square then welded it up. Apart from setting fire to my jacket it all went well. I did a test fit of the engine and also the jackshaft and also the steering shaft to make sure I am on the right track, the only mistake I made was that I made the front axel too long, so I cut it off and fitted another at the correct length. After I welded it all up I cleaned up the welds and then fitted the bod and engine just to double check it all fits. I am having a lot of fun, thanks again to Doc and my mower family you have all been inspiring and educational.
Today I have been working on the front and rear of the Speedster. I made up front stub axels and steering out riggers. I used 6mm flat steel 90x90mm and welded steel tube to it to slide the king pin through, this section will be welded to the axel with a 10 degree off set and a 20 degree lean inwards at the top, for the stub axels I welded 2 pieces of angle so the form a c channel, I drilled a hole in the centre to fit front wheel stub axel, I then fitted the king pin and the steering out rigger. I use Docs acrimon measurement and it all works well. On the rear I drilled holes in the chassis to fit the rear pillow blocks making an allowance for the disc and drive sprocket. I have made enough clearance so I can run a 32,44, and 70 tooth sprockets, it give me lots of gearing option. When I drilled the holes for the pillow blocks to mount the rear axel I fitted bushes inside the chassis so when I bolt it up it wont crush the chassis box section, I did this by drilling a hole for the bolt then a larger hole to fit in the bush, I then added a piece of flat plate over where I fitted the bushes and welded it then drill bolt size hole through the plate . drilling from the top down as a guild. this will ad great strength when I mount the rear axel. Later today I will add some plate supports and gusset to reinforce the chassis. I have found through experience that mig welds are very hard and with the use on a dirt track the mild steel and the mig weld will crack so reinforcing the welds will give the chassis much needed strength at the same time reduce the weight of the chassis. so it going well.
Spent some time working on the chassis, I fitted the body of the mower and fitted the rear axel so I can start fitting the brakes and drive sprocket. I'm making a engine and transmission frame so it becomes one unit, that way it will be easy to remove for servicing and repairs. Next step is to fit front steering hubs and rack and pinion, then make a steering column support. Good progress so far.
Today I made the front wheel spindles, and fitted them, the wheels have good clearance, next is to fit the rack and pinion, I should have it driving in a few weeks.
I got the steering all sorted, put brass bushes in the steering support, aligned the front end.
I made the cowl and did all the sheet metal work using old industrial shelving bit of messing around and fits nice and snug.
I got it all together now ready for the test drive, the only problem I had was with the transmission, the comet specs didn't match the Chinese made 40 series, went through a couple of belts and found a few problems.
The first was the driven clutch was opening to far and the belt would hit the rivets inside the pulley, the spring was not working very well, I discovered that the driven clutch was getting very hot so I set the mower on a table and did a bench test. The problem was the cooling system on the engine was blowing hot air onto the clutch, this was over heating it causing the spring not to work very well, so I made a heat shield fitted it behind the driven clutch and it worked very well keeping the clutch from getting to hot, but after another test drive the clutch still opened to much destroying another belt, so I put a spacer behind the cerclip on the clutch this stopped it from opening to much but reduced it from 1-7 to 1-6 not noticeable with no more belt problems.
I then took it on an epic thumping test drive and it worked fantastic except for a new problem, I had the fuel tank mounted on the bonnet and at high speed the petrol started spraying out into my face! So I mounted a Murray tank I had under the bonnet worked well.
I stripped all the paint off the body work and painted it Rocket Red, the did the pin striping and made it look very cool.
It's been a long haul but for my first ever build I learned so much. I have stated a page called Mowertoreum and also a YouTube channel as well, I plan to make this my new path in life as it brought me so much enjoyment. I loved doing Art sculptures as a therapy for my depression I suffer but doing the Lawn Tractor build was the bet thing I have done to help my mental health. It's a subject we don't like to talk about but it's important that if we suffer from depression it needs to be addressed. To many people have taken their lives with this invisible illness, that can be avoided.
Anyhow I finished my build and feel very satisfied that I made it all on my own and it works.
I would like to thanks all those who helped with tips and advice, this kept me inspired so I continued on the project and finished it. A big thank you to the  ATLTF.com and also Sprockets Garage who inspired me and gave me a new lease in life. It seriously has helped me with my self confidence.
Best wishes to all and remember we are all winners being part of this wonderful community.
Hopefully I can get something going hear in Australia as there is nothing like this community here.
Best wishes, stay safe and healthy,
Kind regards Dave Vecchio ( Dave 007)