Before I begin, this is my first post and I hope it helps others instead of learning from possible mistakes.  So one
Day, I was at work turning wrench's for a living and while walking to the brake lathe to cut some rotors, I kept seeing this lawn mower transaxle with a bunch of scrap metal thrown on top of it , so it decided to investigate and found it this be a peerless . At the time I did not know who or what a peerless was. So i did the routine whistle like your up to no good and I snagged it. It looked like its been this longer than I been alive. Here's a pic of what it looked like after I removed the gigantic pulley, input shafts and top case halve.
So I spent the next couple of hours cleaning that muck of bentonite grease from transaxle and began prepping it for speed and durability. I removed the reverse chain because Ive read countless threads that there's a possibility that it can break and cause total annihilation the to the transaxle. So i removed it and left the spur gears in place instead of building spacers . Plus I would think they would throw oil around nicely. Here's what it looked like all nice and cleaned up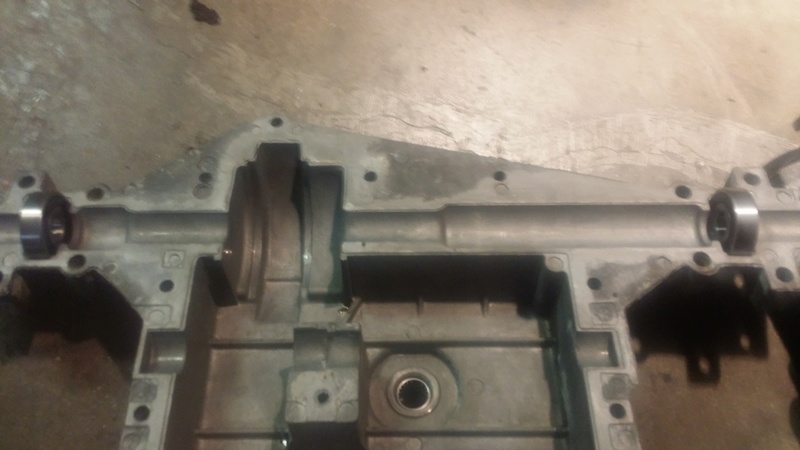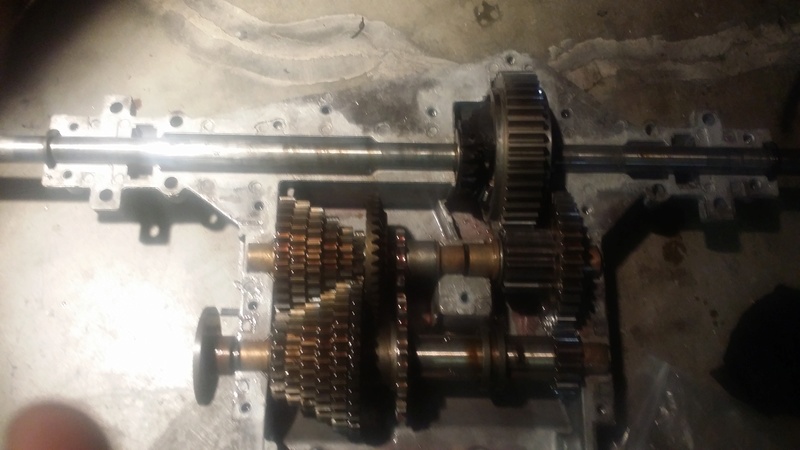 The red oil you see is just ATF that I used to clean all the gears and bushings instead of a solvent ,plus I also read that solvent on the bushings is a big no no. So I took extra precaution . Now this is where I came up with a pretty neat way of locking the differential . This 6 speed 930 is going into my 2006 troy bilt pony that use to be varidrive. Until about a week ago I finished the entire conversion to the normal clutch drive. I'll show pictures of how I designed varidrive to clutch drive setup at the end. ANYWAYS trying not to veer from the subject at hand. So I had this 1spd transaxle just laying there and after a few cold ones on a productive day on the 6 speed clean up. I decided to open it up and drilled out the rivets that hold the bull gear I would assume onto the differential housing with the spider gears in them. Well I found that in a 1spd transaxle they have 15 tooth spiders and the 930 have 16 tooth spiders.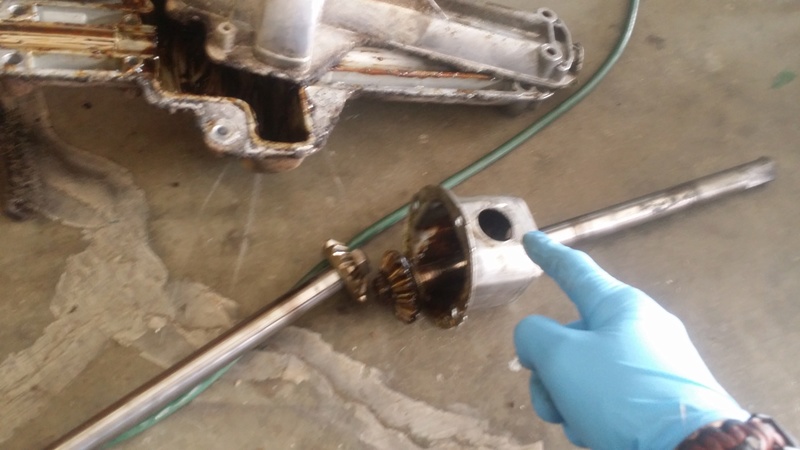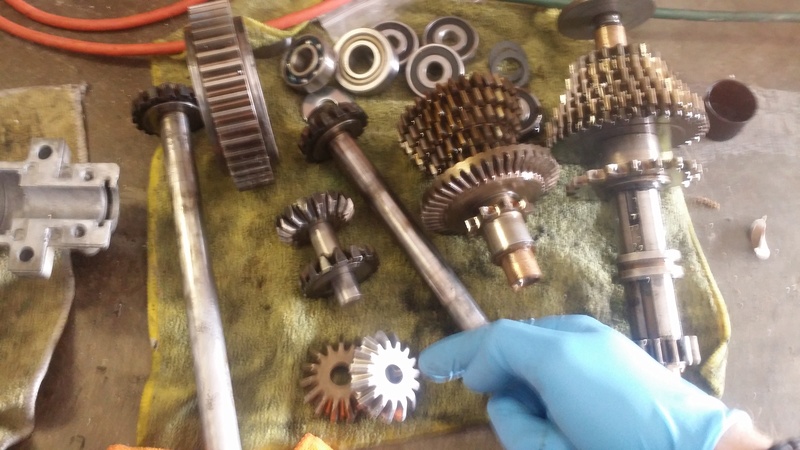 So after the 8th or 9th cold one, who's keeping count anyways? I got this slick idea of making sure the welds on the differential spiders on the 930 stay intact on any load. Look here, the they almost fall into place like they're suppose to be there.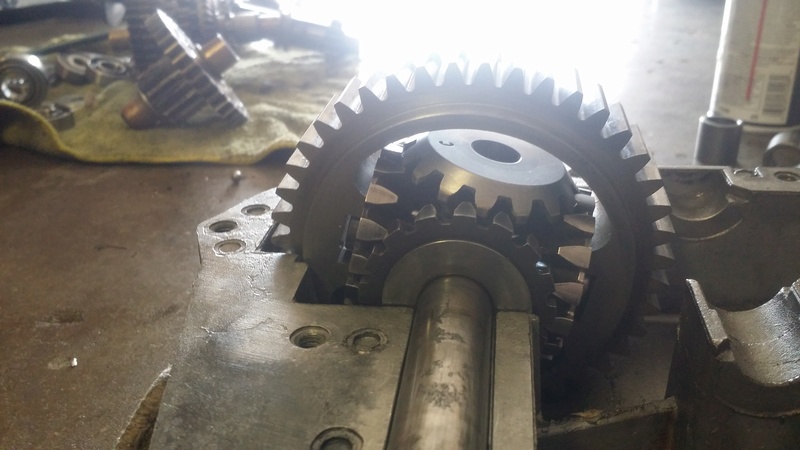 So next step was weld the original 2 spiders with the differential pin through them first like this below
Now for all those welding professionals on here , I am not one lol but I'm getting better now. I just made sure the weld penetration was good and this was what I ended up with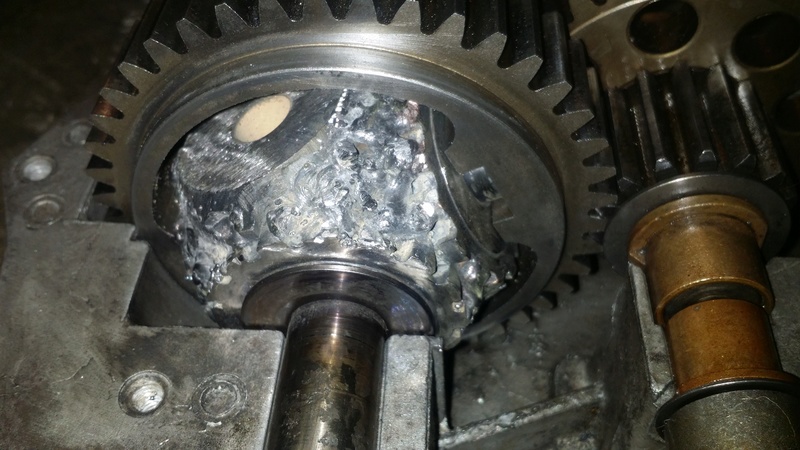 Some would say overboard, I say I don't have to worry about it coming apart ever again ! So I reassembled everything and followed the race prep 700 series thread (because it was the most detailed and in depth on information ) I made sure everything moved freely . I fixed a a few shafts that had a little too much endplay with shims out of the 1spday transaxle. You can't say the 1spd transaxle are good for nothing. They got the perfect shims needed . Also I made sure that all impregnated bushing tabs were in their correct seat and filled that baby up with a mixture of 20w-50 motor oil and 75w-90 gear oil . You may ask why the mixture ? Well, Adam only had one each and I did some research of oil viscositys and they're pretty close in viscosity . Engine oil just has extra additives and detergents where as the gear oil had friction disk additive for limited slips but this transaxle won't be slipping with the help of a MIG welder. ANYWAYS, I filled the transaxle up until the large bevel gear that the input shaft meshes with , below half way . So it was riding through the fluid . Just like a differential on a vehicle. Continuing on , I replaced all the snap rings and shims and washers and all the seals including square cut seals . Gotta love harbor freight. They sell an awesome assortment of square cut seals for about 5 bucks. Closed up my work of art with a tube of acdelco rtv (courtesy of Chevrolet dealer/job) and took a ride down to TSC for a nice pulley. Here's what I bought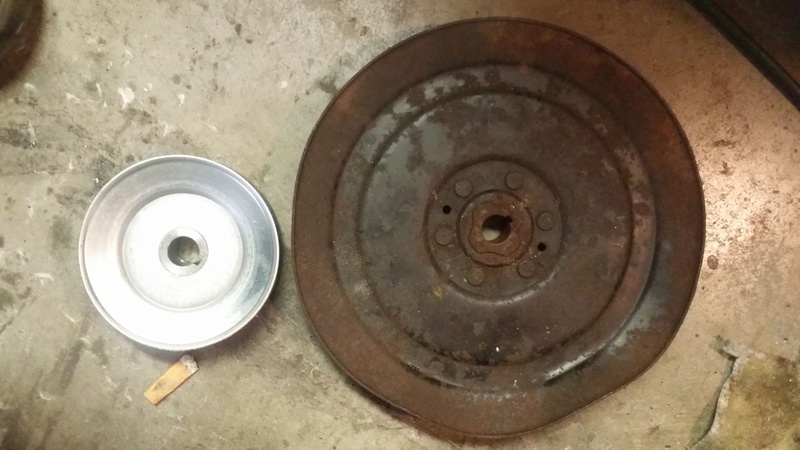 A good size 4 1/2 inch pulley for it . I had to flip it on the transaxle for clearance . But made a good judgment call at the store , because I totally forgot about input shaft size. And luckily I guessed right.
Now I can do wheelies and go pretty fast . Faster than I expected.
Here's some extra pictures on my original garbage swap , I mean varidrive swap to 6 speed transaxle.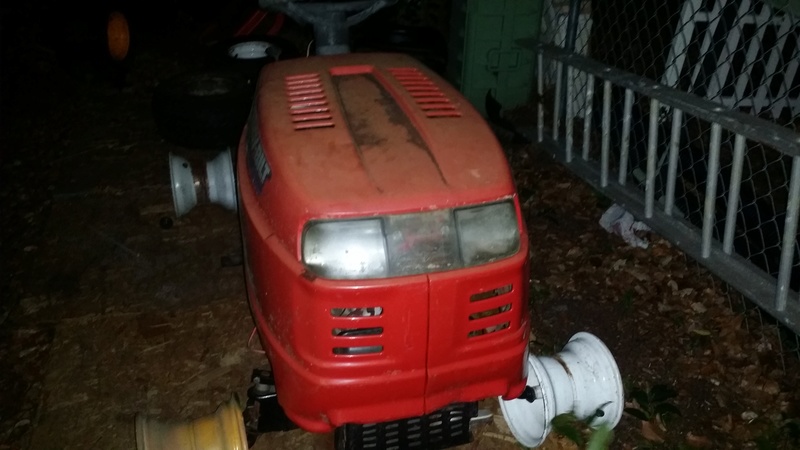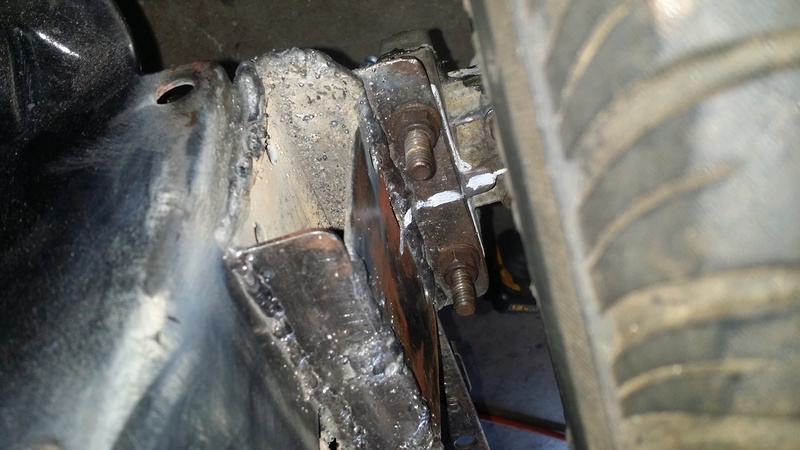 Found out that the peerless 930 has 2 different mounting locations. Also found out troy bilt frame totally missed both of the mounting locations . Even better it lands directly between two. So broke out the MIG welder. And made some new frame mounts. I had to of measured it 80 times and made my dad measure it another 30 times before I welded them . No one likes "dog walking" down the trails . If you know the term. You're already my friend haha. So transaxle is mounted and now time to build clutch system . I didn't take much pictures due to it being so aggravating , but I do have a couple. Maybe two . But this is what I did to make everything work properly with out rubbing or loss of tension or slippage.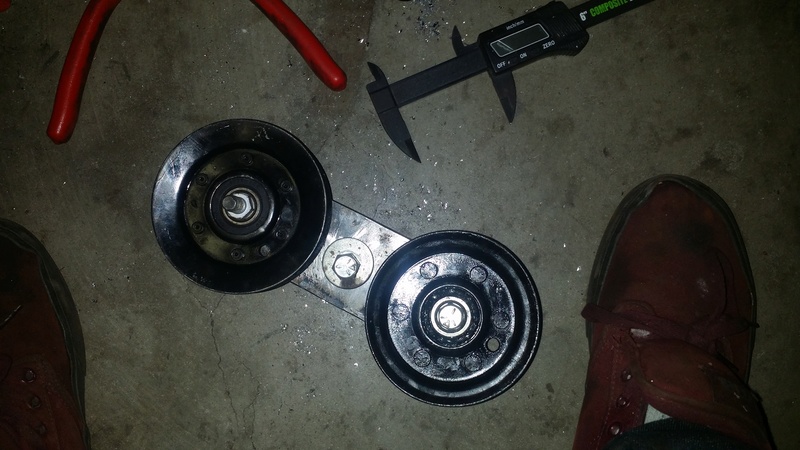 Above is my double pulley clutch I built ( one idler and one v pulley. Also when you mount the clutch set up . Weld a piece of flat steel from side of frame to other . When I would disengage the clutch , my whole frame would flex ( no good) .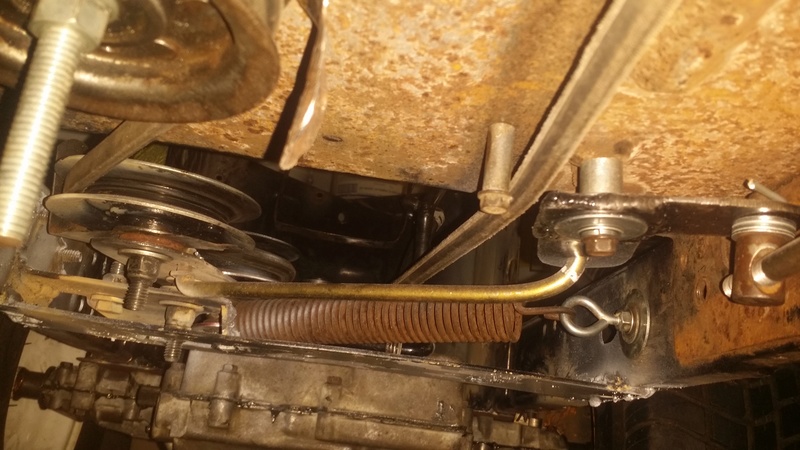 The most frustrating part was building the clutch disengagement from scratch but again I get my wild ideas after a few cold ones . Few meaning 3 or more . I was definitely on the more side  
. Anways above is the rest of the linkages with a right angle pivot so the rod pushes to the rear and the rod from clutch to right angle pivot is pulled. I'll even show you guys a little sneak peak of MUD CRICKET now. Again it's still under construction.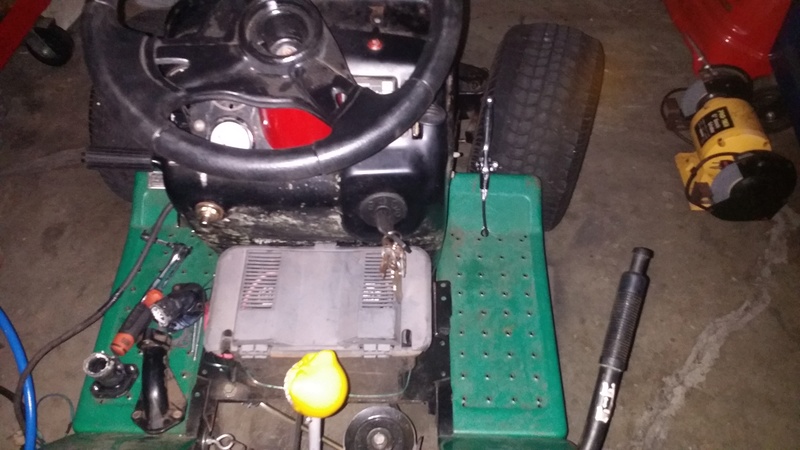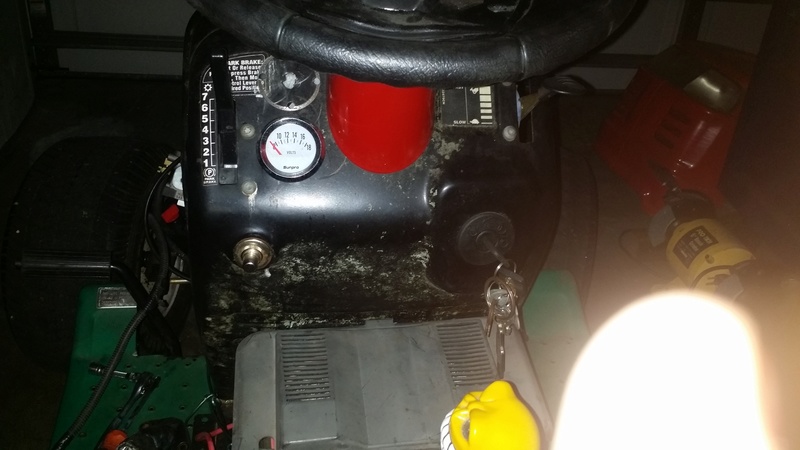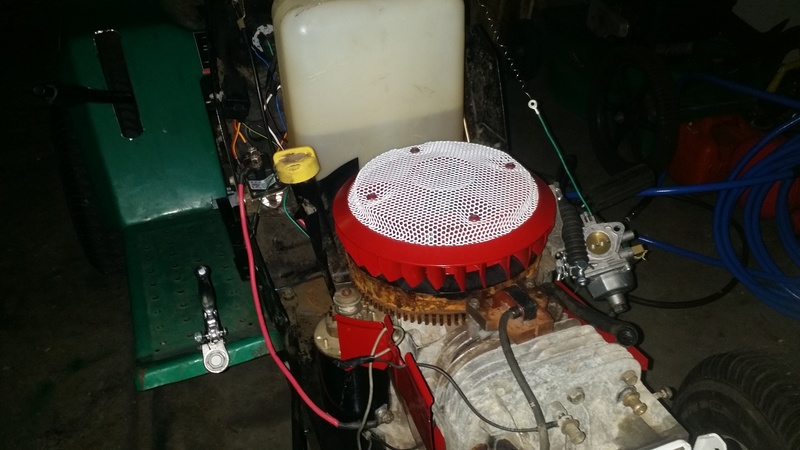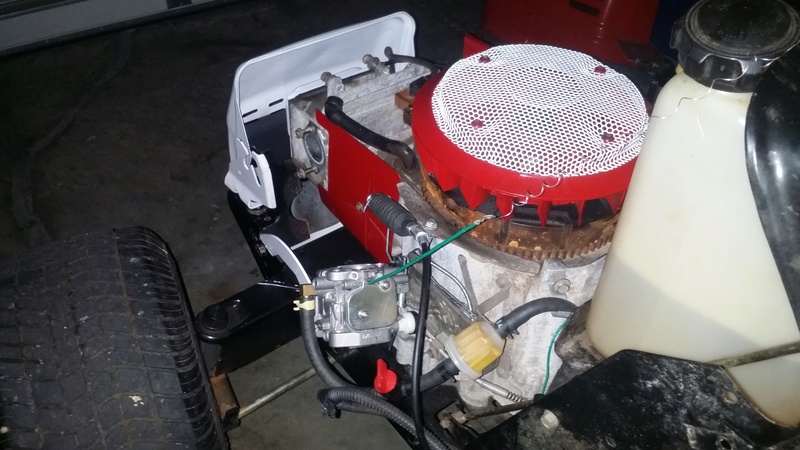 I got rid of the troy platform ( too bubbly and took this off my parts mower since it was a 3 piece (more square bodyish) and it is working well with the build . I will make a full build thread as from start to finish as soon as it's done. Comment your suggestions. It would be appreciated .