Stripped the MM down yesterday. The way I had the rear belt guards set up was directly underneath the battery, which is fine, but the way it was the battery tray rested on the two bolt heads of the guards, causing them to wear through the battery tray and eventually ate into the battery. So the whole rear section of the tractor has been exposed to acid and has began to rust or corrode. Mostly surface rust everywhere, but there's a few really rough spots. The plate that the taillights were mounted in was rusty when I got the tractor, so it was already compromised, then it was exposed to the acid and it had already began to crack before that. So yeah, needless to say that panel is toast.
I plan on stripping it down a little bit more as I am about to start reinforcing the frame this week or next. Probably gonna wash it and then pull the front end and maybe trans. Definitely gonna need to repaint it after it goes under the lightning gun. I'm gonna use a much more quality paint this time, not $1 Walmart paint. At least the flex shall be gone.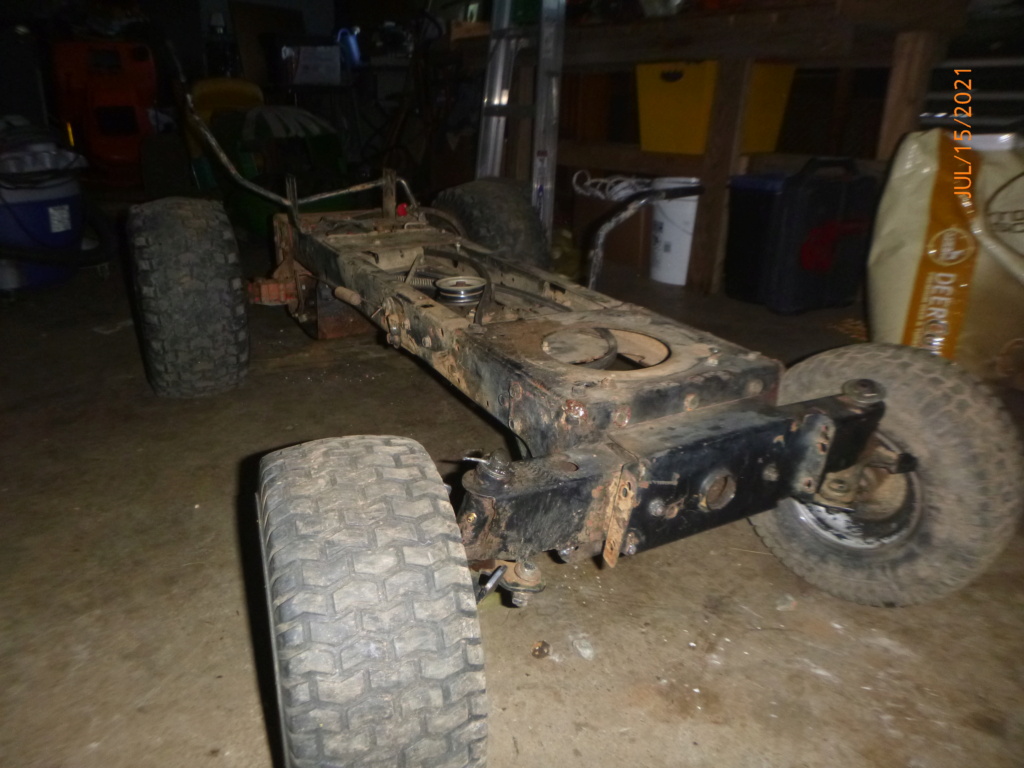 Thinking about strengthening up the body while I'm at it. That thing flexes about as much as a plywood board. Both the hood and body are in dire need of a fresh quality paint job. They are really faded. It's Krylon paint though, so I don't know why I'm surprised about that.
I will be rewiring this thing yet again, BUT, I am bringing my whole wiring game up a notch or two. No more fires that's for sure. I am ordering a 12 way fuse box, just picked up 10FT of 16 GA wire, some new switches, new connectors, new lights, and more. I am going to try my best to do this wiring job the correct and reliable way this time.
The engine is probably going to be on the back burner for a little while. I wanna focus on the fabrication and electrical side of the build for now. I do plan on digging into it as I watched some videos I did for the BO in 2019 and realized just how much horsepower this thing has lost. It's missing some ponies that's for sure. The Kohler I have ready and waiting isn't going to have any more power due to the sloppy piston. Anyway, I'll eventually get into it and replace/refresh the things I suspect are contributing to the power loss.
I am not going to touch the trans this time around besides a new brake setup, fluid change, and some new shoes.
Since I'm doing all of this, I might as well make a list. I'll edit it each time I remember something I forgot to add.
-Fresh Paint (Mostly same scheme)
-Frame/body reinforcements
-New tires and rims
-As close to a professional rewire as possible
-Fuse box
-Low/high beams
-More running lights
-Rock lights
-Bigger battery
-IFS
-Round tube fabricated cargo rack
-Simplify belt routing/eliminate pullies/make reliable
-Dust caps
-Tune up engine
-New gas pedal
-Orange triangle sign for legal reasons
-Shifter mud guard
-Band brake
-Fabricate rear plate
Maybes:
-Pinstripes
-New horn
-Cruise control
-Front Fenders
-Keyed ignition
-Winch
-Turn signals (I don't know if I can go that high tech though lol)
-Flame thrower exhaust
Now, I do have a deadline for this. With everything I wanna do I could almost enter her in the BO next year, but I'm not waiting till then. My deadline, just like the BO, is the end of November/ beginning of December. Why am I putting myself on such a tight schedule? Well, if you look at the first post in this thread, my very first post ever on this forum, you should see that I mentioned running the MM in the Christmas Parade. Well, I can legally be a driver in it now as far as I know. If that changes, the deadline changes. But that's the plan... To have this girl finished and ready to go for the parade. Wish me luck, lol.
Stay tuned for the reinforcements as that is the next step!