So I have enough parts together that it's time to start a project thread. I am going to build a three wheel mowercycle / microcar.
Backstory Begins
The other day I was driving to work, and I really looked at my car. Literally all I use this car for is driving to and from work. I have space for 5 people, and thousands of pounds of metal, and I'm burning lots of gas just to haul all this wasted space back and forth to work. It just seems unnecessary. Also, this car is starting to fall apart. It's loud, the mpgs are slowly going down, the brakes are dragging, and I'm tired of it. My commute is 25 miles of back roads, so I can't like, ride a bike or anything, I need speed.
For some reason I got it in my head that instead of fixing my current car, I would rather build a new one, or at least try. After all, I always wanted to build my own car, and free myself from the problems of "oh, this part is rare and expensive, even though you can buy a part that does the same thing in a different car for $20" and "Oh, you don't have a car lift and $1000 worth of tools? Enjoy spending all day with your back in the dirt and bugs trying to get rusty bolts loose." I hate working on anything bigger than say a golf cart.
I can hear it now. "Why don't you get a motorcycle?" you say. Well, I rode a motorcycle in college. In the winter. Until the first snow. It sucked. It's also a little too dangerous for my taste now that I have a family. My commute is all back roads. I don't encounter much traffic, but what I do have to worry about is deer. Also, I dont want to crash because I hit some wet leaves and lose traction. Therefore I would like to be able to have 3 wheels, a bumper, a real seat, and a seatbelt to keep me from having an intimate moment with the asphalt if I ever engage ruminants in
high speed melee combat
.
I also want other things, like maybe a windshield someday, and heat. Also, I need it to be road legal. This means I practically MUST have three wheels. Once you add that fourth wheel, suddenly it's a car and needs a bunch of extra equipment, like windshield wipers and washers, a parking brake, safety glass windshield, and a bright light dash indicator. A three wheeled vehicle just needs brakes, lights, mirrors, and a horn. Oh, and you need DOT approved tires. That's actually been one of the hardest / most expensive parts.
Obviously I'm not going to get a fully enclosed microcar in my first build. But if I build with that goal in mind, I can use everything I learn in a future project or projects. People build stuff like this in their garage all the time, so it's very possible.
Why am I doing one wheel in the front, and not a reverse trike? Aren't reverse trikes better in pretty much every way? Well, not entirely. On paper, they are absolutely better as far as handling and stability goes. However in my situation, it just didn't work out that way. Two wheels in the front significantly increases complexity. Suddenly you have all sorts of steering and suspension geometry to deal with. With one wheel in the front, you just need to worry about fork angle and trail. Also, in my case, it worked out much cheaper. Trying to round up two wheels that you can buy DOT tires for, hubs, brakes, and have all of it be compatible was looking to be super expensive. Not to mention suspension. Cost is also one of the reasons I didn't consider a motorcycle engine. Used ones are super expensive in my area right now, plus I would've had to find or build a differential. Lacking the stability of a reverse trike, I'll sadly be forced to
not speed around curves
. Truly a great sacrifice.
As far as I go myself, I'm an engineer with lots of diy, mechanical, and electronics experience. My youtube channel has a sampling of previous projects. I've got a small flux core welder, 3d printer, and random hand tools. Oh and I've got a large HAAS CNC at work that's basically my personal pet. Especially since it sits idle most of the time and I'm the only one who ever uses it.
Backstory Ends
Okay, now that the backstory is over, we can move on to the project itself. We have our constraints:
Three wheels, with the ability to get DOT tires.
High speed, at least 45mph
super strong racing design not required, high speed but gentle use. No donuts, burnouts, or wheelies will be found here.
Differential, brakes on front and rear are legal requirements.
Lights and horn.
Cheap, I can't invest much until I have something I can point at and say to my wife "this gets me around, but I'd like to make it better instead of repairing my junker car"
Should be simple, right?
Here's what I have so far. I have an 801 transaxle($40) that I rebuilt(~$40) and modified to have a much higher gear ratio. I have a 6.5hp push mower engine($10) that should run, but I haven't tinkered with yet. It's a Briggs quantum, so it should be good. I just picked up a Honda cb750 front and rear wheel, complete with drum brakes.($50) Although I'll only be using the front wheel for now.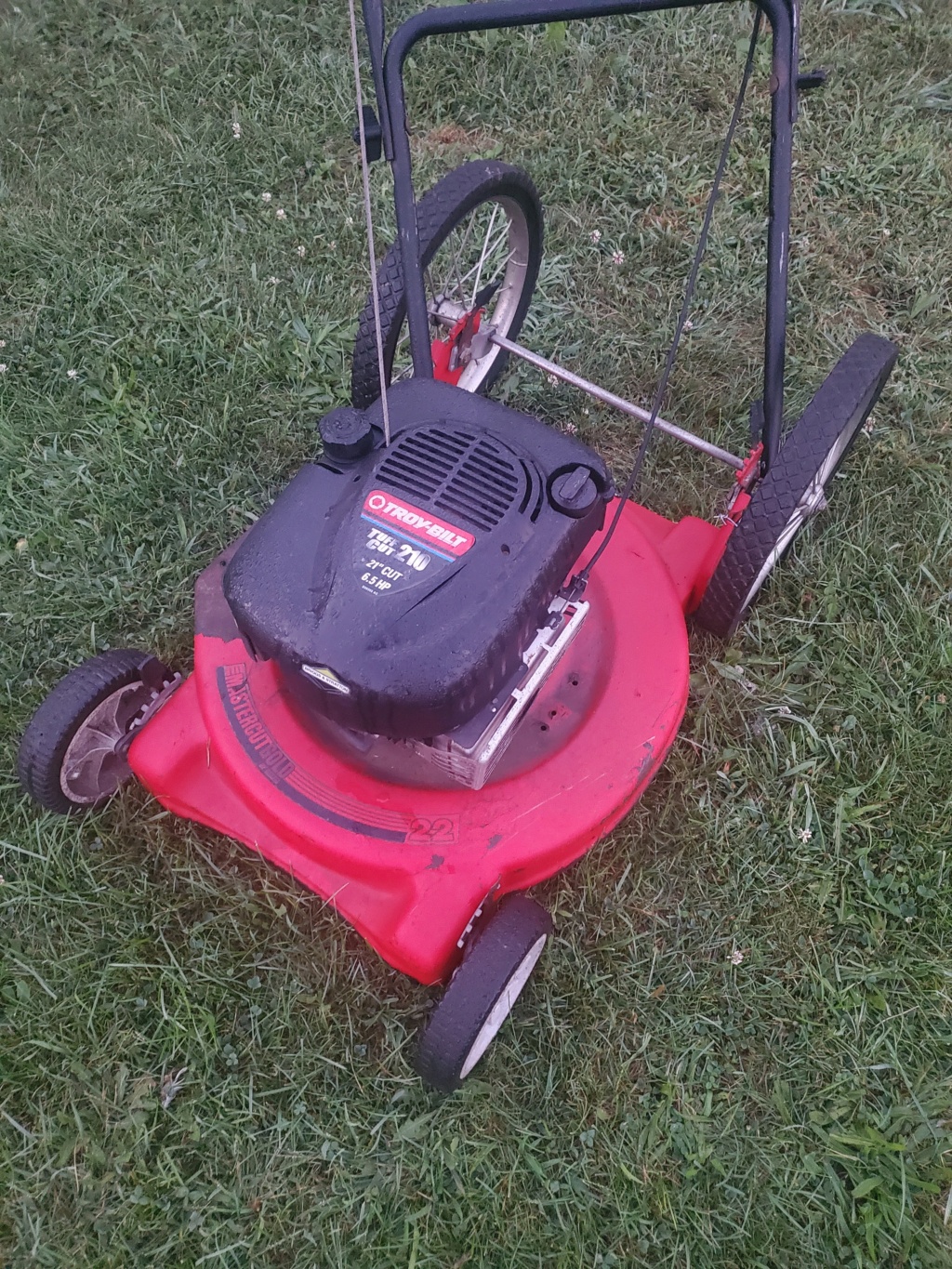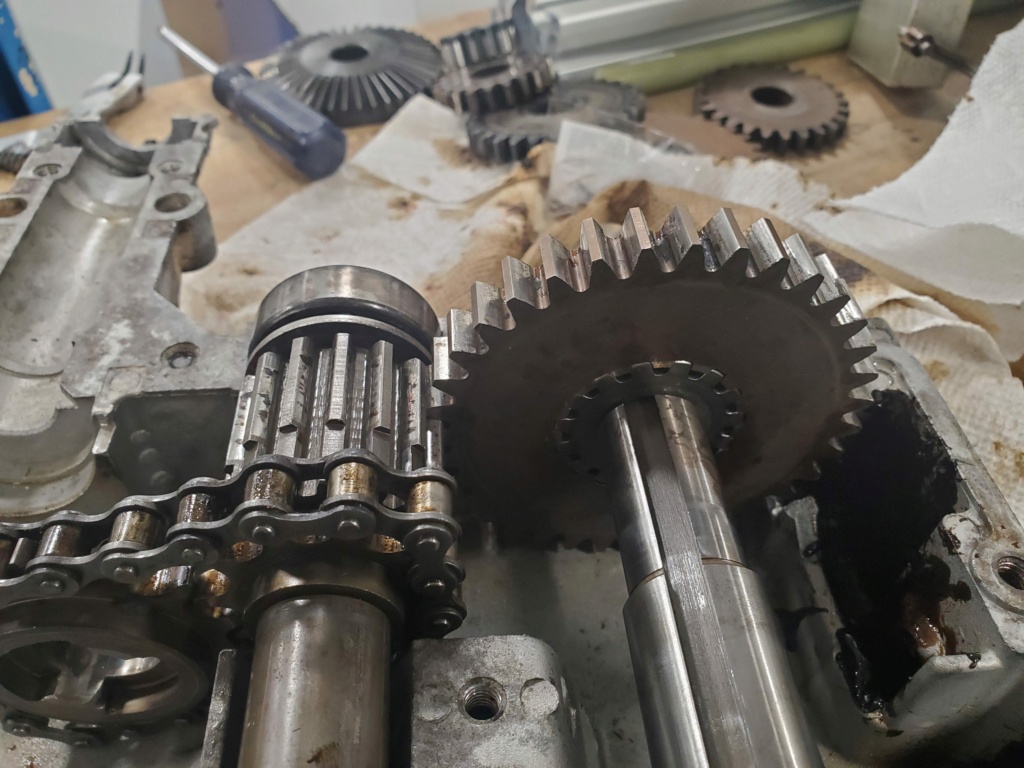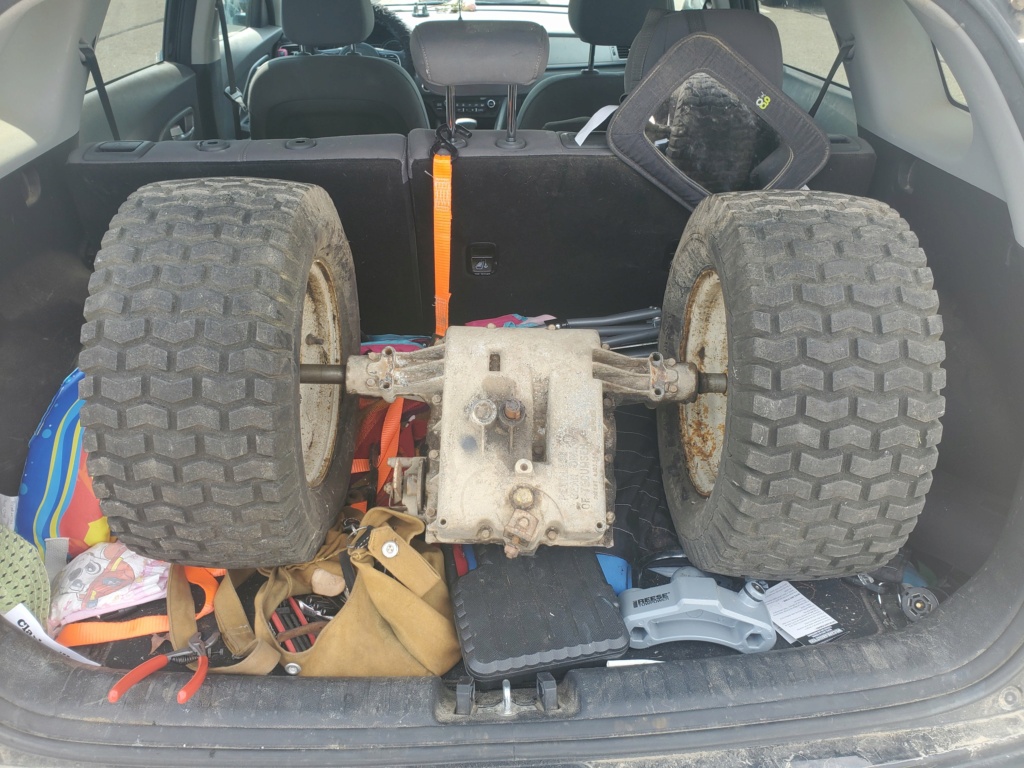 Originally, I wanted to inspire my project on a Reliant Robin. Why? because I really liked the size and shape. However, I think my first build will be one seater. I really wanted a steering wheel, with a rack and pinion, but the larger wheel is pushing me more towards forks and handlebars for this build. The cb750 wheel is much bigger than I originally had in mind, but it will save me a bunch of time and money. Oh well, I'll see how it turns out as I go along.
I just finished rebuilding the transaxle. I cleaned out all the grease, and replaced it with gear oil. I replaced a few seized bearings and missing seals. I also modified one of the gears that goes to the differential. I did the same thing as this guy in the video:
This swaps the ratio of one of the gears from 0.43 to 2.32 going from the countershaft to the differential. This massively increases the output speed without increasing the input speed or the speed of the main or countershaft. Also, this transaxle has real ball bearings on the axles, so that's ideal too. The wheels are super rusted to the axles, so I'm not getting those off any time soon. So I'll have to stick with the current wheel base for now, no extensions.
I think that's about it for now. I'll have time to start putting things together this weekend. Oh, did I mention I'm building it out of wood? Of course not, that's a terrible idea! After all, wood is never used to build anything strong or critical like say, houses, or
Rollercoasters
. In reality, once you get over the initial shock, wood is an engineering material just like any other. It has it's advantages, like ease of fabrication. It has by far the lowest cost to strength ratio. But fear not. I'm going to be building something like this:
Or this:
Not this:

I've already fabbed up lots of steel braces and brackets out of angle iron with bolt holes. I've also bought some more too. Nothing structural is going to be be attached via wood screws, I promise you that.
All in all, I'm excited and optimistic. I will try my hardest not to get bored or hit an obstacle halfway through and forget about it for a year like some of my other projects.