Here is my fleet...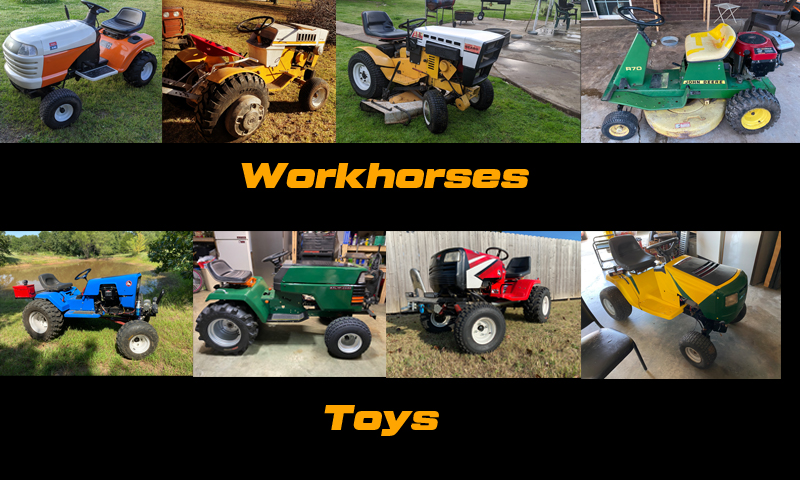 The working tractors...
06 Craftsman , 75 Sears ST/16 "Grandpa", 77 Sears Hydro "Thor", 84 R70 John Deere 
Thor did not see any action this year unfortunately.  
The toy tractors...
82 Murray GT "Kal", 89 Craftsman GT18 "The Green Machine", 89 Murray Widebody "Li'l Red", 2001 Murray Widebody LT "Bowser"
Kal and Red had another successful trip to Haspin Acres this year.  Red did take a tumble but got back up and continued to trail.  New entries are The Green Machine (rebuild of older build) and Bowser, the build for my daughter.  I need to fix some wiring issues on Bowser.  
Future plans:
Bowser:
Should a single cylinder OHV drop in my lap I will repower it with that engine. 
Red:
Repower with OHV V-twin.  Fix the clutch.  It still has the same 6yr old clutch from with I first built the tractor.  
The Green Machine:
Still in build phase, still making a gas petal for it.
Kal:
Regretfully, even though I have had a blast with Kal.  The frame is fatigued and it is hard to work on.  I plan for a Kal Retirement...
Other rigs...  I still have the 9N and the purple people eater mower.  But nothing to report there.
_______________________________________________
Tractors:
Li'l Red
 89 Murray Widebody
Kal-El
 82 Murray GT -Retired-
TheGreenMachine
89 Craftsman GT18
Bowser
 01 Murray Widebody LT 
Thor
77 Hydro Sears Suburban
Grandpa
75 Sears ST/16
Have a question? Ask me! Type in "@MightyRaze" in your post!